Found September 21, 2013 on isportsweb.com:
Once again, a case of interesting players who could be ranked 100 spots higher.  But there would be no NBA without guys like this.  It's like products on a market; sometimes things just take a hit and never make it back to where they once were. Courtesy of nydailynews.com Richard Jefferson (#306): Poof.  That's how I'd describe the downfall of RJ.  It just happened so suddenly.  Despite playing below average in his first season with the Spurs (09-10), San Antonio gave him a 4 year, $39 million contract.  That didn't work out too well and he was later shipped off to Golden State where he was a benchwarmer.  Now, it's almost as if he's just on a team to fill out the roster. All that said, Jefferson quietly had a very productive career before everything fell apart.  He quickly got adapted to playing at the pro level with J-Kidd as his point guard.  RJ was a key player in New Jersey's years of contention.  His smooth mid-range stroke was a dangerous weapon and he was also very athletic. Jefferson averaged 19.8 points in his best six years (03-09).  I wouldn't doubt Jefferson could still average about 15 a game if he elected to get back into game shape.  It would be nice to see him finish his career out strong so fans remember him as the highly serviceable wing player he once was. Courtesy of examiner.com Richard Hamilton (#309): The almighty "Rip" Hamilton was my favorite player on those glorious Piston teams in the mid-2000s.  He and Chauncey Billups exhibited phenomenal teamwork.  Not only did Rip have the deadliest mid-range jumper in the game, but his speedy curls were very difficult to stop.  Once he got an inch ahead of his defender, that defender would be toast. He's 35 years old but he doesn't get a pardon for that.  Age is far from the reason Hamilton has somehow slid all the way down to the 300s.  He is much more talented than ESPN gives him credit for.  However, as far as I'm concerned, this isn't all about talent.  If it was, Allen Iverson might still be in the top 50 (and Charlie Villanueva might actually break the top 250). Rip still has a lot left in him but that's only if he chooses to.  Hamilton has been known as one of the best conditioned players in the NBA for a while.  It's too bad Rip couldn't continue on with the Bulls because I really think he could have been a crucial bench player for them. Courtesy of zimbio.com Stephen Jackson (#325): S. Jax's situation is very similar to Rip's.  Both of them have been dismissed from their last one or two teams and both of them are still very good players.  Stephen Jackson had a great opportunity with the Spurs and he did pretty well there for a while.  But once your lips move the wrong way, Pop gives you the boot. Attitude problems have really held Jackson back despite having had a very efficient career.  S. Jax was a great ball player who could score in a multitude of ways.  On top of that, he had a very good basketball IQ. But his attitude has been for the best and the worst.  Jackson has never been known to back down against competition.  Most of the time, Jackson was a vicious player that played with a lot of hunger.  We should see more to come from him. Courtesy of memphisflyer.com Hasheem Thabeet (#347): The Grizzlies could have selected so many other players: James Harden, Tyreke Evans, Stephen Curry, DeMar DeRozan, etc.  Imagine how far they could have made it in the playoffs with one of those guys.  There's no use of dwelling on the past, though. Hasheem Thabeet clearly was never the starting center-caliber.  His motor and agility is just far too poor.  At the very least, Thabeet could develop to be a fairly strong post defender.  There's no reason he shouldn't be with his towering height and freakishly long wingspan. OKC is a good place for him as he's playing beside two superstars.  The Thunder have been very patient with Thabeet and have picked and chose when to use him.  However, if they don't see some sort of progression soon, his time there could come to an end.   Follow me on Twitter @ZTennen11
Original Story:
http://feedproxy.google.com/~r/isport...
THE BACKYARD
BEST OF MAXIM
RELATED ARTICLES
Tweet It's been quite a while since Chicago Bulls star Derrick Rose has played in an NBA game; close to 18 months, to be exact. Rose sat all all of the 2012-2013 season while rehabbing a torn ACL, but that isn't deterring Rose from believing that he will be better than ever when he returns […]
Sports Illustrated's excellent NBA blog, The Point Forward, recently rolled out their top 10 players in the NBA, to finish up their Top 100 of 2014 list. The question most Chicago Bulls fans will have, of course, is where the duo of Ben Golliver and Rob Mahoney ranked Derrick Rose, as well as the rest of the Bulls. All five Bulls projected starters made the top 100 list. For fun...
Recently, the ad wizards over Adidas decided to create a rather impactful commercial starring Chicago Bulls guard Derrick Rose. The ad shows a cinematic-style mash-up of Rose highlights and Chicago city scenery but the best part of the clip might be what comes last as Derrick puts the jersey back on after his year away from the competitive NBA hardwood: *** Derrick Rose image courtesy...
Derrick Rose remains uninterested in recruiting players to join the Chicago Bulls. "I don't recruit," Rose told rappler.com this week. "If anyone wants to play with me, I wouldn't mind playing with, it could be anybody in the NBA, but as far as recruiting, I never did or never will." Rose didn't attempt to recruit LeBron James or Dwyane Wade when they...
Warriors coach Mark Jackson, along with GM Bob Myers and assistant coach Brian Scalabrine, ventured out to San Quentin on Friday to play some pick-up with some of the inmates. Jackson said his crew went 2-0. The above KTVU report doesn't confirm it, but we're just going to assume Scalabrine scored 150 points. H/T @warriorsworld
Bulls News

Delivered to your inbox

You'll also receive Yardbarker's daily Top 10, featuring the best sports stories from around the web. Customize your newsletter to get articles on your favorite sports and teams. And the best part? It's free!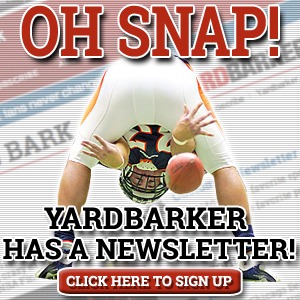 Latest Rumors
The Backyard

Today's Best Stuff

For Bloggers

Join the Yardbarker Network for more promotion, traffic, and money.

Company Info

Help

What is Yardbarker?

Yardbarker is the largest network of sports blogs and pro athlete blogs on the web. This site is the hub of the Yardbarker Network, where our editors and algorithms curate the best sports content from our network and beyond.