Found May 22, 2013 on Helmet and Pads Required:
Here we go again……..more LeBron vs. Jordan talk. The other day at a Windows store at a location unknown at the time I'm writing this. Former Miami Heat big man, Alonzo Mourning was speaking in front of what looked to be a small crowd of Window Store employees. Mourning told a story of a conversation that supposedly took place between him and Former Chicago Bulls great, Scottie Pippen about who would win if LeBron James and Pippen's former running mate, Michael Jordan were to face each other one on one. According to Mourning, Scottie said that LeBron would kick Jordan's ass. Alonzo Mourning Video This statement drew cheers from the crowd Mourning was speaking too and Mourning proceeded to talk about how he agreed as LeBron is 265 lbs, and is like a freight train coming down the court. This commentary by Mourning was recorded by someone at the Windows Store and has somewhat gone viral. Yesterday, Skip Bayless and the crew over on "ESPN First Take" along with Jerry Stackhouse, put their 2 cents in on Scottie's comment. Whether or not this conversation between Scottie and Mourning took place and Scottie actually uttered the words "LeBron would kick Jordan's ass" has yet to be confirmed. However, just a year or two ago, Scottie did an interview in which he said as clear as day that LeBron was better than Jordan. 24 hours later, Scottie said he was mis-quoted. That said, number 33 has a history of talking "greasy" about the man who gave him 6 rings in double "3-Peat" fashion. So let's run with this statement and chop it up here on HPR. Side Note: Someone ask Pat Riley how much I owe him for using his trademarked phrase "3-Peat" in this article. I'll send a check. Hope he works on a payment plan. First question: "Who cares/why does it matter?" Does America still have some underlying hate for LeBron despite doing everything he can possibly do to shut up critics, that people are still trying to find a way to discredit his career before it has even ended?! Ya'll do realize that LeBron hasn't fully entered the prime of his career yet? If there are still people who hate LeBron for "The Decision", he has apologized and acknowledged that it was the wrong way to handle his free agency period three years ago. Look…..Jordan is considered the greatest player to ever play the game and is in the process of becoming the worst owner/GM of a NBA franchise ever, while LeBron is the greatest ACTIVE player on the planet who the only question about him is "How many rings/gold medals and MVPs will he end his career with?" Comparing one player who has yet to write his final chapter in his playing career, and isn't fully in his prime, to another player from another era and different position, who has written his final chapter in his playing career, is impossible to do. Yes, it makes great conversation at barber shops, ESPN and blog websites. However it's "crazy talk" at this point and time. I will admit though….. Its hella funny to watch and listen to you cats under the age of 29 try to compare Jordan to LeBron considering ya'll weren't old enough to really see Jordan play. The only thing y'all know about Jordan are his shoes and what you hear your daddy, granddaddy or uncle talk about and often over exaggerate about. Second Question: "Why is it that Jordan is the only NBA great that all great NBA players are measured by?!" Anyone who can read and has taken the time to learn the history of the game would say that Bill Russell accomplished way more than what Jordan did. I am not saying Jordan isn't great. But the first thing people who don't know how to truly analyze players blurt out with pride is how many rings and MVPs Jordan has. Whelp, if rings and MVPs make a player great, Russell makes MJ look average. Russell has rings on top of rings along with MVP trophies. Oh! Lol…..and let's not forget that the MVP trophy is named after Russell. As people in the inner city and white people trying to sound hip would say, "That's real talk." Third Question: "For blog entertainment purposes, who do I think would win between MJ & Bron?" To be honest….It's really hard to say. Both players have strengths and weaknesses that would exploit and counteract each other's weaknesses and strengths that would stalemate each other. Jordan would have major trouble with LeBron's strength and size as LBJ is flat out a superior physical specimen. Besides Wilt and Shaq, no one has been as physically gifted as LeBron and you could say he is the most physically gifted ever to play the game. On the other hand, despite LeBron's ability to guard just about anyone he wants, LeBron would have an issue with Jordan's quickness. LeBron did lock down Derrick Rose in the Eastern Conference Finals three years ago. However Rose doesn't have the offensive repertoire that Jordan has so Jordan would still be affective against LeBron unlike other fast/quick players have failed. It would be neat if we could go back in a time machine and get MJ in his prime and set up a pay-per view event with Bron and MJ going at it one on one like Gatorade did in a commercial (Video) several years ago with old Jordan playing young Jordan one on one. Oh well…………….until that's possible, we can only speculate and day dream about what would happen.
Original Story:
http://feedproxy.google.com/~r/helmet...
THE BACKYARD
BEST OF MAXIM
RELATED ARTICLES
The Michael Jordan and LeBron James comparisons will probably follow the players throughout the duration of LeBron's career. The players will be constantly asked their thoughts, regardless of whether or not it actually has merit. Remember when Jordan when Jordan did an interview with ESPN Magazine and shared his thoughts on how he would stop [...]
LeBron James and Dwayne Wade hit South Beach during their NBA playoff break, strutting shirtless for the ladies.
COMING UP CLUTCH
With 2.2 seconds remaining, down 1 in OT and the Pacers best rim protector in Roy Hibbert on the bench, LeBron James drove the lane and put in the game-winning layup as time expired to give the Heat a 1-0 series lead over the Pacers in the Eastern Conference Finals 103-102. James finished the night with a triple double of 30 points, 10 rebounds and 10 assists.   And here's Roy...
LeBron James and Nike have brought in $300 million in U.S. retail sales in 2012 for the LeBron X making his signature shoes the highest-selling NBA sneakers of the year.  LeBron generates 6 times as much as the next player on the list – Kobe Bryant for the Kobe 8 at $50 million. According to SportsOneSource via Forbes.com: U.S. Retail Basketball Shoe Sales 1. LeBron James (Nike...
With the NBA season winding down, athletes everywhere are and have been already been working on their shoes for next season. LeBron James happens to be one of those athletes Mav Carter, one of LeBron's childhood friends, gives us a look at next years shoe for James, the LeBron XI. I'm sure as the summer goes, we'll be finding out more about this shoe. ...
MIAMI -- LeBron James missed by one vote being the unanimous MVP. At least he's a unanimous selection for the All-NBA first team. The Miami Heat star received all possible 119 media votes for one of the forward spots in the balloting that was announced Thursday. It marks his seventh selection to the first team and ninth pick to any team in his 10 seasons. The Heat also placed...
Every morning, we compile the links of the day and dump them here… highlighting the big storyline. Because there's nothing quite as satisfying as a good morning dump. James Pallotta, president of the soccer team AS Roma and a minority owner of the Celtics, presented a Celtics jersey to Pope Francis at the Vatican Wednesday. Pallotta was there to represent Roma in the Coppa Italia...
In a Menudo exclusive, we have learned what Roy Hibbert was doing instead of guarding LeBron James in overtime last night. All on Frank Vogel's orders. Here, we see Roy modeling fancy golf clothes. Where's Hibbert? Vogel Vs LeBron
Three critical mistakes by Pacers. 1- Not having Hibbert in the game. 2- Paul George overplaying LeBron on the catch. 3- Not mugging LeBron as soon as made his turn toward the basket. LeBron James also gets credit for doing things you expect the best player in the world to do.  He also messed around and got a Triple-Double.
Heat News

Delivered to your inbox

You'll also receive Yardbarker's daily Top 10, featuring the best sports stories from around the web. Customize your newsletter to get articles on your favorite sports and teams. And the best part? It's free!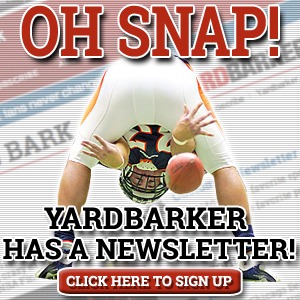 Latest Rumors
Best of Yardbarker

Today's Best Stuff

For Bloggers

Join the Yardbarker Network for more promotion, traffic, and money.

Company Info

Help

What is Yardbarker?

Yardbarker is the largest network of sports blogs and pro athlete blogs on the web. This site is the hub of the Yardbarker Network, where our editors and algorithms curate the best sports content from our network and beyond.