Found February 14, 2013 on NorthWest Sports Beat:
Will NBA hardware return to Portland? It's been a long time since someone in Portland brought home some NBA hardware. In fact, the last to do such a thing was Brandon Roy in 2007 with the rookie of the year award. While the 2012-13 season hasn't been the best in Portland history, there's plenty of standouts on this year's team. Damian Lillard has put up ridiculous numbers for a rookie, and LaMarcus Aldridge is up to his usual dominance. Here's a rundown of Portland's chances for the top NBA awards. Damian Lillard – Rookie of the Year, 80 percent While Anthony Davis was the early season favorite, injuries have been an issue and kept him on the court for just 35 starts this season. At this point in the season, Damian Lillard has emerged as the obvious favorite for rookie of the year. The young point guards leads all NBA rookies in minutes (38.5), points (18.4) and assists (6.5) per game. He's also averaging 1.0 steals and 3.3 rebounds per game. His solid 16.05 PER ranks sixth amongst all rookies. No one has managed to solidify their role on the court, or put up numbers on it, better than Lillard. If there were any questions about his long-term ceiling before the draft, there certainly aren't any now. If anyone can bring some hardware to Portland, it's gonna be Lillard. (Photo: Jim McIsaac / Getty Images) It's not a sure thing, but as long as Lillard stays healthy and consistent he has a great chance at the award. LaMarcus Aldridge – MVP, 15 percent In today's NBA where the elite superstars rule, the MVP award really means "best player that season" than "player who meant the most to his team." If it was the latter, LaMarcus Aldridge would have a great shot. Aldridge is posting a three-year low 48.5 field goal percentage, but still has a team leading 21.2 points per game. Not to mention he's posting career highs in rebounds (9.0) and assists (2.6) per game, while tying his career high of 1.2 blocks per game. With its recent losing streak, Portland is just outside of the playoff picture—but still has some life. There's no doubt, without Aldridge things would be much worse in Portland. Though he may deserve more respect in MVP talks than he's getting, Aldridge is still a long-shot. Absolutely no one – Sixth Man of the Year Award, 100 percent The highest scorer on Portland's bench? Luke Babbit with 4.2 points per game. The best rebounder? Meyers Leonard with 3.1 per game. The Blazer's thin bench has been an issue all season long, and there's no one in the way of a "standout." There's no long-shots here. No one in Portland has a shot at Sixth Man of the Year. Terry Stotts – Coach of the Year Award, 2.5 percent Even with a big coaching change, Terry Stotts has far from turned things around in Portland. It's not Stotts' fault, as this Blazer roster is still young and full of holes. The first-year coach has Portland in the playoff hunt and has gotten great things out of his rookies. But Portland is still sitting below .500, and Stotts has yet to find a way to get any production from his bench players. If the Blazers make the playoffs Stotts' chances may improve, but there's not much of a chance as is. CLICK HERE CHECK OUT OUR TRAIL BLAZERS BLOG AT THE NWSB!
Original Story:
http://www.nwsportsbeat.com/trailblaz...
THE BACKYARD
BEST OF MAXIM
RELATED ARTICLES
BUST A MOVE, NOT A HIP
There's a reason why he's referred to as the "Wild One".Renowned for being the only broadcaster to ever have been ejected from an NBA game (on account of Steve Javie's whistle-happy wrath) and representing one half of Portland's esteemed "Mike and Mike" color-commentating duo, Mike Rice joined the BlazerDancers at a recent game for some quality...
Top Blazers Each and every week I sit down to write this column I feel like I've seen a different Blazers team take to the court over the previous week. Some weeks the non-existent bench shows signs of life, or Damian Lillard shows why he could be an all-world point guard, then other weeks Portland seems lethargic, Nic Batum's wrist costs Portland crucial possessions, or that...
Four years ago, on Valentines Day in February 2009, the Portland Trail Blazers were the team of the future.  They were 32-20 going into the All-Star break, riding Brandon Roy, LaMarcus Aldridge and a deep bench, playing Nate McMillan's slow-paced, low-risk brand of basketball.  Greg Oden was finally playing, and he'd shown flashes of brilliance.  He was inconsistent and had...
In just over a week, the February 21st NBA trade deadline will have come and gone and the Portland Trail Blazers will be the same team then as they are today. The crux of the deal or the anti-deal is the Blazers lack of assets that other teams want or the Blazers are willing to part with. Yes, they have a talented starting five. But as it has been discussed ad nauseam the Blazers...
All-Star Weekend nears The Portland Trail Blazers will face off against the New Orleans Hornets to conclude a six-game road trip Wednesday night, and they could desperately use a win heading into All-Star Weekend. Matchup: Portland (25-27) @ New Orleans (18-34) Venue: New Orleans Arena Time: 5:00 PM PT Date: Wednesday, Feb. 13, 2013 The road trip hasn't gone as well as fans...
5.    Clifford Robinson, Forward/Center:  (1989-1997)   Uncle Cliffy ranks number three in total number of points scored as a Blazer with 10,405. Additionally, for the Blazers, he ranks in the top five for all-time games played (644), free throws made (2,041), 3-pointers made (492), and blocks (726). He was a member of the squads that played in the NBA Finals in 1990...
In spirit of Michael Jordan turning 50 this Sunday (February 17th), here are some of the worst decisions made by the Portland Trail Blazers during draft night. By the way, I am only dating this back to that 1984 NBA Draft (four years before I was born). Number 1: Same Bowie over MJ 1984 Needless to say this is by far the worst decision the Blazers have ever made. His...
Veteran Trail Blazers analyst Mike Rice joined the Blazer dancers at halftime of a recent game in Portland.  My favorite part of the video may be Rice talking about different dances in the video open, especially the "Doo-gie", a dance craze perfected by a young medical practitioner.  Rice's moves on the court are pretty terrible, but at least he looks the part with...
Wesley Matthews injured sprained his left ankle, and won't return, according to Hornets sideline reporter Jennifer Hale. The Portland Trail Blazers guard fell hard on his left knee and ankle, but it sounds like his ankle to the brunt of it. Matthews played just two minutes. His replacements aren't to be trusted in fantasy basketball. #Trailblazers Wesley Matthews...
Tweet LeBron James set an NBA record on Tuesday night against the Portland Trailblazers, becoming the first player to score 30+ points in six straight games while shooting over 60 percent. Against the Blazers, LeBron went off for 30 points on 73.3 percent shooting and added nine assists and six boards just for good measure. [...]
Portland rookie Damian Lillard bounced back from a dreadful 1-of-16 performance with 33 points. It wasn't enough to top the Miami Heat; the Blazers fell 117-104. Lillard hit 10-of-18 shots and 10-of-11 free throws in a stellar shooting night. He filled out his line with three 3-pointers, a rebound and three assists in 39 minutes. LaMarcus Aldridge chipped in 29 points...
NBA News

Delivered to your inbox

You'll also receive Yardbarker's daily Top 10, featuring the best sports stories from around the web. Customize your newsletter to get articles on your favorite sports and teams. And the best part? It's free!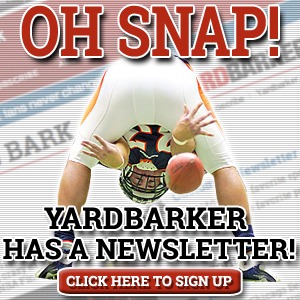 Latest Rumors
Best of Yardbarker

Today's Best Stuff

For Bloggers

Join the Yardbarker Network for more promotion, traffic, and money.

Company Info

Help

What is Yardbarker?

Yardbarker is the largest network of sports blogs and pro athlete blogs on the web. This site is the hub of the Yardbarker Network, where our editors and algorithms curate the best sports content from our network and beyond.