Found August 15, 2012 on NorthWest Sports Beat:
What should PDX expect next season? The Portland Trail Blazers spent nearly the past five months without a permanent head coach, but with the news that Terry Stotts has been hired this offseason, the team is finally ready to get past the summer and hit the court in 2013.
We won't know exactly what this team is going to look like until the season tips off, but one thing we do know, is that the offense should look drastically different than it has the past few years.
Run, Run, Run Nate McMillan was known in Portland for his slow-it-down, isolation style of basketball, and the team ran the slowest pace in the league on more than one occasion. Don't expect this to be the case under Stotts. "I do want to play at a pace," Stotts said in his introductory press conference. He wants to push the ball, look for quick—but good—shots and trust his players to make the right choices on the offensive end. A young team truly couldn't ask for anything more. Next year's Trail Blazers should be itching to get out and run, and if they're able to make those good decisions Stotts is looking for, they should find success in a fast-paced offense next season. Three Pointers The Trail Blazers have had two of the worst three-point shooting point guards in the NBA come through Portland in recent years, but Damian Lillard should quickly make fans forget about the past. A 40.9 percent three-point shooter in college, he's going to look to make plays from behind the arch next season, and Stotts is the perfect coach to help put that shot on display. Stotts has said that he is "a big believer in three-point shooting," and with the young players improving their shots, he wants to utilize their shooting abilities. The Blazers haven't been the best shooting team in recent memory, but a new coach with a new mentality could help turn them around next year. The Trail Blazers' utilization of LaMarcus Aldridge should be nothing new – (AP Photo/Don Ryan) LaMarcus Aldridge Stotts' resume as a head coach isn't the most impressive, which is a clear indication that the team is willing to rebuild and grow together as a unit. Luckily for them, they have one of the best power forwards in the game in LaMarcus Aldridge. The Trail Blazers' utilization of LaMarcus Aldridge should be nothing new, but with Stotts at the helm, we could see Aldridge take his game to yet another level in 2013. Stotts has been widely regarded as the mastermind of the Dallas Mavericks' offense. He may have been quick to give Dirk Nowitzki the credit in his initial press conference, but there's no denying that the Mavs are going to miss his schemes. Whether Stotts should be given the credit is up for debate, but what's undeniable is that the 54-year-old coach knows when to call a play and knows how to find a mismatch. Aldridge is the face of the Blazers franchise and is going to be the go-to option on offense until someone rips it away from him. Stotts will know what plays to call and when to get him the ball. Excitement Kaleb Canales was highly regarded as a player's coach in last season's exit interviews, but Stotts is considered a person who can motivate and relate to his players according to The Oregonian's Joe Freeman. If the players buy into his offensive system, next year could be fun to watch for fans in Rip City. Part of the excitement is going to come from Damian Lillard, the team's first pick in June's NBA draft. His shot is silky, his athleticism is top-notch and his playmaking skills are exactly what you want to see out of a scoring point guard.
That being said, it's the freedom that Stotts gives him and how he utilizes the point guard in the pick-and-roll game with Aldridge that will create more success for the rookie floor general.
2013 could be full of rough patches, as the team will enter the season with a young, inexperienced roster, but know right now that even if the team can't find success right away, they're going to put on display a far more entertaining brand of basketball in 2013. CLICK HERE TO CHECK OUT THE TRAIL BLAZERS CLUBHOUSE TODAY AT NWSPORTSBEAT! © Bryant Knox for North West Sports Beat, 2012. | Permalink | No comment | Follow NWSB on Twitter or join US on Facebook for real-time updates OR... | Share This on Twitter | Share NWSportsBeat.com on Facebook Post tags: 2012 NBA Draft, 2012-13 season, Damian Lillard, Kaleb Canales, LaMarcus Aldridge, Nate McMillan, NBA Draft, NBA Predictions, PDX, PDX Hoops, portland, Portland Trail Blazers, Portland Trail Blazers Blog, RIP City, RIP City basketball, Terry Stotts, Trail blazers blogs, Trail Blazers predictions, Trailblazers blog
Original Story:
http://www.nwsportsbeat.com/trailblaz...
THE BACKYARD
BEST OF MAXIM
RELATED ARTICLES
When the news came down that Terry Stotts will be the next head coach for the Portland Trail Blazers, I was a little disappointed. I was hoping for Brian Shaw all along. When it came down the final 4 candidates, I was pulling for Caleb Kanales to get his first shot as a coach in this league. But all accounts are reporting that Kanales will remain on the staff and possibly be the...
You may not yet be familiar with Will Barton (or maybe you watch college basketball, I don't know), the 40th overall pick of the Portland Trail Blazers, but the man has had himself a couple of moments this summer. Back in Vegas, balling alongside SL Co-MVP Damian Lillard, Barton averaged 15 points in 5 games and 4 starts for a Blazers team that went 4-1.  He exploded for a combined...
After earning the Las Vegas Summer League co-MVP honors, Portland Trail Blazers point guard Damian Lillard appears to have the talent to be one of the 2012-2013 season's top rookies. In order to try and project how Lillard might do, I've listed every point guard selected from the third through ninth picks over the past ten drafts. From those, I've narrowed the list...
Greg Oden is an unrestricted free agent without a team in sight. That sounds a little weird to say, considering Oden starred at Ohio State during the 2006-07 season, leading the Buckeyes to the NCAA championship game as a freshman and becoming the No. 1 overall pick (by Portland) in the NBA draft that followed. But that was five years ago, and two knee surgeries and a few assorted...
When the Dwight Howard saga came to a merciful end last Friday after his trade to the Lakers, NBA fans in small markets rolled their collective eyes, and settled in for another big market championship that will almost assuredly take place next June. Blazers fans were in the mix, and it was made more painful that their bitter rivals to the south once again reaped the rewards of an...
NBA News

Delivered to your inbox

You'll also receive Yardbarker's daily Top 10, featuring the best sports stories from around the web. Customize your newsletter to get articles on your favorite sports and teams. And the best part? It's free!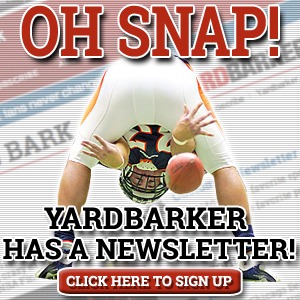 Latest Rumors
Best of Yardbarker

Today's Best Stuff

For Bloggers

Join the Yardbarker Network for more promotion, traffic, and money.

Company Info

Help

What is Yardbarker?

Yardbarker is the largest network of sports blogs and pro athlete blogs on the web. This site is the hub of the Yardbarker Network, where our editors and algorithms curate the best sports content from our network and beyond.