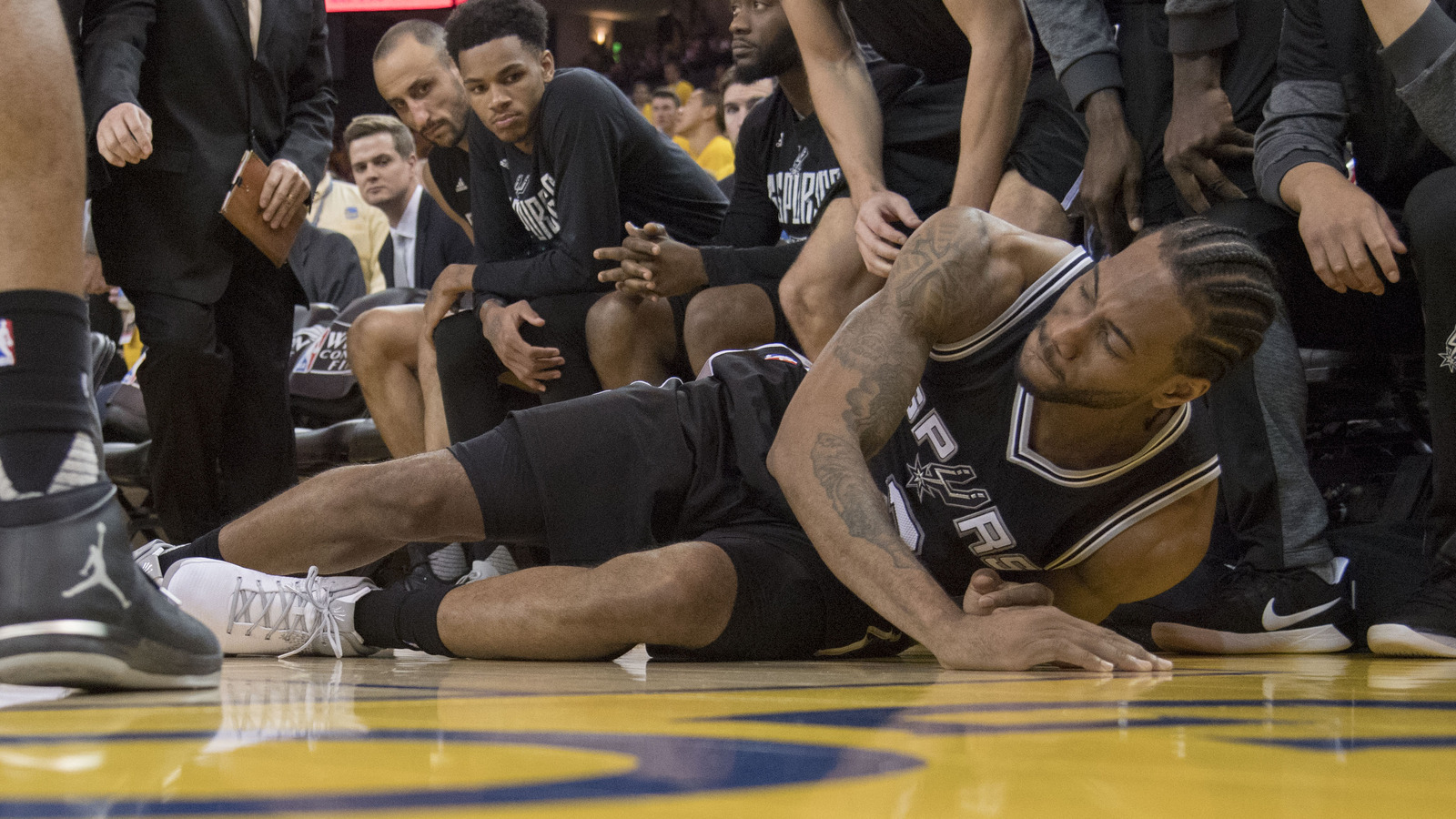 San Antonio Spurs forward Kawhi Leonard received some good news on his ankle Tuesday.
Kyle Terada/USA TODAY Sports
The San Antonio Spurs have listed Kawhi Leonard as doubtful for Game 2 of the Western Conference Finals, but an MRI on Monday revealed some positive news.
According to ESPN's Michael C. Wright, Leonard suffered no structural damage in his ankle when he landed awkwardly during Game 1.
Have learned that Kawhi Leonard's MRI revealed no structural damage.

— Michael C. Wright (@mikecwright) May 15, 2017
While that is good news in the long-term, it does not necessarily mean Leonard will be all set for Game 3 or even beyond. He could have suffered a bad sprain, and that would limit his effectiveness.
Leonard left Game 1 after he came down awkwardly on a 3-point attempt that was contested by Zaza Pachulia. There has been some question about whether the play was dirty, and Spurs coach Gregg Popovich unloaded on Pachulia over it earlier in the week. Popovich said Leonard is not going to play in Game 2 on Tuesday, though the "doubtful" tag from the team leaves the door slightly ajar.
MORE FROM YARDBARKER:
QUIZ: Name every San Antonio Spurs player to win a title with Tim Duncan
Tim Duncan is arguably the greatest power forward in NBA history, amassing five NBA championships, two MVP awards, three Finals MVPs, and Rookie of the Year.
Over Duncan's career, the San Antonio Spurs won five NBA titles (in 2014, 2007, 2005, 2003, and 1999). Can you name every one of his Spurs teammates to win a title with him?
Note: The teammate must have played on a Finals roster with Duncan. Clue given is the year of the Finals and the player's position.
MORE FROM YARDBARKER
Spurs News

Delivered to your inbox

You'll also receive Yardbarker's daily Top 10, featuring the best sports stories from around the web. Customize your newsletter to get articles on your favorite sports and teams. And the best part? It's free!