Found March 19, 2013 on BlackSportsOnline:
I want Royce White to address why he doesn't use condoms and has 2 kids and 2 more kids on the way. Let's talk about that instead of his whining about how everyone is out to get him. The Rockets have bent over backwards to accommodate White and he is still acting like a spoiled brat. "I went through the bumps and bruises of having to advocate for myself against a billion-dollar corporation. Other than that, I think I've actually been successful, if you look at the rate of success, or what could have went wrong. I could have easily been out of the league or blackballed or things like that. But that hasn't happened yet… "I'm a problem because I'm not afraid to say what I think and I'm not afraid to stand alone. Even amongst the NBA community, the players, the union, the NBA office, and [commissioner] David Stern and [deputy commissioner] Adam Silver. I'm not afraid to stand alone in my own circle, and say, hey listen, you guys aren't respecting mental health… "If I was to make an educated guess, I would guess that Adam Silver and David Stern and the Rockets organization, some other owners in the league, GMs, want me gone. And why do they want me gone? Because business is about convenience, it's not about doing what's necessary, right? It's about cutting overhead… Being efficient. And a lot of times, what's best for us as human beings doesn't meet that criteria for business people." His comments just reek of being uppity and wanted to be treated as a privileged child. I am starting to wonder if he even has an anxiety condition or if he is just catfishing everyone. I know a lot of people who are scared to fly, I am even uncomfortable when things get bumpy, but you fight through it. Royce is just a spoiled baby.
Original Story:
http://blacksportsonline.com/home/201...
THE BACKYARD
BEST OF MAXIM
RELATED ARTICLES
WHAT A MESS
Houston Rockets rookie Royce White believes that not only his team but the NBA want him out of the league because he's "not afraid to say what I think."
Royce White thinks the Houston Rockets and the NBA in general want him to just go away. The Houston Rockets rookie said this in an interview with the Huffington Post, the latest in a seemingly unending series of interviews with various media outlets in which White, a first-round pick in the 2012 NBA draft, casts himself as a trailblazing, truth-telling everyman going to war with...
If you thought the Royce White saga couldn't get any worse, well, you thought wrong. White, the anxiety-riddled first round pick of the Houston Rockets — who recently joined (finally) the Rockets' D-League affiliate Rio Grande Valley Vipers — hopped on a video chat with Huffington Post Sports and dropped perhaps the most explosive comment of his season-long war of words with...
Royce White is one of those people who get in their own way. White's issues with the Houston Rockets organization this season have been well documented. White finally returned to the court in February to the Rockets D League affiliate team. White has once again come out faulting the Houston Rockets organization. White believes that in addition to the Rockets, the NBA, David Stern...
There seems to be some animosity brewing between the Golden State Warriors and the Houston Rockets. According to Slam Online, the Houston Chronicle reported that Warriors head coach Mark Jackson and Rockets forward Chandler Parsons have a little feud going. It started when Jackson complimented Parsons on his versatility earlier in the season but also added that "He should probably...
Does Royce White have a point?  Maybe.  However, the Houston Rockets and the NBA seem to have been accommodating as possible to his mental health condition.  White's anxiety had been addressed up front when the Rockets drafted him, but White felt the team was not doing enough to accommodate him, refused to go to the D-League, made a big scene on Twitter, but has since joined...
  Tracy McGrady was a core player in the Houston Rockets 22 game win streak back in the 2007-2008 season, and has no qualms in saying that the Rockets' win streak was more impressive than the Heat's 23 straight wins. As reported by ESPN McGrady's frankness wasn't without a full-on explanation of just why the Rockets, according to McGrady, were superior with their win streak...
James Harden had 29 points and the Houston Rockets improved their positioning in the Western Conference playoff race with a 100-93 win over the Utah Jazz on Wednesday night. Jeremy Lin added 24 for the Rockets, who currently hold the No. 7 spot in the West. They lead the idle Los Angeles Lakers by 1 1/2 games and are three ahead of the sliding Jazz. The Rockets led by 19 points...
The Utah Jazz and Houston Rockets sound like desperate teams with 15 games remaining and their postseason fates uncertain. That's just fine with coaches Tyrone Corbin and Kevin McHale, who hope to see more inspired play when their clubs meet in a crucial matchup Wednesday night in Houston. Utah (34-33) sits in ninth place in the Western Conference, one game behind the Los Angeles...
Remember when the NBA came out with stern language about flopping? (P)layers will face the possibility of stiff punishment for trying to trick the referees into a foul that wasn't warranted. Commissioner David Stern issued an edict that he hopes will make flopping go the way of the four-corner offense and the short shorts. The rule change hasn't stopped league golden boy Chris...
Rockets News

Delivered to your inbox

You'll also receive Yardbarker's daily Top 10, featuring the best sports stories from around the web. Customize your newsletter to get articles on your favorite sports and teams. And the best part? It's free!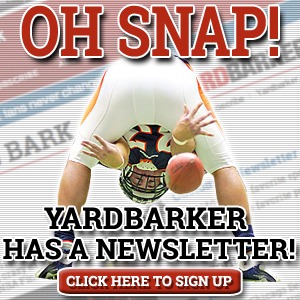 Latest Rumors
Best of Yardbarker

Today's Best Stuff

For Bloggers

Join the Yardbarker Network for more promotion, traffic, and money.

Company Info

Help

What is Yardbarker?

Yardbarker is the largest network of sports blogs and pro athlete blogs on the web. This site is the hub of the Yardbarker Network, where our editors and algorithms curate the best sports content from our network and beyond.