Found November 03, 2011 on Waiting For Next Year:
Fox Sports Ohio's Sam Amico polled seven NBA players.  The result: all of them want to play basketball, even if it means agreeing to a 50-50 split of Basketball Related Income.  Though he was not apart of the sample provided by Amico, Cavaliers big man Samardo Samuels throws his name into the hat of those who want to lace up their high-tops and start earning a living once again. Echoing his tweet from earlier this week, Samuels sat down for an exclusive interview with a Jamaican newspaper, saying that he – perhaps not being a part of the one percent, earning slightly above the league minimum – is just ready to play basketball.  Though he, like several of his teammates, is taking classes and working on his bachelor's degree, Samuels has been doing everything he can to stay in shape and rehabilitate from the wrist injury which prematurely ended his 2010-11 season. Now fully healthy, the Cavaliers forward is looking forward to improving off of a rookie campaign that saw flashes of brilliance occasionally clashing with a one-dimensional post presence.  The unfortunate part, as has been well-documented since July, is the currently locked out state of the players. "It has cost me around US$30,000 in salary for first two weeks," said Samuels. "It is tough because I have been working all my life for this. I have my parents around me and so they don't let me spend money on unnecessary stuff, and so I just buy things that I need." Wednesday night marked what should have been the Cavs' first contest of the 2011-12 NBA season.  Samuels should have been suiting up alongside rookies Kyrie Irving and Tristan Thompson, ushering in the second year of Byron Scott's tenure with the franchise – who knows, Samuels may have even unveiled his improved jump shot against the unsuspecting Eastern Conference runner-ups. Instead, the 260-pound forward is forced to work out on his own, using the facilities at Louisville rather than those in Independence. This week has been marred with rumors that the NBPA's Derek Fisher is in the back pocket of David Stern, an allegation which was promptly shot down like the very offer the players have yet to agree to.  The two sides will meet again this weekend.  Hopefully Billy Hunter sticks around a little longer than he did roughly one week earlier and the New Expression can turn the page to Season 2.
Original Story:
http://www.waitingfornextyear.com/201...
THE BACKYARD
BEST OF MAXIM
RELATED ARTICLES
In an article yesterday primarily citing sources who indicated Baron Davis has three teams (Lakers, Knicks, Bobcats) he'd be more interested in potentially signing with than the Miami Heat, should he in fact be Amnesty Clause'd, a warning shot was also fired across the bow of NBA front offices everywhere. That message reading both simply and forcefully: Just back off Anthony...
Plain Dealer Cavs beat writer wonders if team would like to drop his contract - or if Davis might want to leave for a contender.
Oh man, that's beyond awkward. And what kind of person would I be if I did not pass it along to you, my dear readers? A person who doesn't take advantage of an easy setup for a post, that's the kind of person. Anyhoo, Cleveland Cavaliers owner Dan Gilbert somehow hoodwinked Magic Johnson into taking [...]
Oh, Magic (*sigh*). Here's Johnson appearing alongside Cavs owner Dan Gilbert in a delightfully cheesy ad for Gilbert's controversial financial services firm. Via the LA Times.
In some kind of lockout nightmare by Sterling Cooper Draper Price, Magic Johnson has teamed up with Cavaliers owner Dan Gilbert. To shoot smart phones as if they were basketballs. And sell home loans. All done with extra cheese. It's all part of a new Quicken Loans ad (that's the company where Gilbert made enough…
Shaquille O'Neal spent one season with LeBron James playing for the Cleveland Cavaliers and talks about their time as teammates in his forthcoming autobiography.
Starting Lineups Cleveland: K. Irving, M. Harris, J. Graham, A. Jamison, A. Varejao Boston: R. Rondo, R. Allen, P. Pierce, K. Garnett, J. O'Neal Well here it is everybody, the home opener. After last season's heart wrenching defeat to The Heat it's was exciting to get out to Boston and see the squad go at it again. As much as I wanted him gone, It was wierd not...
As we wait for Billy Hunter and David Stern to sit down and bother to talk to one another, one of the favorite games of NBA fans has become "amnesty clause roulette." Who will teams waive with the amnesty clause when the season stars again? Then, where will that player land? Few scenarios are as…
When the Cleveland Cavaliers traded for Shaquille O'Neal before the start of the 2009-10 season, it was certainly met with mixed reviews. But whether it was ever really the smartest move or if it was instead a reactionary move meant only to deal with the Orlando Magic, the fact remains that Shaq represented a symbol of hope in Cleveland. Fans here in Cleveland were smart enough...
NBA News

Delivered to your inbox

You'll also receive Yardbarker's daily Top 10, featuring the best sports stories from around the web. Customize your newsletter to get articles on your favorite sports and teams. And the best part? It's free!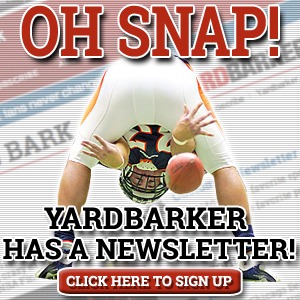 Latest Rumors
Best of Yardbarker

Today's Best Stuff

For Bloggers

Join the Yardbarker Network for more promotion, traffic, and money.

Company Info

Help

What is Yardbarker?

Yardbarker is the largest network of sports blogs and pro athlete blogs on the web. This site is the hub of the Yardbarker Network, where our editors and algorithms curate the best sports content from our network and beyond.