Found July 04, 2013 on Celtics Spot:
PLAYERS:
Bill Russell
,
Bob Cousy
,
Larry Bird
,
Paul Pierce
,
Danny Ainge
,
Ray Allen
,
Kevin Garnett
,
Kobe Bryant
,
Kendrick Perkins
TEAMS:
Boston Celtics
,
Miami Heat
,
Los Angeles Lakers
,
Oklahoma City Thunder
When you think of the Boston Celtics you think winning, loyalty, and tradition. You think of the 17 championship banners that the franchise has raised to the rafters throughout it's storied 67 year history. You think of the 21 numbers that have been retired, forever immortalizing the legends that have donned the green and white. You think of guys like Bill Russell, Bob Cousy, John Havlicek, and Larry Bird, all of which knew exactly what it meant to be a Boston Celtic. And you think of a once troubled young man, who overcame adversity and matured into the man we all knew he could be. You think of Paul Pierce. As a kid growing up just a few miles outside of Boston, I learned to love the Celtics at a very young age. I remember watching games with my grandfather as he told me stories about Bill Russell's playing days. He would say things like "there wasn't a single player out there that wanted it more than Bill." My father also told me stories about the "Big Three," a trio headlined by Larry Bird. Whenever I would talk to him about one of the better players in the league today, he would always make sure to say, "if you think these guys are good, you should have seen Bird. Wow could he play."  The stories were fascinating and with each one my love for the Celtics grew stronger. I realized players that special only come around every so often and I wondered if I would ever be lucky enough to see one first hand.  I'll be honest, for about the first half of Paul Pierce's career I wasn't convinced that he was one of those "once in a generation " players. To me, Pierce was a guy with a bad attitude who was only in Boston because he had no other choice, and Game 6 of the 2005 Eastern Conference Semifinals is a prime example of why I thought that.  In the final seconds of regulation the Celtics found themselves up by one point and the Pacers had no other choice but to foul, hoping for a couple of missed free throws. With 12.6 seconds left on the clock, Pierce received the inbounds pass and was immediately fouled by Jamal Tinsley. But what was considered to be a routine play in playoff basketball soon escalated to much more than that. Following the foul Pierce hit Tinsley with his forearm, sending the Pacers' guard to the ground. As a result, the referees assessed Pierce with his second technical foul of the game and, as you know, that calls for an automatic ejection.  Furious, Pierce removed his jersey and stormed off the court, waving his jersey above his head in a helicopter motion. The situation got worse when Pierce greeted the media after the game with bandages on his face, claiming that he had suffered a broken jaw during the night's action (which he didn't). So that was it. This is how Paul Pierce was going to be remembered in Boston. A punk kid who nearly cost the Celtics their season.  Boston went on to win the game in overtime but, had they lost, that very well could have been Pierce's last game as a Boston Celtic.  For the next two seasons Pierce weathered the storm. The Celtics were going nowhere fast and the veteran's title hopes were slipping away right in front of his eyes. But then something special happened. Danny Ainge acquired Ray Allen and Kevin Garnett from the Sonics and Timberwolves, respectively and suddenly Pierce's dreams of being a world champion weren't unrealistic anymore. Of course, Pierce, with the help of Allen and Garnett, lead the Celtics to the 2008 NBA Finals and it was during the very first game of that series when my opinion of Pierce "The Truth" changed forever.  The Celtics were in control late in the third quarter and it seemed like Boston would be taking a 1-0 series lead. But while trying to block a Kobe Bryant jumpshot, Kendrick Perkins slammed into Pierce and sent the Captain flailing to the ground. An injury to Pierce was the last thing the Celtics needed and at first glance it didn't look like Pierce was going to be able to return to the game. At least that's what the thousands of Celtics fans holding their breath were thinking. But shortly thereafter I saw a side of Paul Pierce that I hadn't really seen before. He emerged from the tunnel in a wheelchair, rolling his way back towards the bench. He was ready to play. Pierce checked into the game and hit two quick threes, including an improbable bank shot from the right corner. In my opinion, it was that shot that fueled the Celtics for the rest of the series. That night I saw something in Pierce that I had always hoped to see. I saw a guy who wanted it, a guy who wasn't fooling around. But most importantly, I saw a guy that had heart.  That's what being a Celtic is all about, having the heart to put your arms around your teammates and carry them along with you, no matter what the circumstances are. Now you could argue that Pierce wasn't really hurt at all but it doesn't matter. It's the message that meant the most. Paul Pierce wasn't going to let his team win or lose without him.  As we all know, the Celtics went on to win that series against the Lakers, winning the franchise's 17th NBA championship. The MVP of the series? Who else but Paul Pierce? Fast forward to the home opener in 2008-09 when the Celtics received their rings and were once again presented with the Larry O'Brien trophy. One by one the members of the championship team collected their rings, smiling from ear to ear as they did so. However, unlike his teammates, Pierce was handed his and he bursted into tears. These weren't tears of sorrow. Heck, they weren't even tears of joy. Instead, they were tears that screamed the word, "FINALLY." It was that very moment when I realized I had been lucky enough to witness one of those special "once in a generation players" my family had always been talking about. And it was at that moment when I knew Paul Pierce had truly realized what it meant to be a Celtic. Pierce had plenty of chances to quit on this team but he didn't, he persevered. He bit the bullet and toughed out the multiple seasons he spent in Boston that never amounted to anything.  What Paul Pierce did throughout his career in Boston defines loyalty. The bond he felt between his teammates and fellow Big Three members was an example of Celtics' tradition. And raising the franchise's NBA record 17th banner, well, that's winning. Paul Pierce will undoubtedly go down as one of the greatest Celtics of all time. His number is sure to be retired, joining the likes of the 21 Celtics legends that came before him.  Me? Well I get to carry on my own family tradition. One day I see myself watching a Celtics game with my son. He'll say, "Dad, this guy is unbelievable!" I'll smile, proudly shake my head and say to him, "If you think that guy's good, you should've seen Paul Pierce play." Thank you Paul, for everything. Follow @TimMacLean_
Original Story:
http://www.celticsspot.com/1/post/201...
THE BACKYARD
BEST OF MAXIM
RELATED ARTICLES
If Danny Ainge ever changes his mind about trading Rajon Rondo, it appears he has plenty of options. The Pistons have reached out to Ainge and the Celtics about their interest in trading for the All-Star point guard if he were to become available, according to CBSSports.com. Ainge has repeatedly shot down ideas of trading Rondo since he completed a trade last Thursday that sent franchise...
No fan wants to see their favorite player (let alone a franchise type player) leave their team. It has happened before with Patrick Ewing, Hakeem Olajuwon and Charles Barkley. But it is the nature of the NBA business and no player is safe or un-tradable from a team. Paul Pierce is one of those players that many thouht he'd retire in green and white. Yet the Celtics made roster...
The Celtics  introduced Brad Stevens today as their new head coach. Here are some excerpts from the press conference: On leaving Butler and coming to Boston: BS: It's an honor and privilege to be here. I'm just in awe of this organization. It has such a high standard and places a value on culture. The Boston Celtics? Like wow. That is an incredible feeling, an incredible honor...
You gotta hand it to the Celtics.  If they want to keep a secret, they can.  In a move NO ONE saw coming, the Celtics have announced that they have hired Butler's Brad Stevens as their new head coach. BOSTON – The Boston Celtics announced today that they have come to an agreement with Brad Stevens to be the 17th head coach of the team. Per team policy, terms of the deal were...
The @Celtics have hired Brad Stevens as their next head coach. Press Release: http://t.co/Psidetrtwo— Boston Celtics (@celtics) July 3, 2013 According to the Celtics' official twitter account the team has hired former Butler coach, Brad Stevens, as their new head coach.  Stevens spent the last six years patrolling the sidelines at Butler and he amassed a 166-49 record...
The Boston Celtics signed Brad Stevens to a six year, $22 million contract, sources told Yahoo! Sports. — Adrian Wojnarowski (@WojYahooNBA) July 4, 2013 Lots of money there.  Still almost a 50% savings from Doc Rivers.  
 Should the Celtics tank the 2013-2014 season for a high draft pick?During an offseason in which he has traded away his two best players and his coach without receiving a single impact player in return, Boston Celtics president of basketball operations Danny Ainge adamantly proclaimed that the organization is not 'tanking', according to Baxter Holmes of The Boston Globe."We...
butlersports.com College basketball fans have always wondered if Butler coach Brad Stevens would ever leave the Bulldogs for a "bigger" opportunity. Today, that question was answered as he was officially hired as the next head coach of the Boston Celtics. The team tweeted out the news this afternoon, along with a press release. The @Celtics have hired Brad Stevens as their...
Just how young is new Boston Celtics head coach Brad Stevens? The man who the "Green Team" will introduce at a press conference on Friday according to a report from the "Boston Globe," was just 15-years-old when Larry Bird retired from the NBA. Although Stevens, has had an incredible run as the bench boss for Butler University; having success at the NCAA level, is no guarantee...
The first question many people had when news came that former Butler University coach Brad Stevens had left the Bulldogs to coach the Boston Celtics at 36 years old was this: Does Stevens have a chance to succeed in a league where so many other good college coaches have failed? The prime example, of course, is Rick Pitino, who flamed out by record (102-146) and rhetoric when coaching...
Celtics GM Danny Ainge certainly swung for the fences here. I'm just not sure he didn't swing and miss. In a very interesting move, the Boston Celtics have hired Brad Stevens away from Butler University as their new head coach, […]
This one was surprising. Mainly because I thought Stevens always gave off the impression that he was intent on building Butler into a powerhouse. But some jobs you just can't pass up. The @Celtics have hired Brad Stevens as their next head coach. Press Release: http://t.co/Psidetrtwo — Boston Celtics (@celtics) July 3, 2013
NBA News

Delivered to your inbox

You'll also receive Yardbarker's daily Top 10, featuring the best sports stories from around the web. Customize your newsletter to get articles on your favorite sports and teams. And the best part? It's free!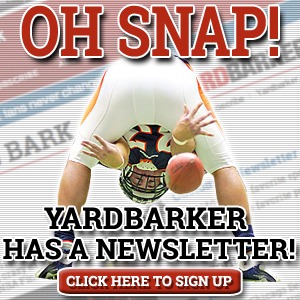 Latest Rumors
Best of Yardbarker

Today's Best Stuff

For Bloggers

Join the Yardbarker Network for more promotion, traffic, and money.

Company Info

Help

What is Yardbarker?

Yardbarker is the largest network of sports blogs and pro athlete blogs on the web. This site is the hub of the Yardbarker Network, where our editors and algorithms curate the best sports content from our network and beyond.