Found August 07, 2012 on Project Spurs:
PLAYERS:
Patty Mills
,
David Andersen
,
LeBron James
,
Kobe Bryant
,
Carmelo Anthony
,
Chris Paul
,
Brad Newley
,
Andre Iguodala
TEAMS:
San Antonio Spurs
,
New Orleans Pelicans
,
Miami Heat
,
Los Angeles Lakers
,
New York Knicks
,
Los Angeles Clippers
,
Philadelphia 76ers
San Antonio Spurs guard Patty Mills and Australia (3-2) are on a 3-game winning streak in Olympic
play after losing their first two games to Brazil and Spain, as they prepare for the Quarterfinals on Wednesday.
Unfortunately for the Boomers, they will be facing the juggernaut of teams, the United States of America (5-0), who are coming in undefeated right now.
It's going to be a long shot for Mills and the Aussies to pull an incredible upset, but without further ado, here's the scouting report of Australia and the U.S.
Game Time: 2:15 PM CST
USA                                                                            AUS
117.8 Points per game                                                  82 PPG
79.6 Opponent points per game                                     74.6 OPG
45.8% 3PT                                                                   32.3% 3PT
44.4 Rebounds per gamr                                               41.2 RPG
27.6 Assists per game                                                   17.4 APG
9.4 Turnovers per game                                                12.2 TPG
11.6 Steals per game                                                     7.4 SPG
2.6 Blocks per game                                                      2.4 BPG
21 Fouls per game                                                         21.4 FPG
Key Players
Australia: Patty Mills (20.6 PPG, 33% 3PT), Joe Ingles (14.2 PPG), David Andersen (12.2 PPG, 40% 3PT), Matthew Dellavedova (8.2 PPG, 4.6 APG, 41% 3PT), Aron Baynes (8.2 PPG)
United States: Kevin Durant (18.6 PPG, 61% 3PT), LeBron James (11.6 PPG, 4.4 APG), Kobe Bryant (9.4 PPG), Carmelo Anthony (17.4 PPG, 60% 3PT), Chris Paul (7.6 PPG, 5.8 ASG, 47% 3PT)
Point guard Battle
On one side, you have Paul who has been considered an MVP candidate several times in the NBA. On the other, you have Dellavedova who is still playing college basketball. But don't let Dellavedova's youthfulness full you. The kid can play. Whether he's running the fast break and feeding his teammates, launching a 3-pointer to keep his team in the game, or throwing an alley-oop up to Baynes for a dunk, Dellavedova is very productive. What will be interesting to see is how he plays against Paul when Paul increases his defense like he did Monday against youngster Facundo Campazzo of Argentina.
The problem for Australia, and with any team that faces the United State sis that Paul has Deron Williams and Russell Westbrook coming in to back him up.
Shooting guard Battle
The U.S. knows Mills is Australia's most prolific scorer, so they'll probably put different players to defend Mills throughout the game to limit Mills' production. Bryant will probably defend Mills to start, but don't be surprised if you see James, Westbrook, and Durant defend Mills at certain times. Bryant on the other hand, likes to put mismatches in the post on offense, and that' exactly what Mills is to him, a mismatch. Don't be surprised if you see Bryant posting Mills, then a double-team comes to help, and Durant receives an open 3-pointer.
Small forward Battle
This is an interesting matchup. You have Ingles being defended and having to defend James, Durant, and Anthony. If James, Durant, and
Anthony are aggressive, then Ingles will have to waste most of his energy on defense. However, if James and Anthony just camp out on the perimeter and shoot 3-pointers all game, then Ingles will be able to try to score offensively for numerous possessions.
Power forward Battle
Andersen is a guy who shoots from the outside but also likes to post and shoot fade away jumpers. Durant and James will get their chance to limit Andersen, but it's Andersen who will have the toughest time having to chase Durant and James around the perimeter.
Center Battle
There's a good matchup between Baynes and Chandler, but when Chandler goes to the bench and the U.S. plays small ball, Baynes is going to have a tough time matching their speed.
Bench Battle
Aside from Brad Newley, Matt Nielsen, Mark Worthington, and Aleks Maric, Australia doesn't really have a deep bench that makes an impact. The U.S. has a ton of options to go to with Anthony, Kevin Love, Andre Iguodala, James Harden, Westbrook and Williams.
What does Australia need to do to keep it close?
On offense, the Aussies have to slow down the tempo and play half court basketball. Unfortunately, the Aussies struggle in the half court as Ingles and Andersen are their two main options. Mills and Delledova are at their best in the open court, but if they push the pace it'll only help the U.S. who want to get up and down the court. Australia must also shoot a high percentage from 3-point range, though I'm not sure how that will happen if they cannot penetrate.
On defense, Australia must close the paint as much as possible so no penetration to outside shots occur, and Australia must do their best to make the U.S. play one-one-one basketball. When the U.S. struggles to pass the ball and are forced to play one-on-one, it slows the pace of the game down.
Prediction
After analyzing the matchups, I just don't see the Aussies as a real threat to have a chance against the U.S. Wednesday. They may hang with them for one quarter, but I expect the Unites States to win this one relatively easy by 28 points or more.
Original Story:
http://www.projectspurs.com/2012-arti...
THE BACKYARD
BEST OF MAXIM
RELATED ARTICLES
Patty Mills has certainly turned on the inspired play for the Australian Boomers at an optimal time of the Olympic Basketball tournament. After pouring in 39 points against host nation Great Britain, Mills hit a buzzer-beating three point shot to give Australia a two point victory over previously undefeated Russia. After two losses to Spain and Brazil to start the tournament,...
Team U.S.A. is pretty much the consensus pick to capture gold at the 2012 London Games, but they still look vulnerable at times during this tournament. They escaped with a narrow win over Lithuania and looked out of sorts in the first half during the game versus Argentina. However, they are still undefeated in the tournament and will next face San Antonio Spurs' Patty Mills and...
Patty Mills' 3-pointer with time expiring gave Australia an 82-80 win over Russia in the men's Olympic basketball tournament on Monday. Australia (3-2) clinched fourth in its group and could face the U.S. team in the quarterfinals Wednesday if the Americans beat Argentina in their game Monday night. Russia (4-1) had already clinched top spot in Group B. Australia led for...
San Antonio Spurs' Patty Mills is making quite the splash lately at the 2012 Olympics for Team Australia. He recently dropped 39 points versus Great Britain and now comes his latest heroic effort against Russia. With the Aussies down a point, the team turned to Mills (who shot 0-5 for the fourth period) to deliver a miracle. And deliver Mills did! Check it out.
With four seconds remaining and Australia leading 79-78 over Russia, Russian Vitally Fridzon was at the free throw line ready to be the hero of another game for Russia. Fridzon made his two free throws to give Russia an 80-79 lead over Australia with four seconds remaining. Australia called timeout, and drew up the final shot for a player who was 0-of-5 shooting in the fourth quarter...
San Antonio Spurs' Patty Mills is showing just exactly what he can bring to the court for the team while at the London Games for Team Australia. He recently scored 39 points for Australia, breaking Team USA's Carmelo Anthony's 37 points versus Nigeria and nailed a game winning shot to upset Russia. And altough it will be tough for the Aussies to capture a medal, Mills...
Patty Mills' 3-pointer with time expiring gave Australia an 82-80 win over Russia in the men's Olympic basketball tournament on Monday. Australia (3-2) clinched fourth in its group and could face the U.S. team in the quarterfinals Wednesday if the Americans beat Argentina in their game Monday night. Russia (4-1) had already clinched top spot in Group B. Australia led for...
Although, Australia's Patty Mills hasn't made himself a name in the NBA yet, the below buzzer beater might make him a local hero in Aussie land.Watch as Mills drains a game winning three pointer against the previously undefeated Russians in 2012 Summer Olympics pool play: 
With a $20 million contract to play basketball alongside Ricky Rubio and a wife that compares infidelity to pizza, Andrei Kirilenko is undeniably one of the luckiest people in the history of mankind.  On this day, though, he's been forced to suffer the agony of defeat, meaning he and his Russian teammates are no longer unbeaten in London.  As you can see in the video above,...
San Antonio Spurs' Patty Mills has been making the 2012 Olympics his personal playground with Team Australia. From scoring 39 points in a game to nailing a game-winning three point shot to upset Russia, there is no doubt Mills is showing exactly what he can do on the court for Australia and the Spurs next season. So to the victor, comes the spoils and what better way for Mills...
Coming into Wednesday's Quarterfinal Olympic game between Australia and the United States, four San Antonio Spurs players had already been eliminated from Olympic play. Patty Mills (26 points) joined his Spurs teammates Tony Parker, Boris Diaw, Nando De Colo, and Tiago Splitter after 40 minutes of play against the U.S, as the U.S. exploded in the fourth quarter for a 119-86 rout...
  If you aren't familiar with Patty Mills of the San Antonio Spurs you probably are now if you have been watching the 2012 London Olympics. Patty Mills plays for Team Australia and he's the cat that racked up 39 points against Great Britain and then hit a game-wining three to upset Russia. Patty Mills [...]
NBA News

Delivered to your inbox

You'll also receive Yardbarker's daily Top 10, featuring the best sports stories from around the web. Customize your newsletter to get articles on your favorite sports and teams. And the best part? It's free!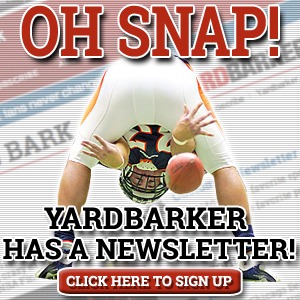 Latest Rumors
The Backyard

Today's Best Stuff

For Bloggers

Join the Yardbarker Network for more promotion, traffic, and money.

Company Info

Help

What is Yardbarker?

Yardbarker is the largest network of sports blogs and pro athlete blogs on the web. This site is the hub of the Yardbarker Network, where our editors and algorithms curate the best sports content from our network and beyond.