Found February 14, 2013 on Waiting For Next Year:
Everyone has different opinions when it comes to basketball. It's funny, because it seems like basketball should be the easiest sport to objectively breakdown due to a lot of built-in factors with the sport 1 . But there are still massive disagreements all the time on whether players are good or not. Of course, words like "good" and "bad" can and do mean different things to different people. So perhaps that's why arguments break out over this stuff. Either way, in case you missed it or aren't on Twitter and/or don't follow CBS Sports' Matt Moore (@HPbasketball), last night a huge debate broke out between Moore and Cavs fans over Dion Waiters. Now, for those who don't know, Matt Moore doesn't like Dion Waiters. I 'm not talking about Waiters the person, but Waiters the basketball player. Moore has been a very vocal critic of Waiters all season long, and he's evidently tired of Cavs fans defending Waiters' game. I don't mean that as an attack on Matt. I like and respect Matt a lot. But if you look at his Twitter timeline, that's the truth. He doesn't think much of Waiters and whenever Waiters has a good game, many Cavs fans call him out on Twitter about it, which can sometimes lead to Matt making sarcastic comments about Waiters and Cavs fans.  So I feel the need to say a few things about this debate. I'm not doing this to go after Matt Moore, that's not my intention. I'm doing this to defend Dion Waiters the basketball player. Not as a Cavs fan or a Waiters fan 2 , but as someone who believes that credit should be given where it is due. So lets start with what happened on Twitter last night. I've compiled many of Moore's tweets about Dion so you can read them for yourself: Now I know Cleveland sports fans can be rabid and viciously go after those who say bad things about the city or its players. Yet I also don't think it's fair to intentionally incite fans with inflammatory statements that skew what the fans are trying to argue, and then play the victim card. I don't think either side is fully innocent in any of this. But I hate all this drama and people getting emotional about this stuff. It's just basketball and everyone is entitled to their opinions. So with respect to that last part, I wanted to share some opinions on Dion Waiters and whether or not he is improving. I think most people agree that Dion has been playing better lately. Moore even seems to acknowledge this fact, but writes it off as just a 13 day stretch and doesn't feel it tells the whole story. I agree with that. 13 days is way too small to decipher anything. But lets compare his first month numbers with January and February (a slightly larger sample). When it comes to Moore's assertion that Dion's shot selection is still horrible, there's obviously more to it than just shot zone, but check out these numbers: Month % of FGA at Rim eFG% at Rim 16-23 feet eFG% 16-23 3 pt eFG% FG% FT% 3P% November 25.3% 42.2% 22.2% 38% 35.6% 54.4% 36.9% 77.3% 36.3% January 34.8% 65.7% 27.7% 31% 20.7% 47.6% 42% 83.7% 31.8% February 45% 71.9% 22.5% 56.3% 15.5% 13.7% 50.8% 70% 9.1%   This seems to me to be more than a 13 day trend. I think it's pretty clear that Dion has been much better at not only going to the rim more, but he's also making more of his shots at the rim. Every month in this chart he has taken a smaller percentage of his shots from three and a higher percentage at the rim. His eFG% at the rim has improved every month. His overall FG% has has gone up every month despite his 3P% going down. What does that tell me? It tells me he's jacking up fewer contested threes and going into the lane and driving more. Not only that, but he's getting much better at finishing at the rim as well. Look, Dion Waiters has not been objectively 'good' this season. I don't think anyone is arguing that, unless Matt is following very different Cavs fans on Twitter than I am. But we shouldn't be surprised by Waiter's struggles with consistency. We predicted it over and over again in our comments before the season and even during the season. SGs typically have the hardest time adjusting to the NBA. I don't think there's anything wrong with Cavs fans being encouraged by the steps Dion has made toward improvement. Watching the Cavaliers play all season, there's no doubt in my mind Dion is a much different player than the one we say the first month of the season when Dion was playing a lot of hero ball. At the time, his shots were going in, but they were mostly bad shots. As he came back down to the law of averages, his shot stopped going in and for a long stretch Dion looked lost and really struggled. Then to start January, Byron Scott benched Dion and rather than sulk, Dion seemed to take it as a real learning opportunity. He refocused his game and started attacking the rim more often. His all around game started looking a little better off the bench. By the end of the month, he was back in the starting lineup and rather than reverting to his old style, he has continued the overall trend of improvement. I don't think any of us know how good Dion will or won't be. He has a ton of work to do before he lives up to being picked #4 in the draft, but it's just way too early to either call him or bust or to say he's lived up to the pick. All we can really say is that it's encouraging to see Dion playing better basketball and we hope it continues and gets even better in the future. ___________________________________ fewest number of players playing at one time, individual players making bigger impact on team, strong advanced stats, just to name a few… in fact, I've been pretty hard on Dion myself and like Moore have faced some angry Cavs fans for my comments about Dion's game
Original Story:
http://www.waitingfornextyear.com/201...
THE BACKYARD
BEST OF MAXIM
RELATED ARTICLES
With the Cavaliers having two rookies playing prominent minutes, WFNY thought it would beneficial to see how the fresh meat around the league is faring in comparison with the Cavalier rookies. Each week, we'll have NBA rookie power rankings where we'll rack and stack the freshman class of the NBA. The rankings will be weighted with the most recent games carrying the most importance...
Metaphors are a funny thing. In the National Basketball Association, seven seconds can turn a prince in to a pauper. It was the "seven seconds or less" offense that ultimately earned Mike D'Antoni two large market jobs. Reggie Miller used the large part of seven seconds when he drained two consecutive three-pointers against the New York Knicks in 1995. And it was the same seven...
There is no doubting the fact that Kyrie Irving is one of the rising superstars in this league and that he should become one of the greatest players of this generation. At 19, he has already won the Rookie of the Year award and is already an All-Star. He is the highest scoring point guard in the NBA and sixth overall and has it been mentioned that he is only 19? He has not yet reached...
Talk about a strange game. The Cleveland Cavaliers played the San Antonio Spurs about as tough as you could possibly hope, and they did it on a night in which Kyrie Irving arguably played the worst game of his career since his debut game against the Raptors last season. The Cavaliers came out strong and rose a combination of impressive bench play (especially on defense) and an unexpected...
Yesterday afternoon I caught up with our old friend and former co-host of the Wine and Gold Podcast Glenn Moore from Cleveland.com. Mr. Moore and I discussed the chances of Kyrie Irving winning the 3-point shoot-out, the article  I wrote comparing Irving to Mark Price last week and the trade possibilities surrounding Big Mo Speights. The link to that episode of Cleveland...
This particular play would've been cooler had the Cavaliers maintained the three-point lead that it gave them, but hey, a dunk on two Spurs is a dunk on two Spurs.  Austin Carr thought it was fantastic, and it's not like he's ever been known to be overly excitable. Something every NBA fan should know: CJ Miles the… um… adult film star has more Twitter followers than CJ...
As suspected by many leading up to this weekend's festivities, Miami Heat forward Chris Bosh will start in the All-Star game in place of injured point guard Rajon Rondo. Miami Heat head coach Eric Spolestra was given the final decision and chose one of his players over other point guards in Cleveland' s Kyrie Irving and Philadelphia's Jrue Holiday. Bosh will start alongside...
If you are familiar with me, you know about the hashtag I created – #NBAFree. Let me give you some background. I grew up with the Cavs a close third to the Indians and Browns as my Cleveland sports loves. My father had season tickets at the old Richfield. I probably went to between 20-25 games a year on average from 1986-1993.  I was a child of the Lenny Wilkens era. Prior to...
Cavaliers News

Delivered to your inbox

You'll also receive Yardbarker's daily Top 10, featuring the best sports stories from around the web. Customize your newsletter to get articles on your favorite sports and teams. And the best part? It's free!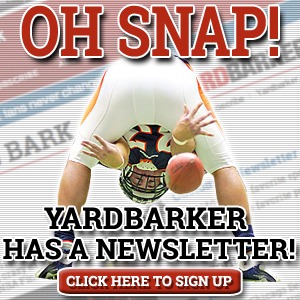 Latest Rumors
Best of Yardbarker

Today's Best Stuff

For Bloggers

Join the Yardbarker Network for more promotion, traffic, and money.

Company Info

Help

What is Yardbarker?

Yardbarker is the largest network of sports blogs and pro athlete blogs on the web. This site is the hub of the Yardbarker Network, where our editors and algorithms curate the best sports content from our network and beyond.