Found August 15, 2012 on Pass The Pill:
Stan Van Gundy and Dwight Howard
credit: sports.cbsimg.net Former Orlando Magic head coach Stan Van Gundy is never at a loss of words; actually, it seems like sometimes he is looking for something to say. We all remember that terribly awkward press conference last season where he told reporters that Dwight Howard wanted him fired, only to have Dwight walk in on the media session. He has since been fired, and is currently unemployed. That being said, many around the league like him as a coach, and expect him to get another crack in the NBA at some point. Of course, Dwight Howard has since been traded to the Los Angeles Lakers. Many, myself included, believe that the Orlando Magic did not get a very good return for their franchise big man. The Houston Rockets were offering their recent draft picks, an almost guaranteed lottery pick next year from Toronto, and significant cap space. Even Atlanta was rumored to be in the mix; one would have to believe their offer would have included some combination of Jeff Teague, Al Horford, and Josh Smith. Instead, Orlando ended up with some draft picks, dumping Jason Richardson's salary, Arron Afflalo, Al Harrington, a significant trade exception, and a few decent young players. There is really no part of this deal that makes you say that Orlando got a good return. So, what does Stan Van Gundy have to say about the whole thing? How do you feel about the fallout from everything that has happened in Orlando? Are you frustrated? Relieved? "Well I'd like to have a job. That'd be nice. That's not a great feeling. We just got caught up in a bad situation and our organization didn't handle it very well. Because of that I would say we probably deserve a lot of what happened as an organization and certainly not the other players. I thought those guys…I felt badly for them, a group that worked hard and was very professional all year long and didn't deserve everything that happened, but from our organization especially the people at the very top it just wasn't handled very well, so you get what you deserve." It's clear that Stan Van Gundy wasn't treated well, and probably didn't deserve all of this from the organization, especially if it was done simply to please Dwight Howard. With Dwight injured, the Orlando Magic got swept in the first round of the playoffs by the Indiana Pacers. Their roster was extremely lonely without Dwight Howard, but it should be noted that Stan Van Gundy got his team to play very hard and compete even though they were very outmatched. You know you'll always get an honest answer out of Stan Van Gundy. Some hate it, some love it. Follow us on Twitter Like us on Facebook The post Stan Van Gundy, on the Magic: "You get what you deserve" appeared first on Pass The Pill.
Original Story:
http://sports-kings.com/passthepill/s...
THE BACKYARD
BEST OF MAXIM
RELATED ARTICLES
Not to say I told you so, but I told you so. When the Orlando Magic fired head coach Stan Van Gundy in an attempt to appease Dwight Howard, a lot of wannabe devil's advocates tried to call the move something other than what it was: an absolutely stupid move borne of shortsightedness and ignorance. The devil's advocates thought they sounded smart when they insisted that the...
There is still aftermath coming out of the Dwight Howard trade. Orlando is still picking up the pieces, introducing Arron Afflalo to the media Thursday as their rollout of the post-Dwight Howard team begins to take a murky shape. The one guy many people wanted to hear from is the former coach, Stan Van Gundy. Generally, people want to hear from Van Gundy all the time because of...
Over the weekend, NBA star Shaquille O'Neal was attending Comic-Con for some reason still not known to us but it gave some reporters the opportunity to talk about the Dwight Howard trade.Check out the below video of the Big Aristotle talking about the mega-trade that sent Dwight Howard to the city of angels in a rather comical way:(Courtesy of Total Pro Sports)
This is not news to anyone, but the Los Angeles Lakers have one of the richest histories in the NBA. They took a big step in making sure that history continued when they traded for Dwight Howard and Steve Nash. They also made sure that the richest payroll in basketball got richer. As Larry Coon explained to ESPN, the difference between doing this trade now and doing it during the...
Howard is all smiles now that he's out of Orlando Well, the NBA off-season dust has settled and most of the moving parts have come to rest. Although I wouldn't exactly call this summer a power shift, I would say that the past couple months of player movements have altered the course of multiple NBA franchises. With that in mind, here's a couple of winners and losers of this...
When the Dwight Howard saga came to a merciful end last Friday after his trade to the Lakers, NBA fans in small markets rolled their collective eyes, and settled in for another big market championship that will almost assuredly take place next June. Blazers fans were in the mix, and it was made more painful that their bitter rivals to the south once again reaped the rewards of an...
One of the funnier moments from this past Olympics was the McKayla is not impressed phenomenon. It even has it's own website. A silver medal doesn't impress the young gymnast and apparently neither does the Lakers trade for Dwight Howard. KG of course is also not impressed with L.A.'s new clown. Related: KG to Howard: "Paint your face, clown!" About Afternoon...
Now that the Olympics are over, and while football is still an interminable number of weeks away, the sports news cycle has just about ground to a halt.  The baseball trade deadline has come and gone, the Dwight Howard saga has come to a merciful (and predictable) end, and there's just not a whole lot [...]
While We're Waiting serves as the early morning gathering of WFNY-esque information for your viewing pleasure. Have something you think we should see? Send it to our tips email at tips@waitingfornextyear.com. Yep. Good thing the new CBA fixed this. "When a child cries in the NBA, he gets to spank his parents. This is one lesson of the Dwight Howard saga, which is finally over...
While all the Dwight Howard talk has been about the Los Angeles Lakers don't forget about the Philadelphia 76ers. 76ers head coach Doug Collins called the Olympics for NBA. During one of the broadcasts here is what he had to say about the four team trade. "When you think about adding Andrew Bynum, a big man who can score in the paint, rebound and block shots —...
NBA News

Delivered to your inbox

You'll also receive Yardbarker's daily Top 10, featuring the best sports stories from around the web. Customize your newsletter to get articles on your favorite sports and teams. And the best part? It's free!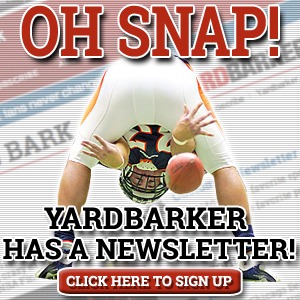 Latest Rumors
Best of Yardbarker

Today's Best Stuff

For Bloggers

Join the Yardbarker Network for more promotion, traffic, and money.

Company Info

Help

What is Yardbarker?

Yardbarker is the largest network of sports blogs and pro athlete blogs on the web. This site is the hub of the Yardbarker Network, where our editors and algorithms curate the best sports content from our network and beyond.