Found January 16, 2013 on Deuce of Davenport:
David Stern likes to act as though he has the best interests of the NBA in mind. He portrays himself as the keeper of order and decorum. Dress like a thug? Dress code. Fight? Suspension. Insult gay people? Minuscule fine and a slap on the wrist. Amar'e Stoudamire and Joakim Noah were fined $50,000 and Kobe Bryant $100,000 for their comments. When it comes to homophobia, the NBA is the equivalent of UEFA and FIFA. Thankfully a Swedish soccer team has shown real courage when it comes to dealing with this issue. Swedish seventh division team Sörskogens IF fired their whole first team after they made homophobic comments to another team during a match. During the match, players from Sörskogens were heard saying "you suck **** for 50 kronor", "all of you have HIV", and "we're probably going to get infected", among several other homophobic remarks, the local Mitt i Huddinge newspaper reported. "It was a little unpleasant when we went into the dressing room after the game. One of our players was also threatened after things got a little heated on the pitch," Snipers coach Christoffer Smitz told SR. The team was fined 5,000 kronor ($755) by the Swedish Football Association and the team officials had to attend sensitivity training. However they went a step further and fired the whole first team. "We had no choice but to suspend the entire team. That kind of language isn't appropriate for football or anywhere else," club chair Torp told Mitt i. The Local also refers to the players being suspended. Maybe something is lost in translation but either way it's a better move than most teams or professional league have made when dealing with issues of homophobia. Ah the hell with it. David Stern, Michel Platini and Sepp Blatter could all learn something from this. FIFA and UEFA also have issues dealing with homophobia but racism gets more play due to the fact bias against gays is more accepted in sports worldwide. The usual penalties (if any) are monetary in amounts that would make any halfway-decent player or country association laugh. The NBA is no better. The incidents involving Bryant, Stoudamire and Noah were opportunities for Stern and the NBA to make a statement but they took the easy way out by issuing fines that probably didn't make any of them blink. Stern obviously isn't concerned with player opinions so that's not a reason for such a weak response. LGBT organizations such as the Human Rights Campaign called the league out but curiously complimented Stern on fining the players. Really? Others praised the league for their actions too. This is setting the bar way too low. Strong actions by leagues and teams would set an example for players and fans to show certain behavior won't be tolerated. Suspending a player for a certain period of time or even releasing him depending on the gravity of the offense would send a message. It's impossible to change people's opinions overnight but it needs to start somewhere. Teams also shouldn't wait for leagues to take action. They should investigate and take action on their own within the scope of collective bargaining agreements and their respective leagues should back their moves. The MLS took a much stronger stand by banning the Houston Dynamo's Colin Smith for three games and fining him for insulting a ball boy with an anti-gay remark during a game. He was also forced to attend diversity and sensitivity training. Consider how much less MLS players make than players in other major professional leagues and the amount of games in the season. That is a much stronger statement. Could more be done? Absolutely but it's more than most are doing right now. It's also refreshing to see individual players taking stands such as the NFL's Brendan Ayanbedejo and Chris Kluwe in the face of opposition or mockery even within their own locker rooms. Racism is more of an issue in European sports than it is in the US but homophobia is something that still prevails on both sides of the Atlantic.
Original Story:
http://www.deuceofdavenport.com/2013/...
THE BACKYARD
BEST OF MAXIM
RELATED ARTICLES
It is getting close to a year before David Stern steps down from his perch as the NBA's commissioner. For as much as Stern has accomplished, there is still the feeling that a lot of work is left to do. One of Stern's biggest legacies in his quarter century as the league's commissioner is the growth of the game globally. Assisted by the growth of international brands...
NBA Commissioner David Stern has no problem with teams aiming microphones at their own players during games. If anything, he wants more mikes on the court. Talking ahead of the New York Knicks' game in London against Detroit on Thursday, Stern shrugged off a report that MSG chairman James Dolan used listening devices at Madison Square Garden to record everything said to and...
Long before David Stern became the Commissioner of the Association, he went to law school, passed the bar and was a practicing attorney for many years. One would rationalize that with his background as an attorney, that he would think through all the ramifications of his actions; before making any decision. However, by deciding to fine the San Antonio Spurs $250,000 when head coach...
"Anything that is said on the court is really subject to being picked up," Stern said. "For my money, I'd like to see the audio track of our games be a little bit more robust, anyway…If anything, there are going to be more mikes around the game rather than fewer." "And we encourage all of our teams to mike the court as best they can," Stern said. "If a team does...
Sacramento Mayor Kevin Johnson says he has received approval from NBA Commissioner David Stern to present a counteroffer to the league from investors who would keep the Kings in California's capital city. Speaking at the annual State of Downtown Breakfast on Tuesday, Johnson says the city is in a ''six-week sprint'' to put together a proposal for the NBA'...
Sacramento Mayor Kevin Johnson said Tuesday he has been given permission by Commissioner David Stern to present a counter-offer for the Kings NBA franchise directly to the league's board of governors. The Maloof family, which owns the Sacramento Kings, reportedly has received an offer of $525 million from a group that wants to buy the team and move it to Seattle. Johnson...
Sacramento's Mayor Kevin Johnson is taking his fight to keep the Kings in California's capital city to NBA owners. Again. Speaking at the annual State of Downtown breakfast on Tuesday, Johnson said he has received approval from NBA Commissioner David Stern to present a counteroffer to the league from buyers who would keep the team in Sacramento. He said the city is in a "six...
OOPS
National Basketball Players Association executive director Billy Hunter signed a 5-year deal in 2010. One problem: It never got the proper player representative approval.
Two people familiar with the decision say the Maloof family has agreed to sell the Sacramento Kings to a Seattle group led by investor Chris Hansen. The people spoke on condition of anonymity to The Associated Press on Sunday night because the deal is still pending approval from the NBA Board of Governors. One person said the Maloofs are selling all 65 percent of their share for...
Gregg Popovich made news and angered David Stern when he benched Tim Duncan, Manu Ginobili, Tony Parker, and Danny Green in a nationally televised game against the Miami Heat. Stern eventually fined him, although Popovich has been known to do this somewhat regularly to keep his key players fresh for the end of the season. Understandably, some Heat fans were disappointed that they...
The San Antonio Spurs have already drawn the ire of David Stern this season. Now the team may have to fight its case in court as well. ESPN.com's Darren Rovell reports that Miami-Dade County attorney Larry McGuinness has filed a class action suit against Spurs coach Gregg Popovich, claiming that he and other fans "suffered economic damages" when Popovich chose not to play Tim...
NBA News

Delivered to your inbox

You'll also receive Yardbarker's daily Top 10, featuring the best sports stories from around the web. Customize your newsletter to get articles on your favorite sports and teams. And the best part? It's free!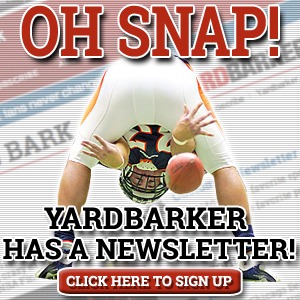 Latest Rumors
Best of Yardbarker

Today's Best Stuff

For Bloggers

Join the Yardbarker Network for more promotion, traffic, and money.

Company Info

Help

What is Yardbarker?

Yardbarker is the largest network of sports blogs and pro athlete blogs on the web. This site is the hub of the Yardbarker Network, where our editors and algorithms curate the best sports content from our network and beyond.