Herald  Bobcats to host training camp in Asheville
NBA picks Bantom to head referee operations dept.
Erik Spoelstra says Heat will play even faster
Globe  New Hall of Famer Don Nelson reflects on career
Celtics Green  New VP of Referee Operations Appointed
This One's For You, Red
Power.Forward.
Celtics Life  Celtics Got Each Others' Backs
The Greatest Celtics Commercial Ever
CelticsBlog   Who is the Best Current Celtic Player?
Biggest Disappointment Day - Mark Blount (Of Course)
The Jeff Green Contract Was A (Bad) Deal That Had To Be Made
The Tax Man Cometh
CelticsBlog Offseason Mailbag Uncut - Part V
ESPN  Insider: What Green brings to Boston
Over/Under: Avery Bradley
NBA hires Mike Bantom as new VP of referees
Lex Nihil Novi  McHale Learning, Improving, Free of Pressure
Parish Cashing in on Second Chance
Das Chief
Celtic Nation Get Off My Back
An Ace Up Our Sleeve
CLNS Radio  Celtics News From Around the Web 9/6/12
Red's Army   GreenLight Madness: Seed #16 vs Seed #17
Jared Sullinger isn't interested in tattoos
KG takes-off for China visit
Danny Ainge had no real choice but to give Jeff Green his money
CSNNE  Terry dedicates himself to helping Christmas succeed with Celtics
Celtics Question of the Day: Bass or Green as starting PF?
Pro Basketball Talk  Report: Shaq could play couple games in Mexican league
Green Street   Irish Coffee: Did the Celtics solve rebounding woes?
Mass Live  Jared Sullinger of Boston Celtics promised his mother he will never get tattoos
Celtics Title Town  Celtics Legends Series: Robert Parish
Green the gamble, and the underdog
Celtics Morning Joe: Top Free Agents left
Hangtime Blogs  The Flagrant Foul Mix (Video)
Bettor.com Tom Thibodeau in contract extension talks with Chicago Bulls, again
Hoopsworld  Knicks Players Organize "Pre-training Camp"
Ray Allen Offers Quick Fix for HEAT's 1 Offensive Issue
Rant Sports  Eddy Curry Ranked NBA's Worst Player: Happy That Someone Remembers Him
NBA Rumors: Free Agent Matt Barnes Talking To Boston Celtics?
Bleacher Report  How the Boston Celtics Match Up Against Each Atlantic Division Foe
Can Fans Still Chant for Chicago Bulls Assistant Coach Brian Scalabrine?
Breaking Down Why Courtney Lee Will Perfectly Complement Rajon Rondo
Breaking Down How Miami Heat Offense Will Change with Ray Allen on the Court
Hardwood Houdini  How do the Boston Celtics Stack Up Against the Philadelphia 76ers?
Complex  Shaquille O'Neal In Talks to Join Mexican Basketball League for a Couple Games
Dimemag  Shaq Could Return To Basketball; Knicks New Jerseys Are Revealed
Cornell Sun  A Soundtrack to Professional Basketball
[Discuss on CG Forums!]
Original Story:
http://celticsgreen.blogspot.com/2012...
MORE FROM YARDBARKER
NBA News

Delivered to your inbox

You'll also receive Yardbarker's daily Top 10, featuring the best sports stories from around the web. Customize your newsletter to get articles on your favorite sports and teams. And the best part? It's free!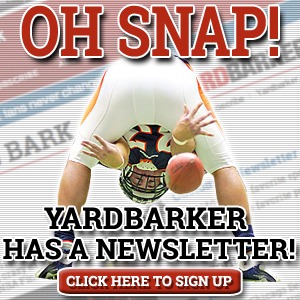 Latest Rumors
Best of Yardbarker

Today's Best Stuff

For Bloggers

Join the Yardbarker Network for more promotion, traffic, and money.

Company Info

Help

What is Yardbarker?

Yardbarker is the largest network of sports blogs and pro athlete blogs on the web. This site is the hub of the Yardbarker Network, where our editors and algorithms curate the best sports content from our network and beyond.