Found February 20, 2013 on Turn On The Knicks:
The New York Knicks thoroughly embarrassed themselves from start to finish tonight in Indiana, getting blown out 125-91. This game was never close as they were trailing by 30…yes 30 points at the half. It was a gutless, lazy, sloppy 48 minutes of basketball from a team who talks about being a serious contender. There was a serious contender in the Eastern Conference on the floor tonight and they had about 25 uncontested dunks on the Knicks "defense." This was the kind of game that leaves you scratching your head wondering if the Knicks are really just a 7 or 8 seed who happened to get off to a hot start. There was no other way to describe tonight's effort except for pathetic. Offensively, there is no rhythm and consistent missed lay-ups. Jason Kidd cannot remain in the starting line-up. He has not hit a jump shot since before Christmas. JR Smith is still too easily rattled by opposing teams and once things go south for him, he is done for the night. It is getting ugly out there and...
Original Story:
http://www.turnontheknicks.com/tok-ga...
THE BACKYARD
BEST OF MAXIM
RELATED ARTICLES
'TRYING TO GET THE PIPE?'
JR Smith is quite the ladies' man. The New York Knicks guard has had dalliances with the likes of musicians Rihanna and K. Michelle. He has dated the large-bottomed ex-girlfriend of rapper Joe Budden, and this heavily-tattooed model. Smith is in high demand when it comes to the ladies, so excuse him if he just gets right to the point when he senses a woman is interested in him...
J.R. Smith is the epitome of the word ratchet in every sense of the word.  Smith is already catching flak from recording artist K Michelle for ditching her in a club. Now according to Deadspin, Smith who has a thing for the ladies, tried to seduce a groupie with the pickup lines of all pickup lines. Last month while Smith and the Knicks were in Philadelphia, Smith was having a back...
JR Smith and Twitter are the source of endless amount of unexpected comedy. I like to refer to Twitter as dine and deliver for athletes. Their follower list is like a menu where they order up their entrees via DM. Last month while the Knicks were on a road trip in Philly, one of JR's followers sent him a DM to let him know she'd be attending his game against the Sixers. From...
I have to be perfectly frank with you, as a "Player" I have never been that impressed with JR Smith, but as a "Playa"  he seems to know what he is doing. From Tahiry, Rihanna and others, JR is the NBA version of Black Dynamite.  K Michelle was singing love songs to him and saying she would do anything to sleep with him again, on various public forums.  Some guys might...
Deadspin was at it again today as they posted a conversation between J.R. Smith and a female follower in which he asked the high school girl if she was "trying to get the pipe," in response to her attending his game that night. As you can imagine, the phrase "You trying to get the pipe," is taking Twitter by storm, calling for the hashtag "#YouTryinToGetThePipe. I guess...
JR Smith is a true pipe layer. 
Tweet New York Knicks guard J.R. Smith has a history of shenanigans on Twitter. Last year Smith was fined $25,000 for tweeting a pic of a model's hind parts in his hotel room. Smith has also been known to get into twitter confrontations and actively engages with his followers. Deadspin published a story earlier Thursday leaking a [...]
It hasn't been J.R. Smith's week. He was ejected from the game against the Pacers on Wednesday. The next day a provocative text with a high school girl leaked online, and now reports suggest him getting testy with Knicks assistant coach, Herb Williams. According to the NY Post: Smith also had an incident with the Knicks' mild-mannered assistant coach, Herb Williams. In the...
JR Smith has played an important role for the New York Knicks this season, averaging more than 15 points per game and giving the team a dangerous perimeter shooter. He has been one of the best sixth men in the league, but that does not mean New York's coaching staff is overly thrilled with him. On Wednesday night, Smith was ejected in the third quarter of a blowout loss to the...
By Ari Wasserman Originally posted at BuckeyeSports.com As it has always been coached to do, Ohio State entered the practice gym the day after Sundays 71-49 loss at Wisconsin ready to put the past permanently behind it. There was an aura of acceptance for a team that realized theres nothing that can be done to erase what has since been described by multiple players as an embarrassing...
How the Knicks perform in the 2012-2013 season will be a testament to an issue applicable across all sports; the value of knowledge and experience versus athleticism and youth. Coming into the season the Knicks were the oldest team in NBA history with an average age on the roster of 32 years and 240 days. The team included a 40-year old forward in Kurt Thomas and two 38-year old...
Knicks @ Pacers: MSG 7pm The Knicks are back and facing one of their toughest tests and oldest rivals, the Indiana Pacers. The Pacers sit just 1.5 games behind the Knicks. The two teams split their two matchups this far, with both teams unable to break 90 points in a game. The Pacers boast the second best home record in the East, at 21-5. The Pacers strength is their defense and...
Knicks News

Delivered to your inbox

You'll also receive Yardbarker's daily Top 10, featuring the best sports stories from around the web. Customize your newsletter to get articles on your favorite sports and teams. And the best part? It's free!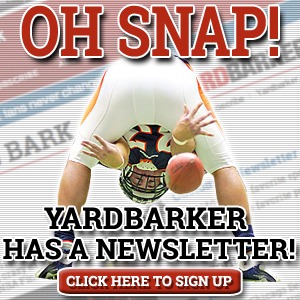 Latest Rumors
Best of Yardbarker

Today's Best Stuff

For Bloggers

Join the Yardbarker Network for more promotion, traffic, and money.

Company Info

Help

What is Yardbarker?

Yardbarker is the largest network of sports blogs and pro athlete blogs on the web. This site is the hub of the Yardbarker Network, where our editors and algorithms curate the best sports content from our network and beyond.