Found July 16, 2012 on NBA 24/7 365:
The Brooklyn Nets may not have been able to land Dwight Howard (at least not yet), but they're still confident that they're better than the Knicks.  At a recent pep rally of sorts, Joe Johnson declared his squad the best in The Big Apple, and Billy King described his newly-formed backcourt tandem as the finest in the league.
Meaningless braggadocio?  Yeah, but sports are about competition, and since we can't play 'til November we may as well yap about it in July, right?  Wrong, says Tyson Chandler.  Via Newsday.com…
WASHINGTON — Tyson Chandler is aware of the Nets' chatter of late, the stuff about Joe Johnson saying they were already the best team in town and the Nets expressing how they feel own the NBA's top backcourt.

The Knicks center believes it's time for their crosstown foes to pipe down.

"Ive heard a little bit, but I think its foolish," Chandler said before today's Team USA's practice at George Washington University. "The Nets are just coming together. I think its pointless for them to talk to us about anything. First, they need to establish themselves."

Chandler said all the hot air emanating from Brooklyn is premature — and unproven.

"Its just a lot of talk for nothing," he said. "Its almost the same thing as us talking mess to the Dream Team. It cant happen right now, so I'll let all my talking speak for itself the first time we play the Nets."

Chandler even suggested there's not even a true rivalry between the two just yet.

"They are trying to make a beef or whatever thats not there, to be honest with you," he said. "Its easy to talk in the summertime, but well see how things go when the season starts."
Now comes the part where I make fun of the Knicks, so if that's going to get your panties in a bunch then simply click the red "X" in the upper right-hand corner.
Alright… for those of you who are still with me, I'm curious as to how Tyson plans to "let [his] talking speak for itself," because that whole concept doesn't make any sense at all.
Also, is Tyson insinuating that his Knickerbockers are "established?"  I mean, yeah, the Knicks are established in New York City as far as having played there for the past 6+ decades, but I'm pretty sure that's not what he's getting at.  I'd say that the message Tyson is broadcasting basically reads "get on my level," which is honestly kind of silly, because a first-round exit is no accomplishment to speak of… especially not in the East, especially not when it's happened two seasons in a row, and especially not when you consider the Knicks' payroll (and the fact that that payroll is being doled out to a roster of overpaid square pegs that Mike Woodson will attempt to jam into round holes).
Oh, and the part about how it's almost the same thing as us talking mess to the Dream Team?  Yeah… no.  The Nets are a shoo-in for the playoffs, which puts them… well, on pretty even ground with the Knicks, actually.  Beyond that both of these teams have everything to prove.
Original Story:
http://nba247365.com/?p=7100
THE BACKYARD
BEST OF MAXIM
RELATED ARTICLES
Oh, Dwight.  Dwight Dwight Dwight.  When are you ever gonna learn to just keep your mouth shut?  Earlier today, Dwight Howard took to twitter to vent about how the Magic have treated him.  He didn't tweet these thoughts to the general public, but rather via Direct Message, a private messaging feature.  I guess Dwight's thinking [...]
The Lakers and Magic have rekindled talks that would send center Dwight Howard to Los Angeles, Yahoo Sports reports. Howard, in the final year of his contract, hasn't committed to signing a long-term deal with the Lakers, which general manager Mitch Kupchak would consider a non-starter in a proposed deal that could involve Lakers' center Andrew Bynum. Yahoo reported the...
Screen capping is becoming a danger zone for unsuspecting professional athletes. First we had Amar'e Stoudemire calling a fan a derrogatory slur in a Twitter direct message that the fan revealed to the masses. Now we have a similar case, with Magic fan Markee Randolph (@MagicMarkee)  "leaking" a rant Dwight Howard sent him going off on the [...]
Ballertainment Apparently, Dwight Howard is cool enough with one of his Twitter followers that he sent a series of direct messages to the guy via his account. The information he shared offers us enough information to know that Howard is the misguided piece of work many have been thinking he is. Catch the tweets after you advance the ball. Who does this? Ok, more so, who STILL...
Hall of Fame power forward Charles Barkley understandably told Philadelphia radio station 97.5 that he is "sick" of Dwight Howard being a ***** on Thursday. Howard, 26, who the Orlando Magic took out of Southwest Atlanta Christian Academy first overall … Continue reading →
Dwight Howard isn't doing helping to kill those "Dwight Howard to the Lakers" rumors now is he?The NBA All-Star and his girlfriend Christine Vest hit the Los Angeles Dodgers game Tuesday night and, apparently, were pretty well received by the Chavez Ravine faithful.On in other Dodgers-related basketball news...team owner Magic Johnson is still out yachting with Dave...
It started off pretty shaky at the Verizon Center last night as Team USA just couldn't get it together. The men's basketball squad was down by 10 at the end of the first quarter and it appeared as if the team just could not get in sync. Injuries to Dwight Howard, Blake Griffin and Chris Bosh have left the team with some gaping holes in the big-man department, but if this...
NBA News

Delivered to your inbox

You'll also receive Yardbarker's daily Top 10, featuring the best sports stories from around the web. Customize your newsletter to get articles on your favorite sports and teams. And the best part? It's free!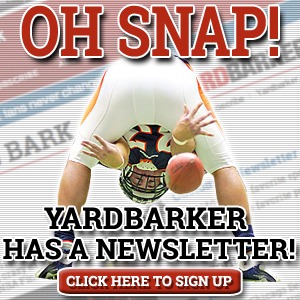 Latest Rumors
Best of Yardbarker

Today's Best Stuff

For Bloggers

Join the Yardbarker Network for more promotion, traffic, and money.

Company Info

Help

What is Yardbarker?

Yardbarker is the largest network of sports blogs and pro athlete blogs on the web. This site is the hub of the Yardbarker Network, where our editors and algorithms curate the best sports content from our network and beyond.