Found December 01, 2012 on Fox Sports Florida:
MIAMI Yes, Dwyane Wade has heard what's been said about him. Talk has been he's an old 30 and doesn't have the explosiveness he once did. It's like a recording, the way critics mention he's on track to having his lowest scoring average since his rookie year of 2003-04. During Thursday's game on TNT between Wade's Miami Heat and the San Antonio Spurs, analyst Charles Barkley said the guard must realize "he's starting to lose his (natural) talent, and now he has to learn how to play below the basket." Analyst Reggie Miller said Wade has "taken a step back" this season andnow is Miami's third-most important player behind LeBron James and Chris Bosh. But Wade didn't just shrug off all this talk. He showed up at AmericanAirlines Arena about four hours before Saturday's tipoff against the Brooklyn Nets, more than an hour before his usual arrival time. Wade hit the weight room and the practice court to get ready. The extra work sure paid off, as Wade scored a game-high 34 points to lead the Heat to a 102-89 win over the Nets. "Anytime anybody throws dirt on you and tries to say something, you always want to prove them wrong," Wade said. Wade got off to a rough start this season afterundergoing surgery last July on his left knee. Adding to his troubles, he had a jammed right thumb and a sprained left foot in middle of last month. Wade had a three-game stretch in which he averaged just 11.0 points before sitting out two games to rest his injuries. That's when talk escalated even more about him not being the player he once was. After resting those two games, Wade averaged 21.7 points in his next three. But he had shot just 13-of-32 in the last two of those three, one reason he showed up early Saturday. "Obviously, I want to play better," said Wade, whose scoring average of 19.5 is the lowest since his rookie mark of 16.2 and is well under his career average of 25.0."I was struggling a little bit as I continue with my goal to be by All-Star (break) feeling better coming off the knee surgery. ... I know this was a big game for us to come in versus a team playing very well. I wanted to make sure I came out ready." Wade sure did. With 16 points, he kept the Heat (12-3) afloat during a first half in which they fell behind 59-50. Then, with Miami's defense picking up, Wade added 18 points during a second half in which the Heat blitzed the Nets (11-5) by a 52-30 count. He certainly looked like the Dwyane Wade of old, not an old DwyaneWade. He shot 14-of-20 and had seven assists, threw down three dunks and attacked the rim for four layups. "That's what happens with all the greats," said James, who scored 21 points Saturday. "A lot of people always doubt your ability as they get older or their roles change and don't know all the facts. So he's a motivated guy. It's great when people say stuff about him. I'm glad that he gets motivated and he can go out and prove that he's still the same Dwyane Wade." However, until he looks like theWade of old for an extended period, there still will be doubters. It must be said the Heat played just two games in each of the past two weeks, giving Wade extra time to rest. But if talk continues about Wade being an old 30, it doesn't sound as if his teammates would mind. It might just add more fuel. "Anytime anybody doubts you, obviously you use it as motivation," Bosh said to a writer. "It's like if somebody told you that you can't write, you're going to write one hell of a story the next day. You take things and you use them for motivation." In the meantime, Wade wants to offer some clarification. He is averaging 33.8 minutes "I never hear anybody say anything about I'm playing the least minutes I have in my career," said Wade, who last season began to really play a more reduced role as James emergedclearly as Miami's most important player."You never hear that. All you hear is, Oh, it's this or that.' For me, I got to try to be the best player I can be for my team. Some nights it's going to be a night like (Saturday), and some nights it's not. I got to do what I can." To clarify, Wade actually is averaging the second-fewest minutes of his career, the low being last season's 33.2, when he averaged 22.1 points. And Wade's player efficiency rating, which wouldn't be affected just because minutes are cut, was 17.6 entering Saturday's game, below last season's 19.4 and well below his career mark of 25.6. All of this is somewhere in between. Wade might be more explosive in the second half of the season when his knee is better. Still, due to age and injuries, he won't consistently be the same player he once was. But there will be nights like Saturday when he does turn back the hands of time. If Wade wants to use what critics are uttering for motivation, all the power to him. The Heat have another game on TNT next Thursday (against New York), and don't be surprised if Wade afterward requests a full report on what Barkley and Miller had to say. Chris Tomasson can be reached at christomasson@hotmail.com or on Twitter @christomasson
Original Story:
http://www.foxsportsflorida.com/12/01...
THE BACKYARD
BEST OF MAXIM
RELATED ARTICLES
MIAMI -- Dwyane Wade said he rode 20 miles on his bike Friday night, and, 24 hours later, the hard work paid off. Wade scored a season-high 34 points to help the Heat defeat Brooklyn, 102-89, Saturday night, marking their 12th consecutive win over the Nets. The Heat overcame a 14-point first-half deficit, the largest disadvantage they have overcome all season. Heat coach Erik...
WORTHY RECIPIENT
Miami Heat superstar LeBron Names has been named the 2012 Sportsman of the Year by Sports Illustrated.
Dwyane Wade scored a season-high 34 points, LeBron James added 21 points and the Miami Heat rallied from a 14-point deficit to beat the Brooklyn Nets 102-89 on Saturday night. Ray Allen scored 13 and Norris Cole finished with 12 for the Heat, who won their sixth straight and remained atop the Eastern Conference. Miami held the Nets to 30 points in the second half. Andray Blatche...
For those of you looking for something to do tonight and happen to be in the Washington D.C. area, it appears that Miami Heat star LeBron James will be hosting a party.The grand opening flyer of "The Huxley" features LeBron front and center but it is clear that LBJ might be the host with the most:There's no party like a LeBron James party.....
LeBron James dominated 2012, and he's still adding to his trophy case. Sports Illustrated announced on CNN on Monday morning that James has been named the 2012 Sports Illustrated Sportsman of the Year. James owned the sports world in 2012, winning his first NBA title with the Miami Heat in June, before adding a gold medal at the London Olympics a couple of months later for Team...
Whatever you think of Miami Heat star LeBron James, you have to give him credit for hustling on this play against the Brooklyn Nets on Saturday night.In the second quarter of play, LeBron misses his first shot of the possession but quickly gets it back after a steal by Miami reserve Mike Miller.Watch as LeBron misses the first lay-up but gets it back for an incredible and-1 make...
MIAMI (AP) -- LeBron James of the Miami Heat is Sports Illustrated's Sportsman of the Year. James became an NBA champion for the first time in 2012, a year in which he also won his second Olympic gold medal and his third NBA MVP trophy. He's the first NBA player to win the award since Heat teammate Dwyane Wade in 2006. Time Inc. Sports Group editor Paul Fichtenbaum said Monday...
San Antonio Spurs center Boris Diaw committed two charges on the same play during the second quarter of Thursday night's NBA game against the Miami Heat. Officials did not call the first charge that Diaw committed against Chris Bosh, but had to call the second one when Diaw virtually ran over Udonis Haslem in the paint. TNT analyst Charles Barkley joked "This...
NBA News

Delivered to your inbox

You'll also receive Yardbarker's daily Top 10, featuring the best sports stories from around the web. Customize your newsletter to get articles on your favorite sports and teams. And the best part? It's free!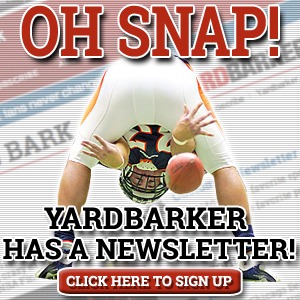 Latest Rumors
The Backyard

Today's Best Stuff

For Bloggers

Join the Yardbarker Network for more promotion, traffic, and money.

Company Info

Help

What is Yardbarker?

Yardbarker is the largest network of sports blogs and pro athlete blogs on the web. This site is the hub of the Yardbarker Network, where our editors and algorithms curate the best sports content from our network and beyond.