Found October 30, 2012 on Waiting For Next Year:
PLAYERS:
Kyrie Irving
,
Dion Waiters
,
Jon Leuer
,
Tristan Thompson
,
Tyler Zeller
,
C.J. Miles
,
Luke Walton
,
Anderson Varejao
,
Alonzo Gee
,
Omri Casspi
,
Daniel Gibson
,
Antawn Jamison
,
Sasha Pavlovic
,
Rajon Rondo
,
Byron Scott
TEAMS:
Cleveland Cavaliers
,
Los Angeles Lakers
,
Portland Trail Blazers
,
Boston Celtics
,
Toronto Raptors
With the season starting tonight, the WFNY gang answered some questions about the upcoming 82 games. We also asked Jack @WayneEmbrysKids to participate with us. Because he's one of the cool kids on the twitters. 1. What will be the Cavaliers' Win-loss record? How much does it mean in the scheme of things? SCOTT: I've gone on record with my forecast of 27-55, which should slot them around 12th in the Eastern Conference. Big picture, it means that the Cavaliers should be obtaining yet another lottery pick, one that will likely be used on a small forward that will give the Cavaliers a concrete, young starting five for the foreseeable future. JACK (@WayneEmbrysKids): Cavs will go 36-46, just miss the playoffs, get a shot in the lottery. It's only year two of Kyrie Irving. Not going to lose my mind when they miss the playoffs. I assume some people will be pressing for them to make a big trade at the deadline to add a horrible contract to push for the playoffs, but I don't think that would be wise and I don't think that's how Chris Grant does business. The goal should be to build towards a championship, not to build a first round exit team. Let me just say this, however. There's two rookies on this squad with potential to be game changers. Zeller could be very good by the end of the season and Dion Waiters upside could put the Cavs in the playoffs whether they're ready or not. I'll hedge all of this by saying that the Cavs may have trouble scoring points. If Gee stumbles and Waiters struggles and we're all looking to Jon Leuer to score points, grab your barf bags. KIRK: I have the Cavaliers down for a 30-52 record and a 11th place finish in the East. That's a three game improvement if you extrapolate the 21-45 record out to a regular 82-game season from last year. The wins and losses don't mean much in the grand scheme of things. It would be nice to see the Cavaliers stay in the playoff race to the end, but I don't think that will be the case. Instead, the Cavaliers will start out slow and climb back up the standings a little late in the season. They'll get another lottery pick, and next year is when the playoff push will be made. And it will be a successful one. CRAIG: The Cavs are going to surprise some people, avoid those embarrassing losing streaks and still not get all that close to 0.500. I'll say 32 wins to just beat the over/under of 31. RICK: Two things will greatly impact my prediction. The first is a Varejao trade, and the second is the inconsistent nature of young players. Both will cost the Cavaliers wins. I think we're looking at between 26-34 wins. I'll go with 29. JACOB: I'll go with 34-48. The Cavaliers are not a playoff team this year, as I've said before this offseason. We'll finish in the 10-13th range in the Eastern Conference, which isn't that big of a deal since this is still a rebuilding team. Hopefully no one worries too much about this team being great just yet. ANDREW: In my Cavaliers preview, I pegged this team at 34-48. For whatever reason, I'm less confident in that number now than I was at the time, but I'll stick with it. I don't what it means, exactly, but I do know I'd prefer to not have another season of Tank Strong talk. If the Cavaliers are talking about tanking, it means things have gone horribly wrong with Dion Waiters and Tristan Thompson. RYAN: This year should look similar to last. The season will have its moments similar to last year's wins at Boston, Denver, and OKC and maybe even a few more. Expect the Cavs to hang a little below .500 in the first half and go into tank mode at the end of year to finish with a record of 30-52. This should put them near the top 5 of the lottery, which is a good thing for the long run. 2. Who is the player that will surprise fans most with a breakout season? JACK: I can't believe Tyler Zeller wasn't even mentioned in the Sports Illustrated season preview for the Cavs. Fans that don't know about him will soon. I still believe Tristan Thompson can be a valuable Cavalier, but Zeller's going to pass him up in a month. You can see why Scott tried to go Zeller/Varejao frontcourt in the preseason. That's the best combo of bigs on the roster. ANDREW: I'm not sure anyone on this team has a true breakout season. I expect Waiters to struggle with consistency and I just haven't seen Tristan show any signs of breaking out. I think maybe the player that will surprise fans the most is CJ Miles. I think he was overlooked by Cavs fans when the team signed him. He's a good NBA basketball player. SCOTT: I have faith in Tristan Thompson's year-to-year growth. It could be bumpy, but I believe, come April, we wil be talking about a kid who averaged a double-double with at least one blocked shot per game. JACOB: Can I say Tyler Zeller? Or is that copping out since he is just a rookie? I think the new Z's consistency and offensive reliability will be surprising to most fans who didn't see him play regularly at UNC last season. He's as solid as they came. In terms of a returning player, my money is on Luke Walton. Heck, anything productive out of him would surprise most people, eh? KIRK: I'm going with Tyler Zeller here, though it could just as easily be his bench counterpart C.J. Miles. Zeller can run the floor, knock down mid-range jumpers, and he's ready to step in and make an impact immediately. That impact will be felt even more if and when the Cavaliers trade Anderson Varejao, vacating the five spot for the UNC rookie.When Kyrie and Waiters slash the paint, I expect to see a nice release valve in Zeller to knock down corner and elbow jumpers. His only hindrance will be his post defense against thicker bodies. 3. Who will regress or be the most disappointing player on the roster? CRAIG: Zeller will shine at the expense of Tristan Thompson. I hope I'm wrong about this, but I just don't have good feelings. SCOTT: I hate to say it, but I think Alonzo Gee could leave fans a bit underwhelmed. He now has to contend with CJ Miles in addition to Luke Walton and Omri Casspi. He was more than deserving of a new contract, but I think last season may have been his ceiling. JACOB: Daniel Gibson. Yes, Antawn Jamison's scoring void will create problems with this team's overall scheme, but I think C.J. Miles, Tyler Zeller and Dion Waiters will likely fill in those 20-25 points per night. After that, the new frontcourt depth pushes Gibson way down the depth chart, and this will likely be a disappointing end to his long Cleveland career. KIRK: I reluctantly say Alonzo Gee. He came on so strong with his hard work ethic and ferocious dunks last year. But, with C.J. Miles brought in, coupled with Gee's inability to flash a capable handle, I don't see Gee taking yet another step forward. In fact, I expect to see a bit of regression and a reduction of minutes. JACK: I might be the only one who's concerned about Alonzo Gee. But if you think about it, he just got his first real NBA deal. His hunger is definitely going to be tested. PLEASE DO NOT GO SASHA PAVLOVIC ON US. RICK: Dion Waiters. And man do I hope I'm wrong. 4. Is Varejao a Cavalier at the end of the season? ANDREW: Probably. The Cavaliers would most likely love to trade him, but the problem is finding the right kind of return value. The teams who would trade for Andy are playoff teams. And a first round pick from a playoff team is not worth what Andy means to this team. If they can find a team with some acquired picks that they can move for Andy, then yeah, I think the Cavs would trade him. But I remain pessimistic the right fit is out there. JACOB: I'd put it at 25%. Yes, it certainly makes sense to try and swap him for a draft chip or more trade assets. But if Varejao's value slips at all or if he's a truly vital component to this team (and this defense) staying afloat and competitive, then I think the Cavs might get cold feet. This defense is poor at best at full strength, let alone without the Wild Thing. KIRK: No, I think the Cavaliers finally cave and deal Andy for a first round pick (non-lottery) and a young wing prospect. The Cavaliers then hope the Kings make the playoffs and the wine and gold have four first round picks to work with next June to wheel and deal. This isn't about anything Andy has done, and it will be hard to see him in another uniform, but all good things come to an end. He's simply worth more as a sixth man to a title contender than he is as a starting center getting banged up here in Cleveland. SCOTT: No chance. If he is, it's a huge misfire by the Cavaliers front office. JACK: I still call him Wild Thing. It blows my mind that even the fans who have seen him the most don't understand how valuable Wild Thing is. He makes $8.4 million this year, $9.1 next year and $9.8 on his final, team option year. Any team would be totally freaking nuts not to pick up that option. Do you realize what bigs in the NBA make? Tyson Chandler, who has a similar injury history (from the standpoint of missed games) to Wild Thing, makes $13.6 this year. In Varejao's $9.8 mil option year, Omar Asik will be making $14.8 million dollars. That's OMAR ASIK. There is no way in the universe that the Cavs are ever ever going to be able to get someone as valuable as Varejao for the price of his contract. I don't see how you can trade him. And all this whining about his injury history isn't going to stop someone from paying him the market value for a big man. Did you see him in the Olympics? Dude can still move around. Oh and his age? Rodman played a similar role of reckless defender/rebounder till he was 38. 5. Is Kyrie Irving an All-Star this year? Does Dion Waiters make any noise in the ROY race? RYAN: With Derek Rose injured, Kyrie is all but a lock in my mind to make the all-star game. Irving has already created an immense amount of buzz for himself and it will only continue to grow as the season progresses. As for Waiters, don't be surprised to see him put up 20 one night, and 2 the next. Expect plenty of growing pains for the 4th pick overall and his name to never really surface in ROY talks, those conversations will start and end with The Brow. SCOTT: Irving will be an All-Star, but largely in part to the Derek Rose knee injury. Waiters will not be in the top five for Rookie of the Year — it'll be a two-man race between Anthony Davis and Damian Lillard. Also, I'm expecting fairly good things from Jonas Vakanciunas. JACK: To the first question: Yes. Personally, I'm a believer. Kyrie Irving might even get some MVP vote attention if the Cavs somehow make the playoffs. Waiters remains a mystery. Seems like Scott is going to give him every chance though, starting him right from game one tonight. If he get's opportunities, maybe he can score 14-16 a game. Wouldn't it be sweet if he came right out in the opening game and was awesome though? Say scored 25 and led the Cavs to a win with some clutch shooting at the end? Choked out Beal on defense? Really want to see that. ANDREW: Kyrie will definitely be an All-Star if he plays at the level he played last year or better. Obviously the Derrick Rose injury helps a lot in opening a spot for Kyrie, but I also think Rajon Rondo is the only PG in the East who will play better than Kyrie this season. JACOB: Yes. Even after just one injury-plagued season, Kyrie's hype is gaining ground on a national stage. I think he deservedly becomes an All-Star this year by having more of a role in this offense post-Jamison. … And ha, I'd doubt it. Andrew made a great point recently about the disappointing stats that highly-drafted rookie SGs post. I think Zeller will finish higher than Waiters in ROY consideration, but that doesn't necessarily make Waiters a bust just yet. 6. The single greatest factor that will keep the Cavaliers out of the playoff race is….. JACOB: Toronto. Yes, there's my expected Canada reference. The Raptors will be among the most improved teams in the East this season and will fight for a playoff spot. That will push the Cavaliers back in the race, obviously. But when looking at Cleveland's situation alone and not the big picture, I think it's the defense. Outside of Varejao, Thompson and Gee, our players just are not up to par defensively at the NBA level. Kyrie will have to make significant strides on this side of the ball, and we'll need to stay healthy. For as much trouble as we'll have scoring the ball at times, our defense will be worse. ANDREW: Defense. I want to say youth/inexperience, because that hurts too. So does lack of overall talent. But this team has decent depth and should be able to contend for a playoff spot if healthy. But the defense is going to be an issue all year for this team, unless Byron Scott is finally able to get through to this team. Having a healthy Varejao will really help, but the players have to buy in and give effort defensively. Kyrie himself admitted that last season he rested on defense and didn't really try. That needs to change this year. RYAN: The widespread philosophy that the middle is the worst place to be in the NBA. The Cavs' front office knows that this team isn't nearly ready to make a run in the playoffs, so expect decisions to be made that steer the team towards the top of the lottery and away from the bottom of the playoffs. KIRK: The slow development of chemistry on the defensive end required to grind out close games. I anticipate a lot of painful defensive sets with Kyrie, Waiters, and Zeller. After Andy gets dealt, the team conveniently tailspins deeper into the lottery. SCOTT: Front office intelligence. Just when they start to pick up steam, Anderson Varejao will be moved, subsequently leaving an already weak rebounding team even younger and thinner in the front court. CRAIG: Omri Casspi… No really, if the Cavs have any hopes of a playoff run it will be fueled by a big jump and consistent play by Alonzo Gee. If Gee is ever going to make a jump, I would think this would be the year as he played 63 games last year for the Cavs including 31 starts. If any Cavalier other than Kyrie Irving is in a position to make a step forward as a player, it would be Gee. JACK: Inability to score more points than the other teams score. Scoring points is really important in basketball. Thanks again to @WayneEmbrysKids for joining in our fun. Now it's your turn.
Original Story:
http://www.waitingfornextyear.com/201...
THE BACKYARD
BEST OF MAXIM
RELATED ARTICLES
It was less than a year ago when Kyrie Irving made his forgettable Cavalier debut. Tonight, we saw what a difference experience and confidence made for Kyrie as the Cavaliers survived a Wizards 4th quarter run to come away with a big opening night win. Dion Waiters had a stellar debut, making Cavs fans forget about most of their preseason worries. Waiters finished with 17 points...
Kyrie Irving's first "Uncle Drew" commercial with Pepsi last year was a huge hit. Cavaliers fans and NBA fans across the country seem to love "Uncle Drew". The super sophomore now a 2nd edition of the hit commercial with Pepsi just as the NBA season tips off.  It also features Bill Russell and Kevin Love as "Wes".  Not bad....
Prior to the Cavaliers' Opening Night tip-off on Tuesday night, team majority owner Dan Gilbert addressed the media to discuss the upcoming season. Given Gilbert's notoriety, however, not every question revolved around the future as the fiery business man was asked to address the letter he penned following "The Decision," wherein he guaranteed that his Cavaliers would win...
The season tips off tomorrow, and WFNY wants to send a lucky reader there. We have a pair of tickets for the game in section 204, row 7. We will use Flashseasts to transfer the tickets. If you don't have a Flashseats account, you can easily still sign up for one. To enter, simply leave a comment in this post answering the following question- Aside from Kyrie Irving, which Cavalier...
CLEVELAND (AP) -- The Cleveland Cavaliers say their season opener against Washington will be played as scheduled. Team spokesman Tad Carper said the NBA team has been in contact Tuesday with city officials. The team is closely monitoring weather conditions and has contingency plans in place in case things change. Like so many other cities, Cleveland was slammed by rain and high winds...
Kyrie Irving scored 29 points, Anderson Varejao had a career-high 23 rebounds and the Cleveland Cavaliers opened the season with a 94-84 victory over the short-handed Washington Wizards on Tuesday night in the first game on the NBA schedule. Rookie Dion Waiters added 17 points for the Cavs, who led by 16 in the third quarter but needed big plays from Irving and Varejao in the final...
One franchise point guard hopes to begin his quest to lead a team out of the NBA doldrums Tuesday night, while another will have to wait a couple more weeks. John Wall won't be able to go for the Washington Wizards in this season opener in Cleveland, but the Cavaliers are hoping to have Kyrie Irving available less than a week after the reigning rookie of the year had four wisdom...
Dan Gilbert can empathize with the decision made by the Thunder to trade James Harden before he hit free agency.
CLEVELAND (AP) -- Cavaliers owner Dan Gilbert now wishes he wouldn't have guaranteed his team would win an NBA title before LeBron James. When James left Cleveland for Miami as a free agent in July 2010, Gilbert famously promised in a letter to disappointed Cleveland fans that his Cavs would win a championship before James got one with the Heat. Well, that ended in June when...
Opening night was a blast, but it failed to provide us with the regular season's first Poster of the Day.  Fortunately, this doesn't mean the evening was completely devoid of spectacular aerial exploits.  As the Heat put it to the Celtics, LeBron James could be found streaking through the lane and rising high above the rim.  And, in Cleveland, Tristan Thompson helped Kyrie...
CLEVELAND (AP) -- Cavaliers owner Dan Gilbert wishes he could take back that guarantee about winning an NBA title before LeBron James. When James left Cleveland for Miami as a free agent in July 2010, Gilbert famously predicted in a letter to fans that his Cavs would win a championship before James got one with the Heat. Well, that ended in June when James led Miami to a finals...
CLEVELAND – There might come a day when the Cavaliers deal center Anderson Varejao. However, whenever they think about trading him, they should pop in a videotape of him from the Cavs' 94-84 victory over the Washington Wizards in the season opener Tuesday for both teams. The 6-foot-11, 260-pound Varejao established career highs in rebounds (23) and assists (nine), as he...
NBA News

Delivered to your inbox

You'll also receive Yardbarker's daily Top 10, featuring the best sports stories from around the web. Customize your newsletter to get articles on your favorite sports and teams. And the best part? It's free!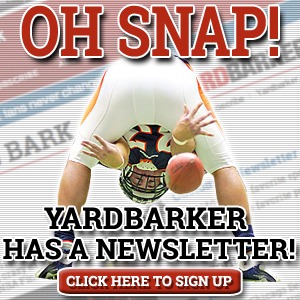 Latest Rumors
Best of Yardbarker

Today's Best Stuff

For Bloggers

Join the Yardbarker Network for more promotion, traffic, and money.

Company Info

Help

What is Yardbarker?

Yardbarker is the largest network of sports blogs and pro athlete blogs on the web. This site is the hub of the Yardbarker Network, where our editors and algorithms curate the best sports content from our network and beyond.