Found January 13, 2013 on NorthWest Sports Beat:
PLAYERS:
Damian Lillard
,
J.J. Hickson
,
LaMarcus Aldridge
,
Nicolas Batum
,
LeBron James
,
Andrei Kirilenko
TEAMS:
Portland Trail Blazers
,
Golden State Warriors
,
Atlanta Hawks
,
Toronto Raptors
,
Houston Rockets
,
Miami Heat
,
Minnesota Timberwolves
,
Los Angeles Lakers
,
New Orleans Pelicans
The best of the best The Portland Trail Blazers visited ORACLE Arena Jan. 11 in a matchup with the Golden State Warriors, and if you haven't heard about Damian Lillard's performance, let me be the first to tell you that he absolutely torched the opposing defense. Having shot 7-of-12 from the three-point line, Damian Lillard finished with a career-high 37 points in his return to Oakland—the city where he was raised. Damian Lillard had his best performance yet against the Golden State Warriors (Photo: Kyle Terada/USA TODAY Sports) But the question here isn't whether or not Lillard had a great game—he did, and there's no denying that. The question is, was it the best performance of the entire 2012-13 season for Rip City? 5. J.J. Hickson (Nov. 12, 2012 vs. Atlanta Hawks), LaMarcus Aldridge (Dec. 10, 2012 vs. Toronto Raptors) In true double-double fashion, LaMarcus Aldridge and J.J. Hickson both get the nod for the No. 5 spot. We all knew that J.J. Hickson was going to be an energy guy, but few projected he would be as productive as he's been throughout the first half of the year. Just seven games into the season, he had a 19-point, 18-rebound performance against the Atlanta Hawks. LaMarcus Aldridge, on the other hand, has been known to have big games, and he's also been known to do his damage against the Toronto Raptors. On Dec. 10, he recorded 30 points on 11-of-19 shooting, while also pulling down 12 rebounds and blocking two shots in a 92-74 victory. 4. Nicolas Batum (Nov. 16 vs. Houston Rockets) Nicolas Batum had a lot to prove after signing his big-time contract in the offseason, but it didn't take long for fans to realize the Trail Blazers made the right decision. The Blazers made their first trip to Houston on Nov. 16, and Batum had one of the best games that the league had seen in the young season. He scored an impressive 35 points on 13-of-19 shooting, and he also recorded six rebounds, five blocks and four assists. Unfortunately, Batum also turned the ball over seven times, putting a bit of a damper on his great showing in Texas. But if we're looking at the whole picture, this was one of the first games where we saw him truly assert himself on offense, which is what fans had been begging for every year since his rookie season. 3. Damian Lillard (Oct. 31, 2012 vs. Los Angeles Lakers) Following one of the most disappointing seasons in Trail Blazers history, the opening-night matchup against the Los Angeles Lakers was welcomed with as much excitement as any season-opener around the league. We all knew that Lillard was going to enter the league and make a name for himself, but no one expected his first game to go down in NBA history. Lillard became the first rookie since LeBron James to record at least 21 points and nine assists in his debut. He also became just the third player of all time to have a 20-point, 10-assist performance, as he finished with 23 and 11. Nicolas Batum recorded a rare 5X5 against the Hornets. (Photo: Don Ryan/AP) The Blazers were looking for their point guard of the future in the 2012 NBA draft, and while one game means little over the course of a career, this one gave fans hope that they'd finally found the player they'd been searching for. 2. Nicolas Batum (Dec. 17, 2012 vs. New Orleans Hornets) Lost behind Damian Lillard's game-winner against the New Orleans Hornets is the fact that Nicolas Batum pulled off one of the rarest statistical accomplishments in all of professional basketball. Having posted 11 points, 10 assists, five rebounds, five steals and five blocks, Batum recorded a 5X5 on Dec. 17, 2012. His low point total is what kept him out of the spotlight for many, but nobdy can claim he didn't make his mark on that game. Batum has had a number of performances this season where he's racked up stat lines that look more impressive at first glance, but the last player to record a 5X5 was Andrei Kirilenko in 2006. In fact, it's only happened 15 times in the last 27 years, placing Batum in rare company. 1. Damian Lillard (Jan. 12, 2013 vs. Golden State Warriors) Damian Lillard's career-high against the Golden State Warriors had to be No. 1 on this list. Despite coming off a huge win over the Miami Heat the night before, all anybody wanted to talk about heading into this game was how Lillard would perform making his hometown debut in the city of Oakland. This game was his homecoming, and he impressed his friends, his family and everybody else who paid attention around the league. Scoring eight of the team's first 12 points, we knew the point guard was on his way to a good night. But it wasn't until the third quarter when he officially took over. Portland needed scoring, as nobody else on the roster was producing. Lillard showed that he can put the team on his shoulders, and he brought them back single-handedly when the game looked like it was lost early. At 22 years old, Lillard is a true leader, and with a performance like this, he's looking to lock up the Rookie of the Year award nice and early. CLICK HERE TO CHECK OUT THE BLAZERS BLOG IN OUR CLUBHOUSE TODAY AT NWSB!
Original Story:
http://www.nwsportsbeat.com/trailblaz...
THE BACKYARD
BEST OF MAXIM
RELATED ARTICLES
Portland Trail Blazers center J.J. Hickson is probably not accustomed to passing the ball. That would probably explain why Hickson's pass to teammate Sasha Pavlovic went way, way over his head and into the crowd during Thursday night's game against the Miami Heat. Either that, or maybe Hickson did intend to send the pass to the unidentified fan in the third row, as Pavlovic...
Sometime near the end of Friday night's match up between the Blazers and the Warriors, NBA blogger Kevin Pelton tweeted the following: "The Warriors are in for like a decade and a half of lamenting that Damian Lillard is from Oakland." A decade and a half may be a slight stretch, as Lillard will be 37 then, but Pelton's point stands — again and again, Lillard continues...
Streak Snapped Coming off a big win against the Miami Heat that saw them cement themselves as playoff contenders in the Western Conference, the Portland Trail Blazers tried to rally against the Golden State Warriors after a slow start but came up a little short in a 103-97 loss. The loss to the Warriors snapped Portland's four-game win streak that saw them become one of the bigger...
The Trail Blazers visit Oakland on Friday not only as one of the NBA's surprise teams this season but with one of the league's top rookies helping lead the way. That rookie, Damian Lillard, also happens to be making a homecoming to the city in which he grew up, adding another interesting wrinkle to this already intriguing match-up between two teams whose fortunes have changed...
By Dave Del Grande, Sports Xchange OAKLAND, Calif. -- Damian Lillard put on a show for his hometown fans in his Oakland homecoming, but his 37 points weren't enough as the Golden State Warriors held on for an entertaining 103-97 victory Friday night over the Portland Trail Blazers. Lillard, who grew up in the shadow of the Warriors' downtown practice facility and attended...
Tough stretch The Portland Trail Blazers split a back-to-back against the Miami Heat and the Golden State Warriors heading into the weekend, but things aren't slowing down, as the Oklahoma City Thunder are set to enter the Rose Garden Sunday night. Matchup: Portland (20-16) vs. Oklahoma City Thunder (28-8) Venue: Rose Garden Time: 6:00 PM PT Date: Sunday, Jan. 13, 2013 The defending...
OAKLAND -- Things are going so well for the Golden State Warriors this season, their fans even get their money's worth when they come to root for the opponent. Oakland native Damian Lillard put on a performance that had his friends and family buzzing Friday night, but in the end, a balanced Warriors attack was enough to overcome the one-man show in a 103-97 victory over the...
If the season ended today, the Portland Trail Blazers would be in the NBA Western Conference Playoffs. At the beginning of the season, not too many would have guessed this to be possible. With that said, there is of course a lot of season left. But this team has demonstrated, grit, poise, and the will to win. If they continue to play this scrappy brand of basketball, there is no...
Check out Portland Trailblazer shooting guard Will Barton as he goes coast-to-coast to block what seemed to be an easy layup from Oklahoma City Thunder guard DeAndre Liggins. Not only did the block stop Liggins from scoring, it caused the ball to get stuck between the basket and the rim. The Thunder went on to [...]
PORTLAND, Ore. -- Kevin Durant scored 22 of his 33 points in the second half to lift the Oklahoma City Thunder past the Portland Trail Blazers 87-83 Sunday night at the Rose Garden. It was the eighth win in 10 games and 20th in the past 25 outings for the Thunder (29-8). The Blazers, who won 12 of their previous 16 games, saw their nine-game home winning streak end. Portland...
Can they keep it going? The Portland Trail Blazers shocked a national television audience when they took down the Miami Heat Thursday night, but now they'll have to enter a hostile environment and steal a game on the road against a surging Western Conference opponent in the Golden State Warriors. Matchup: Portland (20-15) @ Golden State Warriors (22-12) Venue: ORACLE Arena Time...
NBA News

Delivered to your inbox

You'll also receive Yardbarker's daily Top 10, featuring the best sports stories from around the web. Customize your newsletter to get articles on your favorite sports and teams. And the best part? It's free!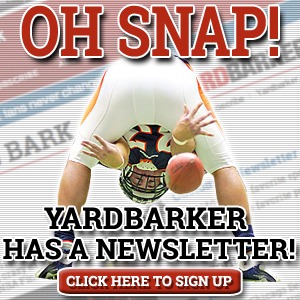 Latest Rumors
Best of Yardbarker

Today's Best Stuff

For Bloggers

Join the Yardbarker Network for more promotion, traffic, and money.

Company Info

Help

What is Yardbarker?

Yardbarker is the largest network of sports blogs and pro athlete blogs on the web. This site is the hub of the Yardbarker Network, where our editors and algorithms curate the best sports content from our network and beyond.