Found November 07, 2012 on Waiting For Next Year:
While We're Waiting serves as the early morning gathering of WFNY-esque information for your viewing pleasure. Have something you think we should see? Send it to our tips email at tips@waitingfornextyear.com. "Last but not least, the two-headed monster that Byron Scott has dreamt about since the draft finally came to fruition last night: Kyrie Irving and Dion Waiters combined for 52 points on 18-of-40 shooting, including 11-of-19 from distance. Irving was red-hot in the first quarter, scoring 16 points on 5-of-8 shooting and three 3-pointers. When he began to slow down, Waiters steadily contributed difficult 3-pointers, and did so with flair. At one point in the third quarter, Waiters was knocking home contested, off-the-dribble bombs and running the other way with a competitive smile that Cavaliers fans should begin to relish; the competitive streak of this combo guard along with the ability to hit difficult, clutch shots is what sets him apart from other players, as he showed throughout the course of his two-year career at Syracuse. Despite being maligned by the press for "being out of shape" at NBA Summer League, Waiters has continued to work hard to learn from coach Scott and staff and should continue to emerge alongside the multi-dimensional offensive talent of Irving." [Bauman/Sheridan Hoops] —- "That future inclues an "exciting young backcourt" evolving into the "nastiest backcourt tandem" in the NBA. That's what I'm feeling like this morning at least. What I saw last night was everything I had hoped for coming into this year. The 28 points he scored weren't really that important. Dion played like a guy that Meek Mill would be proud to shout-out in a song for the remainder of his Maybach Music Group contract. He hit those big shots while playing opposite guys like Chris Paul and Caron Butler. He wasn't scared of the moment, he looked like he belonged on stages like that, and he was spectacular." [Bowers/Stepien Rules] —- "Alonzo has a limited offensive game and isn't a great shooter. He isn't a great ball-handler and he doesn't create much for others. He will continue to get heavy minutes, however, because of what he does on the defensive end of the floor. While Kyrie Irving and Dion Waiters are trying to carry much of the offensive load, Gee is holding down the fort on defense. Gee's athleticism and versatility make him very valuable to the Cavaliers. He can guard shooting guards and small forwards, but also switches onto point guards at times. Against the Clippers on Monday, Alonzo spent a good amount of time on Chris Paul and his length seemed to bother the best point guard in the world. In the previous game, Gee spent some time guarding Brandon Jennings as well. This is a pretty creative way to let Kyrie save some energy on defense so that he can continue to dominate on offense. " [Kaczmarek/Fear the Sword] —- "I'm not quite ready to put him into the "Dwyane Wade" column just yet; I think we're still going to go through a lot of growing pains with him. But man, the kid can play. And, just like Wade, he is not afraid of the big moment. Some of his shots down the stretch were a bit ill-advised, but he took them with confidence. He's got the talent, he's got the cojones, and if he puts it all together, he's going to be special. Let's hope this is the start of something really good for this franchise. Maybe even something great. On draft night, many people (including myself) were concerned about whether Irving and Waiters could play together. Even though it has only been four games, I think we have our answer: yes, they can. Now it will be about their development, and the development of the players around them." [Mayer/Rebuilding since 1964] —- Chris Creamer's college football uniform awards. [Sports Logos]
Original Story:
http://www.waitingfornextyear.com/201...
THE BACKYARD
BEST OF MAXIM
RELATED ARTICLES
Think about this: Kyrie Irving and Dion Waiters are both 20 years old. Then think about this: The Cavaliers could be 3-1 right now. Then consider this: The Clippers were coming off a home loss to Golden State facing a very young Cavs team and back on their own floor. Yet the Cavs won anyway, 108-101, in a fun and up-and-down game Monday that featured something resembling playoff...
Last season, the Cleveland Cavaliers were apt to follow up a tough loss with another defeat. Things are slowly changing. Rookie Dion Waiters hit seven 3-pointers in scoring 28 points and Kyrie Irving added 24 points in a 108-101 victory over the Los Angeles Clippers on Monday night that snapped a two-game skid two nights after losing by three to Milwaukee. Coach Byron Scott called...
Every morning, we will give you five things from the night before in the NBA to start your day. 1: Waiters sinks Clippers It did not take long for Dion Waiters to find his footing in the NBA. After two years largely spent coming off the bench at Syracuse and being a change-of-pace guard, Waiters was selected with the fourth pick overall by the Cavaliers. He has stepped right...
Chris Paul wants to make sure that Kyrie Irving earns his stardom against the best players in the league.credit: http://hoopeduponline.com After being drafted number one overall out of Duke, Kyrie Irving has not disappointed. He seems to already be on track to become one of the league's best point guards after an impressive rookie season and a very good start to this season. This...
(Photo by Nathaniel S. Butler/NBAE via Getty Images) It was a rough weekend for the Cleveland Cavaliers, as they dropped both of their games Friday and Saturday night. The Cavaliers showed us two very different types of losses, though. Friday night against Chicago was a reprise of the song we heard so many times last season. The Cavaliers fell behind by 16 in the first quarter and...
LOS ANGELES -- On Friday, the Los Angeles Clippers had little trouble with the Los Angeles Lakers' star-studded, veteran lineup. Three days later, the Clippers struggled against the Cleveland Cavaliers' young pups. Cleveland's youthful corps rebounded from an early deficit to trip the Clippers 108-101 Monday night at Staples Center. Cavaliers guards Kyrie Irving...
Kyrie Irving is the clear leader of the Cleveland Cavaliers, but he's going to need plenty of help moving forward if two of the team's big men miss considerable time. With Anderson Varejao and first-round pick Tyler Zeller on the shelf, Cleveland continues its road trip Friday night against the Phoenix Suns in a matchup of two of the NBA's worst defensive teams. Irving...
The Cleveland Cavaliers have played 4 games this season, and sit at 2-2. In 3 of the 4 games, the Cavaliers were able to feel good about the way they played. Only in the Chicago game last week could their effort and desire really be challenged. This is a good sign for the early season. Tonight, as they continue their road trip by playing against the Golden State Warriors (2-2), the...
Even last year's addition of Chris Paul couldn't help the Los Angeles Clippers overcome their recent struggles against the Cleveland Cavaliers. Now, maybe Jamal Crawford will be the difference. Monday night will see a matchup between two of the league's early-season scoring leaders as Crawford and the Clippers host Kyrie Irving and the Cavaliers, who have won 10 of the...
Last night the Cavaliers went to Los Angeles and shocked the Clippers. Well, it shocked me anyway. I'm easy to shock, I guess. From a fantasy perspetive let's take a look at the minutes log for the 5 Non Lebrons last night. Kyrie Irving – 37, Dion Waiters - 32, Alonzo Gee – 34, Tristan Thompson 34, Anderson Varejao – 36, Tyler Zeller – 24. Nobody else had more than 20...
LOS ANGELES -- On Friday, the Los Angeles Clippers had little trouble with the Los Angeles Lakers' star-studded, veteran lineup. Three days later, the Clippers struggled against the Cleveland Cavaliers' young pups. Cleveland's youthful corps rebounded from an early deficit to trip the Clippers 108-101 Monday night at Staples Center. Cavaliers guards Kyrie Irving...
The Cleveland Cavaliers' young backcourt just carried them to victory. The Golden State Warriors' two young guards both came up just short. Cleveland continues a season-high six-game trip Wednesday night when the Warriors go for their first home win of the season. Led by seven 3-pointers and 28 points - both season highs - from rookie shooting guard Dion Waiters, and 24...
NBA News

Delivered to your inbox

You'll also receive Yardbarker's daily Top 10, featuring the best sports stories from around the web. Customize your newsletter to get articles on your favorite sports and teams. And the best part? It's free!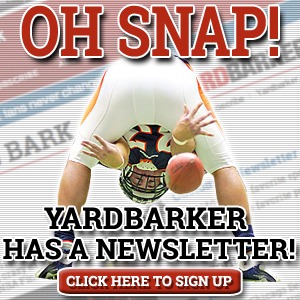 Latest Rumors
Best of Yardbarker

Today's Best Stuff

For Bloggers

Join the Yardbarker Network for more promotion, traffic, and money.

Company Info

Help

What is Yardbarker?

Yardbarker is the largest network of sports blogs and pro athlete blogs on the web. This site is the hub of the Yardbarker Network, where our editors and algorithms curate the best sports content from our network and beyond.