Found June 20, 2013 on Taking Bad Schotz:
Photo Credit: AP Photo/Wilfredo Lee To start off, let me tell you that I am one of the biggest Dwyane Wade supporters on this planet. I defend his game tooth and nail with anyone that argues with me, and used to even argue that he was better than LeBron up until last season. While there is no doubting Dwyane Wade is a superstar, he is hurt, slow, and slumping, and for these five reasons he should be 6th man for game seven. 1. Gives LeBron more space early and often. It is clear that the Heat have looked like a much stronger team this series with LeBron surrounded by more shooters and with Wade on the pine. The King gets more space to drive as the Spurs must sit outside on the likes of Mike Miller, Ray Allen, and Mario Chalmers and if they don't, LeBron will find them for an open three or a high potential three. 2. Gives LeBron a chance to rest early and often. With Wade coming off the bench fresh, it would give Spoelstra the chance to sit LeBron early in the game and early in the second half. Potentially giving LeBron more gas for what could be a decisive fourth quarter. 3. Allows Wade a chance to work with a "4-shooters" lineup If you look back a few years to when Dwyane Wade was a top tier NBA player you will notice that he was surrounded by shooters similar to the line up LeBron has done so well with.  While it was not the likes of Ray Allen and Mike Miller, Rasual Butler, Eddie Jones, and James Posey just to name a few were capable shooters that attracted defensive attention and allowed Wade to slash and dash like he does best.  Having Wade come off the bench would allow for this to happen and give him the ability to spread out the floor and shake by Manu and get to the hoop or dish it out for an assist. 4. Wade could get extra knee treatment at halftime This reason is one that can't really be proven through numbers or visual evidence but there are instances this postseason where Wade's ability to get re-taped has shown rejuvenation in his game down the stretch.  With Wade as 6th man he would be able to take a longer halftime rest and receive a lot of treatment on his now two bad knees which will give him a freshness that will almost necessarily be needed for the second half. 5. The Element of Surprise For Spoelstra to make a call like this, while it would need approval from Wade, would be one of the most shocking coaching moves in sports history.  To bring a superstar off the bench for the first time in game seven of the NBA finals is surely unprecedented but could pay off in a big way.  Even, Pop, one of the greatest coaches of this era would not expect a move like this and would be surprised.  This would lead to a need for adjustments similar to game four when Mike Miller was inserted into the starting lineup. The need for these adjustments would almost certainly give the Heat an advantage overall.  Also, figuring out how to deal with a fresh Dwyane Wade against the Spurs second line would be interesting to see. In the end, it is highly unlikely, almost impossible that this would ever happen but it is interesting to speculate.  This move could have high potential for scrutiny if it failed but the chances of success based on matchups, surprise, and past history show that it could be a smart move. As far as what will actually happen in game seven, I have no idea, but I do know I'm hoping for a Heat win. If it could go my way, Flash would flashback to 2006 and drop about 50. Here's to hoping for one hell of a game either way. -Childs
Original Story:
http://www.takingbadschotz.com/?p=14509
THE BACKYARD
BEST OF MAXIM
RELATED ARTICLES
Dwyane Wade lost a step and was humbled by injuries this year, yet still helped the Miami Heat win the Championship. For those thinking this is the demise of Dwyane, the Wade's have reinforcements coming. Zaire Wade is only 11-years-old and he is already breaking ankles with a killer crossover reminiscent of his dad, Dwayne Wade. The young Wade, who is only in 5th grade, was one...
LOUD NOISES
YouTube NBA referee Joey Crawford never tries to make the game about himself.  He always interacts well with players and treats them like they're human beings. He's a kind, gentle man. Yeah, right. Crawford responded to Dwyane Wade questioning a call during Game 6 Tuesday with, "Don't yell at me!"  (WHILE YELLING).
NOT FOUR, NOT FIVE...
In honor of his third NBA championship, Dwyane Wade opened up his postgame press conference by announcing he has (another) new nickname. Just call him, "Three". "My name is Three, not Dwyane."
Miami Heat guard Dwyane Wade has battled a lingering injury to his right knee throughout the season and into the playoffs that has hampered his ability to produce at his former level. Wade told reporters yesterday that he will now have to play through a banged up left knee after injuring it during Game 6, according to Kurt Helin of Pro Basketball Talk.Wade sustained the injury when...
After winning his third championship as a member of the Miami Heat, Dwyane Wade decided to refer to himself as "Three" during his post game press conference after game seven of the 2013 NBA Finals. Don't believe me? Check out the below clip that shows D-Wade asking to be called by his new monicker:
The one thing that Miami Heat guard Dwyane Wade learned from the below video from the second quarter of game six of the 2013 NBA Finals, "Never Ever Yell At NBA Referee Joey Crawford". It's best to keep your opinions to yourself around Joey… *** Joey Crawford tells D-Wade to not yell at him [CBS Sports]
INTIMIDATING MUGS
The 15 members of the Miami Heat showed their best mean mugs for a T-shirt the team gave away to fans for Game 7 of the NBA Finals on Thursday night. Some of the guys like Birdman Andersen appear to be squinting. Others like Dwyane Wade almost make it seem like it's a modeling picture. [...]
According to the man himself, LeBron James will be wearing his traditional headband when he takes the AmericanAirlines Arena floor on Thursday night for the Game 7 NBA Finals showdown with the San Antonio Spurs. This has been your LeBron James Headbandgate update. Wait, are we still doing that thing where we add "-gate" to [...]The post LeBron James Headbandgate Update: He plans...
LeBron James, Dwyane Wade and Drake celebrated the Miami Heat's 95-88 Game 7 victory over the San Antonio Spurs at Story Nightclub in South Beach. LeBron and Wade were seen snacking on some pizza, while Drake took the mic to spit rhymes.  Photos: World Red Eye, HT: Business Insider
MIAMI – This one was for the blueprint. LeBron James, Dwyane Wade and Chris Bosh conspired to horde championships three years ago, and since then, they've done just that. While many a pundit opined to shatter the three-star mold, Miami's stars rose to the occasion when called upon over the last two games of these [...]
It has been less than twenty-four hours since the Miami Heat were crowned champions, and they are already favored to win the title again next year.  Bovada has the Heat at 2-1 odds, with the Thunder behind them at 11-2.  The Spurs, the finals runner-up, are listed at 17-2, the fourth best odds. The Bobcats and Magic are the heaviest of underdogs with each team sporting 500-1 odds...
NBA News

Delivered to your inbox

You'll also receive Yardbarker's daily Top 10, featuring the best sports stories from around the web. Customize your newsletter to get articles on your favorite sports and teams. And the best part? It's free!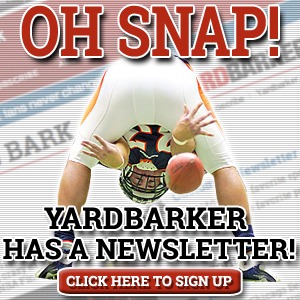 Latest Rumors
Best of Yardbarker

Today's Best Stuff

For Bloggers

Join the Yardbarker Network for more promotion, traffic, and money.

Company Info

Help

What is Yardbarker?

Yardbarker is the largest network of sports blogs and pro athlete blogs on the web. This site is the hub of the Yardbarker Network, where our editors and algorithms curate the best sports content from our network and beyond.