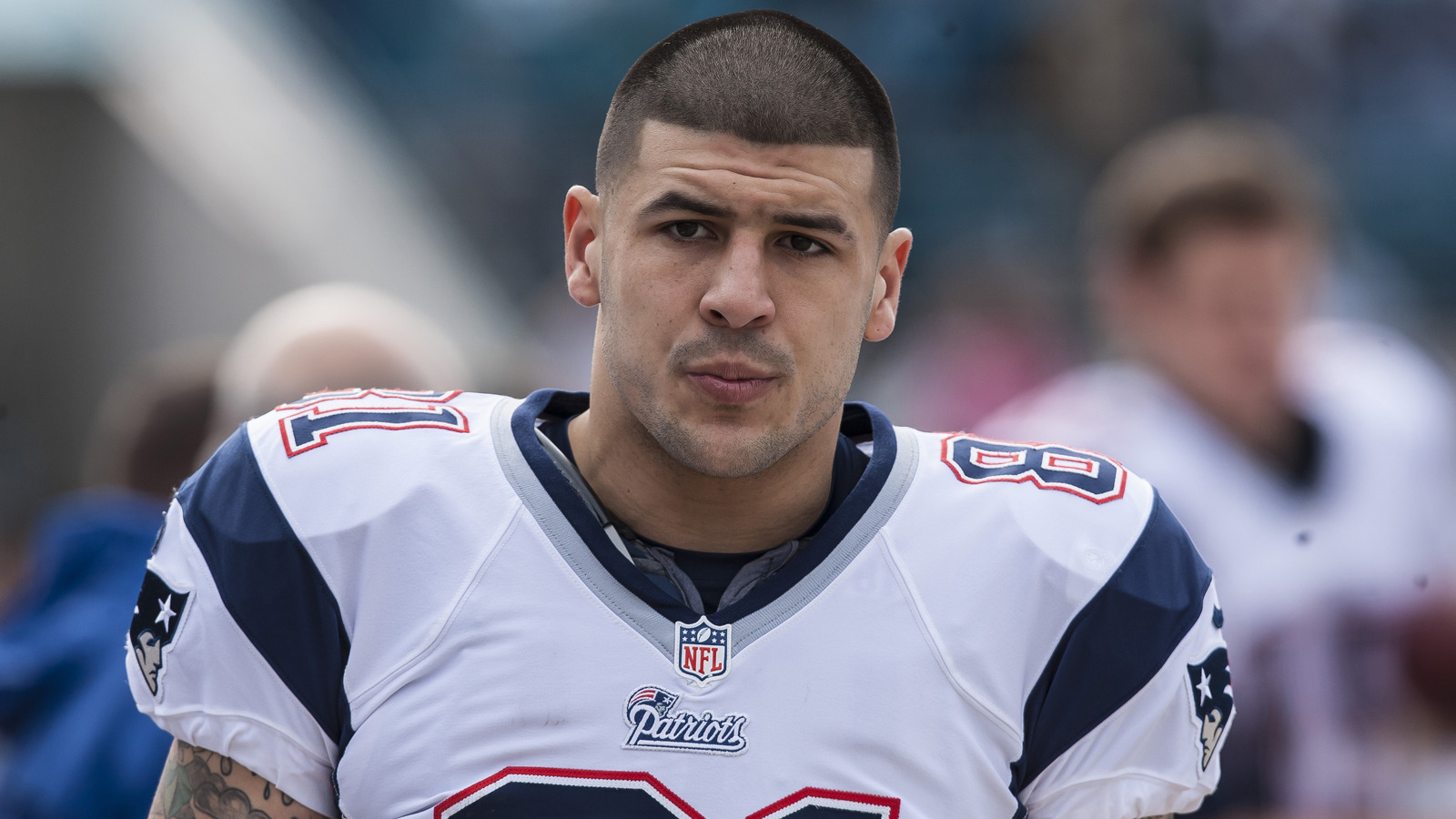 Aaron Hernandez once had a chilling exchange with a reporter.
DeHoog/Sports Imagery/Getty Images
Aaron Hernandez was an expert at misleading people during his 27-year life, which is why so many were shocked to learn that the he was capable of murder. Among the people Hernandez deceived was NFL reporter Ian Rapoport.
Rapoport, who now works for NFL Network but covered the New England Patriots for the Boston Herald when Hernandez was with the team, spoke with Peter King of The MMQB about Hernandez this week. Rapoport said he was actually quite friendly with Hernandez, and he shared one very chilling story about a conversation he had with the former Patriots tight end when they first became familiar with one another.
There weren't a lot of guys that were just hanging out in the locker room, especially during those years, so we would hang out and we would talk. When we first exchanged numbers, he called me over and said, "Hey I just want you to know, you're my guy. If you need anything let me know, I will help you out if I can. But I just want you to know, if you f— me over, I'll kill you." I sort of laughed a little bit, and I said, "Don't worry, I got you, I'll take care of you." It was me and this other reporter from CBS Sports, WIlliam Bendetson, and he was standing there and had listened and we kind of turned to each other and both laughed. And then the first text I got after it became clear that Hernandez was the suspect in the murder investigation was from William Bendetson, who was like, Hey remember that day in the locker room?
Whether Hernandez was joking or not, this is a man who later turned out to be a convicted murderer.
The fact that Hernandez was able to live a double life while leaving so many people clueless is amazing. That's the main reason we have seen reactions like this one in the wake of his suicide.
MORE FROM YARDBARKER
Patriots News

Delivered to your inbox

You'll also receive Yardbarker's daily Top 10, featuring the best sports stories from around the web. Customize your newsletter to get articles on your favorite sports and teams. And the best part? It's free!