Found March 07, 2013 on In The Neutral Zone:
Follow me on Twitter @BrianSanchezDU Like my Facebook page The Sports Report   The first words that come to mind when I think about the proposed Alex Smith trade are highway robbery. Luckily for the 49ers, this is a, "what have you done for me lately" league. Because of that, the fact that Alex Smith was one of the worst quarterbacks in the league for the first five years of his career is completely forgotten. There's even another way in which the 49ers are lucky, and that is the fact that the QB draft class this year is not exactly what you would call dominant. Because of that, the team with the first pick in the draft, a team that is desperate for a new QB, felt that they had to go elsewhere to get that piece. That made the Chiefs and 49ers natural trade partners. The trade as most understand it now is Alex Smith for a 2013 2nd round pick (34th) and a conditional early round pick in 2014 (2nd or 3rd round). The trade can not be official until March 12th when the new league year begins. That means there is still a chance another team can come in and make a better offer. This is highly unlikely for two reasons:   1. This is a very lucrative deal for the 49ers and it is hard to believe a team would give up more to acquire Alex Smith. 2. The 49ers want to do right by Alex Smith if they can. The Chiefs were reportedly on his short list of teams he would like to be traded to. So, Smith is happy, the 49ers are happy, the Chiefs are happy, everybody is happy happy happy.    As for the trade itself, both teams receive passing grades. The 49ers receive an A-. It is a second round pick and not a first rounder. Yes, it is the second pick in the second round. However, the argument that the second pick in the second round is basically a first rounder means I could say that the second to last pick in the first round is practically a second rounder. So I don't want to hear that. What I do want to hear is it is absolutely a pick of consequence in which the 49ers can draft a role player that can pay immediate dividends. The Chiefs receive a grade of a C+. I say that because that is exactly what I think Alex Smith's value is. He is a slightly above average QB. He will struggle in KC, because even though they do have some talent, they also have a lot of garbage. Is Smith an improvement? Of course. But that's not saying a whole lot. The question now becomes can Alex Smith thrive in a pass first offense? I have my doubts. As for my thoughts on Alex Smith being gone, I really have none. He was he, he happened, he was terrible, then he was decent, and now he's gone. It's not nearly as big of a deal as most are making it out to be. I have nothing against the guy. He took his benching like a champ. He is worse than Colin Kaepernick who was not given the job as much as he took it away. He said and did all the right things, and for that I applaud him. Now he's gone. So what. We have kid wonder Kaepernick at the helm and I expect something very productive to come from the picks we are going to get. Everybody gets what they want, especially Luke Joeckel, and with the exception of Geno Smith of course.
Original Story:
http://intheneutralzone.com/?p=11823
THE BACKYARD
BEST OF MAXIM
RELATED ARTICLES
  David Akers does not plan to retire despite being released by the San Francisco 49ers. Once ne of the NFL's premier kickers, Akers was shaky at-best last season but the 49ers waited until after the season to cut ties with him. Due $3 million in base salary the 49ers were not going to pay a kicker who made just 69% of his attempts last season. "The 49ers would like to thank...
The San Francisco 49ers have tendered a one-year contract to restricted free agent cornerback Tramaine Brock and signed wide receiver Joe Hastings to a one-year deal. The 49ers announced the moves Thursday. San Francisco signed Brock as an undrafted rookie out of Minnesota in 2010. He earned a spot on the opening day roster that year, had two interceptions in 11 games in 2011 and...
The San Francisco 49ers released 14-year veteran kicker David Akers Wednesday. In two seasons with the 49ers, Akers connected on 73 out of 94 field goal attempts and nailed all his PATs (78) in all 32 games, as well as five postseason contests. His 297 points over the past two seasons ranks first in the NFL over that time span. Photo Credit: 49ers.com Akers set the franchise record...
The 49ers announced today via twitter that the 49ers have released kicker David Akers.The #49ers have released K David Akers: bit.ly/15ywh2S— San Francisco 49ers (@49ers) March 6, 2013GM Trent Baalke had this to say regarding Akers…The 49ers would like to thank David for his service, dedication and leadership over the past two years. He is a true professional who represented...
Previously just a report, it's now official. The 49ers have cut ties with kicker David Akers. Here's GM Trent Baalke on Akers: "The 49ers would like to thank David for his service, dedication and leadership over the past two years." A sentence for each good year Akers had in San Francisco. PREVIOUSLY ON THE DAVID AKERS SAGA: David Akers calls struggles 'a head-scratcher'...
Jordan Raanan of NJ.com reports that multiple league sources have informed him that the Eagles are expected to pursue free agent FS Dashon Goldson. Philadelphia has an obvious need at safety and the addition of 49ers former VP of player personnel Tom Gamble further suggests that Goldson should draw strong consideration from the Eagles. Goldson, 28, will be an unrestricted free...
After trading Alex Smith to the Kansas City Chiefs, the San Francisco 49ers are doing more this offseason in preparation for the upcoming draft. One direction the 49ers do not intend to go is the signing of the highly skilled New York Jets star cornerback Darrelle Revis. Coming out of the 49ers camp was this quote on their pursuit of Revis, saying they are ".001 on a scale of 1...
The San Francisco 49ers have cut former Philadelphia Eagle, David Akers. Cutting Akers, saves the 49ers $3 million in salary-cap space. "The 49ers would like to thank David for his service, dedication and leadership over the past two years," 49ers general manager Trent Baalke said in the statement. "He is a true professional who represented
Hot News for K David Akers
Update: 03.06.13 – Manish Mehta of the NY Daily News is reporting that the New York Jets do have teams interested in Darrelle Revis and that according to a source that the 49ers are in fact on that list. The same source says that Revis is 'gone.' Two or three teams are set to trade for Revis once free agency starts on March 12th. The 49ers and Falcons are on the list, but after...
The recent media frenzy over coveted cornerback Darrelle Revis being traded to the San Francisco 49ers is more about the public obsession with super-star dream teams, than reality. No matter how poorly these teams that are built of super-stars perform, from the Philadelphia Eagles to the Los Angeles Lakers, our infatuation never ceases and we can't help but foaming at the mouth...
49ers News

Delivered to your inbox

You'll also receive Yardbarker's daily Top 10, featuring the best sports stories from around the web. Customize your newsletter to get articles on your favorite sports and teams. And the best part? It's free!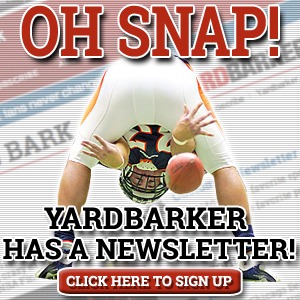 Latest Rumors
Best of Yardbarker

Today's Best Stuff

For Bloggers

Join the Yardbarker Network for more promotion, traffic, and money.

Company Info

Help

What is Yardbarker?

Yardbarker is the largest network of sports blogs and pro athlete blogs on the web. This site is the hub of the Yardbarker Network, where our editors and algorithms curate the best sports content from our network and beyond.