Found December 13, 2012 on Midwest Sports Fans:
Chicago Bears wideout Brandon Marshall hasn't been a part of his team's historic rivalry with the Green Bay Packers for very long, but he already harbors many of the same feelings that the Monsters of the Midway have held toward the Green and Gold for quite some time. Marshall will be looking to walk the walk against Green Bay this weekend after talking the talk during his press conference. "I'm not going to use the word 'hate,' but I really dislike the Green Bay Packers and their players. But the talk, you have to back it up. We'll go out there and we'll do everything we need to do to get a win. I've never felt this strong in sports versus any team or any players. " Marshall has only taken part in this rivalry once, the Packers' 23-10 win over the Bears in Week 2, a game in which he was held to just two catches for 24 yards and where Jay Cutler threw four interceptions. But it clearly hasn't taken him long to understand the importance of these rivalries, the level of which he did not experience in his time in Denver or Miami. There's the famous Lovie Smith quote from his introductory press conference, in which he said "Our number one goal, the number one goal we'll have, is to beat the Green Bay Packers." So yeah, these rivalries, especially in the Midwest, are kind of a big deal. The Packers are coming off a 27-20 victory over one of their rivals, the Detroit Lions, in Week 15. But two of their last three games are against their biggest rivals in the entire league, at Chicago this week and at Minnesota to close out the regular season. Recently, I was given an opportunity to speak with football great Dave Robinson, who was an All-American and College Football Hall of Famer in his time at Penn State. He went on to play for the Green Bay Packers, where he won three world championships (two Super Bowls) manning the left side of Vince Lombardi's defense at both defensive end and linebacker. (You can buy his book, Lombardi's Left Side, which he authored with fellow Packers Hall of Famer Herb Adderley and author Royce Boyles, at www.lombardisleftside.com or here on Amazon.) The Packers have been playing the Lions, Vikings and Bears since Robinson's playing time in the 1960s, and in the case of Chicago versus Green Bay, since 1921. I asked Robinson what the division rivalries meant to him, and he immediately recounted his rookie season in 1963. Robinson was a three-time world champion with Green Bay in the early 1960s and is a member of the Packers' Hall of Fame. "In my first year, the Packers were trying to win their third consecutive world championship," Robinson said, as the Packers had won titles in 1961 and 1962. "Vince was fired up, the team was fired up, and I thought we had a better team." Unfortunately, the Packers had their five-game winning streak against Chicago snapped, losing 10-3 in Green Bay and 26-7 in Chicago in 1963, Robinson's rookie year. "Somehow, the Bears beat us twice that year, and of course, then they went on to win a world championship of their own." Robinson also brought up a 1962 Thanksgiving Day game against the Detroit Lions, which was the only game that Green Bay lost that season. The Lions jumped out to a 26-0 lead and held on to win 26-14. Our conversation wasn't too long, but it appears that the tough losses to division rivals were the ones that have been the thorns in his side after 50-plus years. "Having won in 1961, we were there to prove that we were no fluke. It was going to be a revenge game from the year before, and it turned out to be one of the hardest hitting games of my life," Robinson said of that 1962 game, which became known as the Thanksgiving Massacre. It's not to say that the NFC North and the Midwest are unique in the fact that they have rivalries, but there is no denying that they are some of the best games, year-in and year-out in today's NFL as well. With Detroit having proven itself as a contender in recent years (although having a down 2012) and Minnesota, Chicago, and Green Bay all sporting over-.500 records, these teams will undoubtedly provide some memorable football over the next three weeks, and likely into the playoffs as well. The post Brandon Marshall's Hate For Packers Shows That Rivalries Between NFC North Foes Are As Intense As Ever appeared first on Midwest Sports Fans.
Original Story:
http://feedproxy.google.com/~r/Midwes...
THE BACKYARD
BEST OF MAXIM
RELATED ARTICLES
Brandon Marshall sure is a creative thinker. The Bears wide receiver came to his press conference on Wednesday with a tiny Charlie Brown-like Christmas tree as a prop, and he used it to make a comparison. The tree only had a few branches, one ornament, and the music box below it plays the Charlie Brown theme song. "Right now, metaphorically, our season looks like this tree right...
Chicago Bears wide receiver Brandon Marshall told the media that he's very excited for Sunday's game against the Packers. "This is the biggest game of my career. I'm excited about it. I've had this game marked since we played them last. I heard exactly what the corner — what's the, 'Tramon?' — I heard exactly what he was saying after the game. Woodson, those guys...
Greg Jennings thinks Chicago Bears wide receiver Brandon Marshall is a genius. Marshall had made headlines one day earlier when he went off on the rival Green Bay Packers during his weekly media availability. But it was something Marshall said later that Jennings found brilliant: Marshall's attempt to bait the Packers into matching their cornerbacks up with him man-to-man. ...
GREEN BAY, Wis. -- It didn't take long for Brandon Marshall's comments to reach the Packers locker room Wednesday. Less than two hours after the Bears star wide receiver made several negative statements about Chicago's NFC North rival, his words became the hot topic in Green Bay. "I don't like the Green Bay Packers," Marshall told Chicago media in a press...
Green Bay knows that Chicago's passing attack begins and ends with Brandon Marshall, which is why they will attempt to shut him down Sunday and force the other Bears wideouts to beat them.
Brandon Marshall ran his mouth before the Chicago Bears took on the Green Bay Packers in Week 2 this season. The big wide receiver spoke about how he hoped the Packers would bring man and press coverage against him in the two rivals' first meeting of the season. If the Packers were to apply man and press coverage? "Good luck," Marshall said before that game. As it turned out...
It's very rare that a Lovie Smith coached team has a player make national headlines with comments through the press. Then again, there has not been a player with the clout that wide receiver Brandon Marshall carries in Chicago during Smith's nine seasons as head coach.In the Bears press conference after a light walkthrough practice at Halas Hall on Wednesday, Marshall may have...
Chicago Bears linebacker Lance Briggs unloaded on the Packers a day after teammate Brandon Marshall did the same thing, saying he's no fan of Green Bay and that Jermichael Finley is ''an idiot.'' The league's oldest rivals meet Sunday and they've been talking plenty of trash. Marshall went off on Wednesday, saying he's never disliked a team as much...
Chicago Bears players Brandon Marshall and Lance Briggs don't like the Green Bay Packers. Packers tight end Jermichael Finley opined that the Bears were better off with Brian Urlacher out of the lineup. Green Bay defenders have also openly admitted they think Bears quarterback Jay Cutler will turn the ball over if they remain patient. As the Bears face a [...]
Chicago Bears linebacker Lance Briggs unloaded on the Packers a day after teammate Brandon Marshall did the same thing, saying he's no fan of Green Bay and that Jermichael Finley is ''an idiot.'' The league's oldest rivals meet Sunday and they've been talking plenty of trash. Marshall went off on Wednesday, saying he's never disliked a team as much...
NFL News

Delivered to your inbox

You'll also receive Yardbarker's daily Top 10, featuring the best sports stories from around the web. Customize your newsletter to get articles on your favorite sports and teams. And the best part? It's free!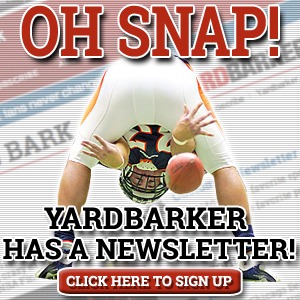 Latest Rumors
Best of Yardbarker

Today's Best Stuff

For Bloggers

Join the Yardbarker Network for more promotion, traffic, and money.

Company Info

Help

What is Yardbarker?

Yardbarker is the largest network of sports blogs and pro athlete blogs on the web. This site is the hub of the Yardbarker Network, where our editors and algorithms curate the best sports content from our network and beyond.