Found December 06, 2012 on Purple Jesus Diaries:
In a statement that is only surprising because it didn't come out of Jared Allen's mouth, Minnesota Vikings linebacker Chad Greenway recently told the Star Tribune that he hopes Vikings fans show up to this Sunday's game against the Bears "super duper drunk." Yup, SUPER DUPER. His quote: "We have to play accordingly and our fans have to show up accordingly, which we know they will," he said after Sunday's loss at Green Bay. "Hopefully, they're super- duper drunk. ... So drink liquor, not beer." Well, that's certainly not a PSA you see attached to a noon kickoff. "Yeah, I would say morning drinking," Greenway said. "Why not? You could pull an all-nighter. Then you'd have the drunk, tired guys who will really be obnoxious." Frankly, it's a great idea. We need you crazy nut jobs to be as obnoxious and stabby as possible, so we can intimidate the Bears, energize the players, and make the Zygi Hood a raucous, unfriendly place. Because honestly, this is probably the team's playoff game this year, so may as well treat it like such. That of course also means getting totally **** faced, as Greenway alluded to here. He went ahead and gave fans some ideas on how this goal can be achieved by the time the game rolls around, but I thought we would go ahead and take it one step further, and really spell out the best ways for you to get so ham faced you try and motor boat Phil Loadholt. Here our suggestions after the jump: First, let's keep in mind what the goal is here. While maybe being a little bit colorful and fun, what Greenway really is hoping for is for fans attending to be so unruly that you'll storm the field and murder Jay Cutler. Or just scream really loud. Probably the latter. And not just for the opening kickoff, but throughout the entire game. So that means hitting your drunk buzz at just the right moment, and not losing it until the game is over. Doing so can be tricky, but not impossible. Let me tell you how: - Like any preplanned event, you need to train your body. If you haven't already been drinking this entire week (even a glass of red wine with dinner ... that's getting your dose of antioxidants!), start now. No, start YESTERDAY. If you're prepping yourself to get a nice, solid, drunk on during the game Sunday, you can't be a rookie about it and power chug an hour before game time. Admittedly, that's one way to do it, but you'll be blacked out by half time and will be a detriment to the team. WE CAN'T HAVE THAT. So make sure you can handle your booze. Start training your liver now. - On Saturday night, GET DRUNK. Don't ***** foot around with a couple of beers and go to bed at 10 PM, raid your liquor cabinet and get yourself **** faced. Have three fingers of scotch, three times. Go with a 3:1 ratio on your mixed drinks. Shot gun your beers into your eyeball. Try butt-chugging if you haven't. I don't care. The point is, you need to drink, and drink lots, and stay up late doing it. In fact ... - You need to stay up late doing something you'll regret later. When you wake up, hung over and ready to jump back on that pommel horse for the Vikings game, you need to feel like heading to the Metrodome with thousands of other crazies is actually a SANE thing to do, that it's a safe place compared to what you did the night before, so you can let loose. So I suggest going to a strip club and wallowing in the stench of despair and sparkle cream. Try the 22nd Street Station, Lamp Lighter, or Cajun Club in Wisconsin, across from Stillwater. Those places will suck your soul just right. Or maybe get a little too grabby with a co-ed Saturday night, so you HAVE to escape into a Vikings crowd until it blows over. Whatever it is, you should hate yourself a little more in the morning because of your actions Saturday night. That is of course, if you remember any of it. But before you go Hangover and piece **** together, you'll need to find some Gatorade G2, coffee, bacon, and of course more alcohol. And that's when you ... - Hit the booze again for your hair of the dog. Hopefully you're hung over and a couple of cocktails can get you right back on the gravy train. This is where I would listen to Greenway's advice and make sure you order a liquor based drink rather than straight beer. Don't be an amateur here. Think about what's ahead of you for the next three hours. You can't afford to drink beer and go to the bathroom every twenty minutes at a football game, so you need more alcohol in smaller amounts. Take shots, always make sure there is Bailey's in your coffee, go for Bloody Mary's so you can get some food in your stomach too. I would recommend the Town Hall Brewery on Seven Corners in Minneapolis for some pregaming. Keep this streak going until about 20 minutes to game time, then head to the Dome. - While at the Dome, try to smuggle in a flask of booze if you can to keep the buzz high, but this is where you want to eventually switch to beer. Lowering the alcohol content of your drink of choice at this point will go far in helping you maintain the buzz and keeping you cognizant of important factors like 3rd downs, the score, and why your hands are down your pants. If you've done it right, you probably won't even NEED a beer until middle to end of the first quarter. This is a bonus because it will probably save a bit of money, too. - Continue this throughout the game, but when it's over and the Vikings eventually WIN, make sure to get yourself home safely. Call a cab (Yellow Cab in St. Paul takes credit cards!), hitch hike, light rail, whatever you must do. Chances are you are in no shape or form to drive, however, so skip that option. When you finally reach home, mix yourself up at least two Emergency Vitamin packs in water, and chug those. If you can force yourself to throw up at this point, that's probably great too. Sleep through the afternoon games, but try to wake up for Sunday Night Football. You'll likely need to still go to work on Monday, which sucks, but you also still want to get more sleep Sunday night, so sleep off your afternoon drunkenness, and recover Sunday night. By Monday morning, you'll be ready to go! Of course, the alternative to all of this is to simply enjoy the game on your huge HDTV in your living room, sipping on a fine cognac or sampling your wine flight in the comfort of your own home. Why go to a game and spend a bunch of money when you can wear your pajamas and turn the channel when the Vikings get down by four touchdowns at half? Despite Chad Greenway's good intentions here to rile up the crowd, I can assure you I know what I'll be doing. Enjoy the game folks, and be safe! [follow]
Original Story:
http://www.purplejesusdiaries.com/201...
THE BACKYARD
BEST OF MAXIM
RELATED ARTICLES
LIQUORED UP
With the division rival Bears heading to town, Vikings linebacker Chad Greenway wants fans to arrive at the game "super-duper drunk" by drinking "liquor, not beer."
The Vikings are fresh off a heartbreaking loss to the Packers. Sitting at 6-6 Chad Greenway knew he had to say something to get his fans fired up for this weekends game against the Bears. Lets just say he now has the best quote of the 2012 NFL season and maybe one of the best of all time. According to the Star Tribune, Greenway said: We have to play accordingly and our fans have...
Vikings linebacker Chad Greenway is taking a page out of Tom Brady's playbook, but he's not being quite as diplomatic about his request for fans to get "lubed up." Greenway wants fans to get drunk before the Vikings' key Week 14 matchup this Sunday against their division rival Chicago Bears. And not just any old drunk either — he wants them "super-drunk." After all...
 The Minnesota Vikings started the season 5-2.  Way better than most of us thought they would.  They now sit at 6-6 after losing four of their last 5.  They come into this weekend with a small chance of still making the playoffs, with their game against the Chicago Bears being a must win.  Chad Greenway must know this is the case because he wants their fans to be "Super...
If there's one thing Chad Greenway doesn't do, its mess around.  So when he tells you to get super duper drunk on Sunday, and be super duper loud.  You better do it.  Chad isn't your average frat boy telling you to chug.  Chad is the NFL's leading tackler with 123 of them. The playoffs are [...]
For a hulking human being who is encouraging his team's fans to get blackout drunk on liquor (he was very specific), Chad Greenway sure knows a lot about the ethanol trade. Here's what he said three years ago: "It's pretty simple – we take good care of the land, the land takes good care of you."  Here's what he said this week, as he encouraged his fans to get loud...
Mark Craig of the Star Tribune discussed the stellar home-field advantage that exists in Minnesota with Vikings coach Leslie Frazier and Vikings linebacker Chad Greenway. Frazier, as expected, applauded Vikings fans for providing such a stellar home-field advantage. I think we have the best [home-field advantage]," said coach Leslie Frazier, saying what 31 other NFL coaches would...
While the Vikings are busy watching film and preparing for the Bears in a must-win home game Sunday, Vikings linebacker Chad Greenway is also prepping the Vikes' fans. "We have to play accordingly and our fans have to show up accordingly, which we know they will. Hopefully, they're super-duper drunk. … So drink liquor, not beer… Yeah, I would say morning drinking. Why not...
EDEN PRAIRIE, Minn. Jared Allen's reputation as one of the league's best pass rushers has earned him extra attention from opposing offenses. Now, Allen and the Chicago Bears are both saying his reputation in a different manner will save him from any extra attention on Sunday. Allen, who knocked out Chicago Bears offensive linemen Lance Louis with a vicious block on an interception...
EDEN PRAIRIE, Minn. Jared Allen has spent five years with the Minnesota Vikings and is well-versed in the Chicago Bears and what they try to do, having played nine career games against Chicago. Nothing would shock Minnesota's veteran defensive end, who unfortunately has a 2-7 record in those games. Of course, Allen's never had the chance to face Chicago twice in the span...
NFL News

Delivered to your inbox

You'll also receive Yardbarker's daily Top 10, featuring the best sports stories from around the web. Customize your newsletter to get articles on your favorite sports and teams. And the best part? It's free!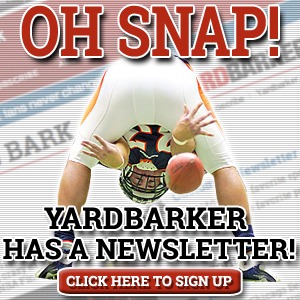 Latest Rumors
Best of Yardbarker

Today's Best Stuff

For Bloggers

Join the Yardbarker Network for more promotion, traffic, and money.

Company Info

Help

What is Yardbarker?

Yardbarker is the largest network of sports blogs and pro athlete blogs on the web. This site is the hub of the Yardbarker Network, where our editors and algorithms curate the best sports content from our network and beyond.