Found March 22, 2012 on Midwest Sports Fans:
Today the Chicago Bears announced the signing of Michael Bush, formerly of the Raiders, who has been one of the best backup running backs in the NFL for several years now. According to Brad Briggs of the Chicago Tribune, Bush was signed to a four-year contract worth $14 million, with $7 million guaranteed. This gives the Bears one of the most potent and proven 1-2 backfield punches in the NFL with Bush and incumbent starter Matt Forte. You might think Forte would be happy about this improvement in the Bears' backfield. You'd be wrong. Not long after the signing of Bush was announced, the following three tweets came out of Forte's account. The first two are retweets; the third one, at the top, is Forte writing himself. As everyone remembers from last year, Forte wants a new contract. Given his production, and the short shelf life of running backs, most folks think that the Bears should pay him. Greg Olsen, now a player for the Panthers but Forte's former teammate in Chicago, obviously agrees. Undoubtedly, others will too. But is this really a sign of disrespect? Perhaps it is. But the Bears undoubtedly improved their team by bringing in Bush, who is not that much less effective a runner than Forte and is certainly a great insurance policy to have. Certainly Bush is not the all-around back that Forte is, and certainly Bush has never proven himself over a full season in Chicago like Forte has, but I find it hard to quibble with the Bears signing Bush to a very reasonable contract. Assuming, that is, that they ultimately pay Forte. I don't think they should overpay Forte. And paying running backs is tricky because most of them are essentially replaceable. But at some point you have to pay guys who perform for you, and Forte has earned a new deal with the Bears. So the Bush deal is great, but only if they can get something worked out with Forte (who, on the same token, needs to be reasonable with his demands, which it seems he is being). What do you think? Should Forte be as upset as he seems to be? Was it smart to sign Bush before taking care of Forte? How would you handle this if you were the Bears? *****
Original Story:
http://www.midwestsportsfans.com/2012...
THE BACKYARD
BEST OF MAXIM
RELATED ARTICLES
To follow up our recent story on Michael Bush going to Chicago, it looks like he won't find a lot of love in the locker room. His fellow RB Matt Forte who is trying to work out a long-term deal with the Bears after being franchised just tweeted the following. Please click the link below to read the rest of this story.
The continual question of whether Michael Bush may come back to the Raiders was answered today when Bush signed a 4 year, $14 million contract with the Chicago Bears. Bush was vocal about wanting to go to a team where he could be a starter but he found that the market for older running backs is fairly low.  In the end he signed a contract that was worth $7 million guaranteed and...
Matt Forte has had enough, and he is making his opinions well known to the Chicago Bears. Forte has meant everything to the Bears' offense since being drafted out of Tulane University four years ago. He has rushed for over 4,200 yards over his first four seasons in the NFL, and has also caught over 200 passes for almost 2,000 yards. He is the epitome of a dual threat...
The Chicago Bears' decision to sign running back Michael Bush Thursday appears to have upset Pro Bowl starter Matt Forte. Bush, formerly of the Oakland Raiders, agreed to a four-year, $14 million deal, with $7 million guaranteed, according to the Chicago Tribune. The signing gives the team depth behind Forte, who has voiced frustrations over not receiving a long-term contract...
APNewsNow. The Chicago Bears have agreed to a four-year contract with running back Michael Bush. Bush will join Matt Forte, who got a franchise tag from the Bears, in Chicago's backfield. Bush played four seasons for the Oakland Raiders, gaining 2,642 yards (4.2 yards per carry) and scoring 21 touchdowns. The powerful 245-pound back had his most productive season in 2011, setting...
Matt Forte went off a bit on Twitter after it was announced that the Bears had signed Michael Bush to a four-year, $14-million contract (with $7 million guaranteed).  Forte, who has been placed under the franchise tag, is set to make $7.74 million in 2012, which is a $7 million dollar raise from last year!  If I was Forte I would be pissed as well.  He is arguably a top 5 NFL...
Prior to suffering a knee injury late in the season last year, Matt Forte was arguably the most valuable running back in the league. The Bears ran their entire offense through him, and he was one of the only pieces keeping them afloat. To Forte's credit, he expressed some frustration with the team over his lack of contract discussions but remained relatively quiet and continued...
The Chicago Bears announced today they have reached a four-year deal with RB Michael Bush formerly of the Oakland Raiders.  Bush a 6-foot-1 245-pound RB gives the Bears a short yardage presence in the back field and likely ends the tenure of Marion Barber in Chicago. He rushed 632 times for 2,642 yards (4.2 yards per carry) and 21 touchdowns in 61 career games. Bush had his most...
It doesn't take a genius to figure out that the way the Chicago Bears are handling their star running back is just not smart. Matt Forte has been one of the league's premier backs the past two seasons. With other star's around the league getting paid big bucks, the Bears for whatever reason are not investing the money in Forte. Instead each season, the Bears have invested...
Matt Forte took to Twitter today to express his frustration with the Bears signing Michael Bush. What will the club do now that they've disrespected the team's best offensive player, again?
Thursday the Chicago Bears signed free agent running back Michael Bush to a four-year, $14 mil contract to solidify their back field. Bush is a power runner with deceptive speed and should be a nice addition for Chicago. Only problem is, the Bears already have pro-bowler Matt Forte as their starter and Forte has been [...]
The Chicago Bears are hoping that recent acquisition, running back Michael Bush, can accomplish what both Chester Taylor and Marion Barber could not.
NFL News

Delivered to your inbox

You'll also receive Yardbarker's daily Top 10, featuring the best sports stories from around the web. Customize your newsletter to get articles on your favorite sports and teams. And the best part? It's free!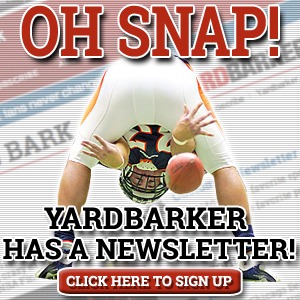 Latest Rumors
Best of Yardbarker

Today's Best Stuff

For Bloggers

Join the Yardbarker Network for more promotion, traffic, and money.

Company Info

Help

What is Yardbarker?

Yardbarker is the largest network of sports blogs and pro athlete blogs on the web. This site is the hub of the Yardbarker Network, where our editors and algorithms curate the best sports content from our network and beyond.