Found December 09, 2012 on Larry Brown Sports:
Via Larry Brown Sports:
Still hurting over Saturday's tragic car crash that killed practice-squad member Jerry Brown, the Dallas Cowboys are trying to figure out what they could do to prevent future alcohol-induced incidents.
Former Cowboys running back Calvin Hill is a consultant with the team and he helps organize off-field support programs. He told USA Today's Jarrett Bell that he is trying to come up with ways to help minimize future problems for the team. Hill says they are considering making electronic interlock devices mandatory for their players.
Hill told Bell they are considering using a device called SafeKey, which forces drivers to past a lights test based on the quickness of their response to stimuli. The SafeKey device apparently tests reaction time, so those who are under the influence would have a difficult time passing. Other similar options they could have include using ignition interlock devices, which require drivers to blow into an electronic monitor that prevents the vehicle from starting if it detects a certain level of alcohol in the breath. These devices are often assigned by courts to people who with a repeat history of DUIs.
"Obviously, we do whatever we can do," Hill told Bell Sunday. "I don't know what more we can do. We're always examining and going over things."
Brown, who joined the Cowboys roster in October, was a passenger in the car of Josh Brent, a Cowboys defensive lineman who was also Brown's college teammate at Illinois. Early Saturday morning around 2:20 A.M., Brent was reportedly speeding when his car hit a curb and flipped. He walked away with only minor injuries, but failed a field sobriety test shortly after and was then charged with intoxicated manslaughter.
The NFLPA also has a program that provides rides to players who are unable to drive. However, the player has to reach out in order to get a ride. The program is confidential, so it is not known how many players take advantage of the service.
It is not known whether the players' union would approve of a team mandating such devices for players but, after Saturday's tragedy, they might be willing to consider it.
Original Story:
http://larrybrownsports.com/football/...
THE BACKYARD
BEST OF MAXIM
RELATED ARTICLES
Dallas Cowboys nose tackle Josh Brent walked out of jail Sunday after posting $500,000 bond. He's a free man for now, after being charged with intoxication manslaughter following the death of Cowboys' teammate Jerry Brown, who was a passenger in his car that wrecked. "Jerry Brown was my very best friend and I'm just trying to deal with his death right now," said a...
The Dallas Cowboys did what they could to honor teammate Jerry Brown on Sunday, the day after he died in a car crash. The team laid a No. 53 jersey on its bench for the entire game against the Cincinnati Bengals, and various players held it up after pulling off a last-second 20-19 win. Defensive tackle Jason Hatcher grabbed the jersey and held it up after the game, and other defensive...
Dallas Cowboys practice squad linebacker Jerry Brown was killed in a car crash early Saturday morning, and his former teammate, nose tackle Josh Brent (pictured), was arrested and charged with intoxicated manslaughter as the driver during the incident. Police say the accident occurred around 2:20 a.m. Saturday in Irving. Brent reportedly was speeding when his car hit a curb and flipped...
Dallas Cowboys nose tackle Josh Brent was arrested early Saturday morning for intoxication manslaughter after he was involved in an accident that took teammate Jerry Brown's life. According to Irving police, Brent's car was traveling at a high rate of speed on a State Highway 114 service road before it hit the outside curb at approximately 2:30 a.m. The car flipped at least one...
Dallas Cowboys practice squad member Jerry Brown was killed in a car crash early Saturday morning in which teammate Josh Brent was at the wheel. As a result the defensive tackle Brent was booked on intoxication manslaughter charges according to the Irving Police Department via NFL Network reporter Ian Rapoport on Twitter: RT @nfl_atl: Cowboys [...]
Jerry Brown, a defensive back on the Dallas Cowboys was killed in a car accident Saturday morning. Police have arrested his teammate, Josh Brent in regards to the incident. Brent, has been charged with intoxication manslaughter. Brent was driving above the speed limit early Saturday, with Brown a passenger, when the vehicle hit a curb and flipped at least once, according to Irving...
The Dallas Cowboys invited Josh Brent to Tuesday's private memorial service for linebacker Jerry Brown. Brown was killed while riding in Brent's car early Saturday morning after a crash. Brent has since been released on $500,000 bail after being charged with intoxication manslaughter. The two roomed together at the University of Illinois and were best friends on the Cowboys...
Tragedy has once again struck the NFL this morning.In the early hours of 12/8, Cowboys defensive tackle Josh Brent was the driver of the vehicle which was involved in an accident which flipped the car, killing fellow teammate, and old friend from college, Jerry Brown.Brent has been charged with intoxication manslaughter in Brown's death."Officers who were at the scene believed...
Josh Brent and Jerry Brown met in college, forming a close, unshakeable bond. Having realized his NFL dream, Brent was trying to help his roommate do the same. But Brent wasn't starting on Dallas' defensive line when the Cowboys kicked off in Cincinnati on Sunday. He was in jail, accused of driving drunk and causing a fatal accident that killed Brown, an expectant father...
Dallas Cowboys defensive tackle Josh Brent, facing DUI manslaughter charges, released a statement through his agent Saturday night. "I am devastated and filled with grief," Brent said in the statement. "Filled with grief for the loss of my close friend and teammate, Jerry Brown. I am also grief-stricken for his family, friends and all who were blessed enough to have...
San Francisco 49ers defensive end Demarcus Dobbs walked away from a one-vehicle accident on his 25th birthday last month and was arrested on suspicion of driving under the influence. Less than two weeks later, with the NFL rocked by the car crash that killed Dallas Cowboys player Jerry Brown and left his teammate, Josh Brent, facing a manslaughter charge, Dobbs swears he'll...
Cowboys News

Delivered to your inbox

You'll also receive Yardbarker's daily Top 10, featuring the best sports stories from around the web. Customize your newsletter to get articles on your favorite sports and teams. And the best part? It's free!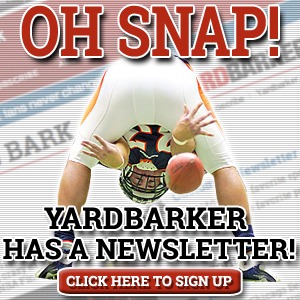 Latest Rumors
Best of Yardbarker

Today's Best Stuff

For Bloggers

Join the Yardbarker Network for more promotion, traffic, and money.

Company Info

Help

What is Yardbarker?

Yardbarker is the largest network of sports blogs and pro athlete blogs on the web. This site is the hub of the Yardbarker Network, where our editors and algorithms curate the best sports content from our network and beyond.