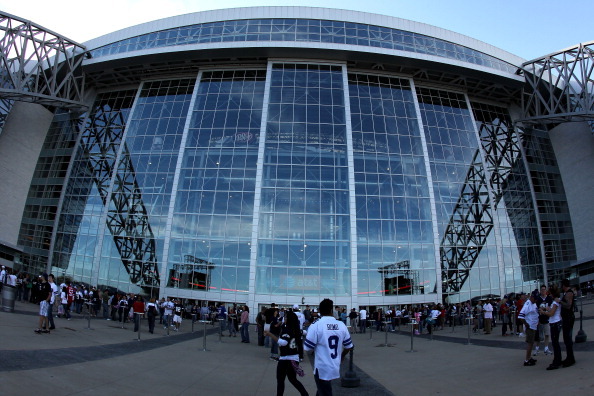 Perhaps as expected, college football's first championship game under the College Football Playoff will be played in Cowboys Stadium. Brett McMurphy of ESPN.com reports via Twitter the home of the Dallas Cowboys, the Cotton Bowl and a handful of other top college football match-ups and sporting events will provide the stage for the first championship game in the new era of college football postseason play.   Cowboys Stadium will get 1st title game; Fiesta, Cotton, Chick-fil-A get semifinal bowls. Official announcement Wed — Brett McMurphy (@McMurphyESPN) April 24, 2013   The Rose Bowl and Sugar Bowl will host the semifinal games for the the 2014 season, with the winners advancing to Cowboys Stadium for the championship. The Fiesta, Cotton and Chick-fil-A Bowls all receive semifinal hosting duties for the following seasons, joining the Orange Bowl for the 2015 season. Which bowl game joins the Orange Bowl in the 2015 season as a semifinal site has yet to be confirmed. From the moment we all learned that the College Football Playoff championship site will be up for bidding by cities in similar process as the NFL selecting Super Bowl sites, Cowboys Stadium in Arlington was the clear favorite for the first championship game. Tampa was the only other city to place a bid and was always thought to be a long shot with Arlington in the mix. Still to be detailed is how the selection committee will be put together. Those details are expected to be revealed, at least in preliminary fashion, tomorrow as the conference commissioners continue to meet in Pasadena. So to recap, we now have a name, four logo options up for fan vote, and now a championship game site and future semifinal sites. What are your thoughts on how this new format is being pieced together so far? Kevin McGuire is the host of the No 2-Minute Warning podcast. Follow him on Twitter, Facebook and Google+. Follow Crystal Ball Run on Twitter and Facebook.
MORE FROM YARDBARKER
NFL News

Delivered to your inbox

You'll also receive Yardbarker's daily Top 10, featuring the best sports stories from around the web. Customize your newsletter to get articles on your favorite sports and teams. And the best part? It's free!