Found September 01, 2013 on isportsweb.com:
Romo is reminding his owner of a Super Bowl winning head coach Earlier this week, Dallas Cowboys owner/general manager Jerry Jones compared quarterback Tony Romo's offensive mindset to that of Sean Payton, a former Cowboys coach, and now current Head Coach of the New Orleans Saints. Jones also went on to say that former coach Bill Parcells also has endorsed the team's plans to give Romo more offensive input. On his radio show in Dallas, Jones talked about how Parcells always appreciated Romo's intellect and approach to the game. Remember it was Parcells who signed Romo, an undrafted free agent, who eventually became his starting quarterback in his final season with the team. Jones then went on to say, "He's unique in that way [in his understanding of the game]. In a way, Tony has some of the kind of skills you might see in a Sean Payton." Payton was also on the Cowboys offensive staff froom 2003 to 2005 under Parcells. Parcells and Payton both have won the Super Bowl as NFL Head Coaches. Both have worked with Romo directly. And both are not shy to endorse him as a play caller, or franchise quarterback. In fact, one even takes risks, just like Romo himself. In Super Bowl XLIV, Payton decided to start the second half of the game with an onside kick. His team recovered the kick and eventually hoisted the Lombardi Trophy. Jones, in his radio interview, said he long admired Payton for the decision and that is the same type of risk-taking he sees in Romo. Romo taking risks? Sure sounds like an old story to any football fan out there. But here's where I'm going with this, with much support from ESPN's Skip Bayless. Bayless Tweeted: The Cowboys would win more games letting Romo call his own plays rather than letting Bill Callahan or  Jason Garrett call them. He's right. If your owner believes your as bright as Sean Payton when it comes to offense, and your former head coach, who was just inducted to the NFL Hall of Fame, endorses your creativity, what's the point of having an offensive coordinator call plays at all? Give Romo the reigns, and watch him go to work. It is evident to anyone who watches football, and especially to Cowboys fans, that Romo has been at his best in his career while running the hurry-up offense. During no-huddle offense, Romo is responsible for calling his own plays, and the team seems to excel in this format. I'm not saying the Cowboys should run hurry-up offense the whole game. I'm saying that when Romo's been responsible for calling the plays, which he is in a no-huddle format , this team is at their best. Jones is giving Romo that so called "Peyton Manning-like input" on a weekly basis, as he will now have say in the team's weekly game plan. This will surely help the 'Boys, but I would like to see the team give him 100% control of the offense. Romo's risk-taking and creative capability can maximize the Cowboys potential to help them win more games. Risk-taking and creativity work in the NFL, just ask Coach Payton.        
Original Story:
http://feedproxy.google.com/~r/isport...
THE BACKYARD
BEST OF MAXIM
RELATED ARTICLES
According to Bryan Broaddus of DallasCowboys.com,  the Cowboys have landed linebacker Kyle Bosworth off of waivers from the Giants. Hearing that the Cowboys put in a claim for LB Kyle Bosworth from NYG and were awarded him. He is a 3 year vet from UCLA. — Bryan Broaddus (@BryanBroaddus) September 1, 2013 In case you were wondering,  Kyle is Brian Bosworth's nephew. Bosworth...
IRVING, Texas Dallas Cowboys quarterback Tony Romo tells FOXSportsSouthwest.com that he's "discovered something that is going to be really special" with a change in his throwing mechanics as he prepares for the 2013 season. "I don't want to get into all the details of it," Romo recently revealed as part of a pair of one-on-one interviews. "But...
According to Calvin Watkins of ESPNDallas.com,  Cowboys running back Lance Dunbar is no longer in a walking boot. Lance Dunbar got the boot off his foot and did some jogging. — Calvin Watkins (@calvinwatkins) September 2, 2013 DeMarco Murray's back up isn't clear right now.  If Dunbar can't play,  Phillip Tanner and Joseph Randle will back up Murray.   Need NFL Tickets...
Tony Romo was already one of the most scrutinized quarterbacks in the NFL, so he can fully expect to be analyzed on a daily basis now that he's one of the highest paid quarterbacks in the game. Romo is confident in his abilities and even let the world  in only a little secret he's been hiding.  He altered his throwing motion. Romo says that he's found "something special"...
IRVING, Texas -- Wednesday is shaping up as a big day for Dallas Cowboys defensive end Anthony Spencer and two other injured starters. Spencer has missed all of the preseason after having arthroscopic knee surgery on July 25. When the Cowboys held their first regular season game week practice Monday, Spencer still wasn't seen on the field. Spencer will get one more day of...
IRVING, Texas (AP) -- Dallas Cowboys defensive end Anthony Spencer still hasn't returned to practice less than a week before the season opener. Spencer wasn't on the field Monday, although it was essentially a bonus session to prepare for Sunday night's opener against the New York Giants. The seventh-year pro missed all of training camp. He had arthroscopic surgery...
I feel like the perception of Dallas Cowboys quarterback Tony Romo would be wildly different if he played for just about any other team in the NFL. The scrutiny that comes with being the quarterback of America's Team, doesn't help a player widely known for struggling when his team needs him the most. That's why […]
It is unusual for an eighth-year starting quarterback to change their throwing mechanics, but Dallas Cowboys quarterback Tony Romo did just that. Romo told Fox Sports Southwest that he has "discovered something that's going to be really special" in his new mechanics. The change in Romo's mechanics focuses on arm angles and release points. Romo had been experimenting...
The Chicago Bears have acquired tight end Dante Rosario from the Dallas Cowboys for a seventh-round pick in next year's draft. The Cowboys reported the deal on their website Monday. Dallas picked up Rosario during the offseason, and he was among five tight ends on the team's original 53-man roster. Rosario is entering his seventh season and could be playing for his fourth...
Todd Archer reports that the Dallas Cowboy have traded TE Dante Rosario to Chicago Bears in return for a conditional 7th round pick in 2014. Archer notes that Dallas' roster is currently at 52 players and this is the Cowboys third trade in as many days. Rosario signed a one-year deal with the Cowboys back in June. Their tight end group now consists of Jason Witten, James...
It turns out that the entire 2013 draft class made the 53-man roster for the Cowboys (pending trades, which are not expected). Not sure if any of these rookies will become the greatest players to wear these numbers, but there is always a chance. Here's a look. New #20: B.W. Webb Greatest #20: Mel Renfro Webb will not have a starting position without injuries and will have to prove...
Cowboys News

Delivered to your inbox

You'll also receive Yardbarker's daily Top 10, featuring the best sports stories from around the web. Customize your newsletter to get articles on your favorite sports and teams. And the best part? It's free!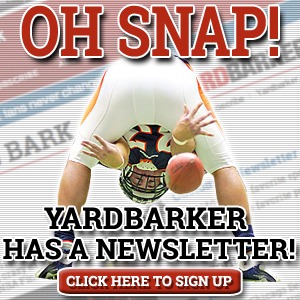 Latest Rumors
Best of Yardbarker

Today's Best Stuff

For Bloggers

Join the Yardbarker Network for more promotion, traffic, and money.

Company Info

Help

What is Yardbarker?

Yardbarker is the largest network of sports blogs and pro athlete blogs on the web. This site is the hub of the Yardbarker Network, where our editors and algorithms curate the best sports content from our network and beyond.