Found November 30, 2012 on Phin Nation:
The Miami Dolphins playoff hopes are on life support  and in a coma right now, but their heart is still beating.  Sticking with that analogy, the Dolphins will need to have a medical miracle happen and wake up from their coma on Sunday.  The Dolphins welcome in the Patriots on Sunday, a team that is playing better than any team in the NFL right now.  The Dolphins are 9 point underdogs, at home, so we know that most in the football world don't think they have a shot in this game.  I certainly can't say I'm confident, however I do think the Dolphins have a chance, albeit a small one. For the Dolphins to win, they need to find a way to slow down the Patriots offense and find a way to get their own offense to perform efficiently.  The Dolphins coaching staff certainly has their work cut out for them this week, but the key will be for the Dolphins players to execute the plays that are called and minimize their mistakes.  Here's our gameplan for the Dolphins on Sunday, please feel free to leave us a comment if you have any additions. Attack Tom Brady  Remember the days when Jason Taylor and the Dolphins defensive line gave Tom Brady nightmares?  As good as the Patriots have been for the last decade, the Dolphins defense always seemed to find a way to slow down the Patriots.  The Dolphins blueprint was very similar to what the NY Giants have done in Super Bowls to beat the Patriots.  The Dolphins were able to get pressure on Tom Brady with their front 4 defensive linemen.  Getting in Tom Brady's face is crucial to slowing down the Patriots offense. Even if the Dolphins don't sack Brady, they must hurry him and hit him early and often. The Dolphins have played a lot of zone coverage in the secondary because of their lack of talent to play man to man.  If they do this on Sunday, Brady will pick them apart.  The Dolphins aren't going to confuse Brady, he's seen everything.  However, if they mix man coverage with zone and mix in some timely blitzes, they might be able to disrupt the rythm of the Patriots offense.  The Patriots run a lot of screen plays, both to their running backs and wide receivers.  Throwing quick screens to the wide receivers has helped Tom Brady complete over 66% of his passes, good for the 2nd highest QB rating int he NFL (105.2).  Ultimately, it will come down to Cameron Wake, Jared Odrick, and Olivier Vernon winning their 1 on 1 battles against the Patriots offensive linemen.  I say this, because if Tom Brady is given all day to find a receiver, he's going to find them.  (cont'd on page 2, click below)
Original Story:
http://www.phinnation.com/dolphins-ga...
THE BACKYARD
BEST OF MAXIM
RELATED ARTICLES
The Miami Dolphins are finishing up their preparations for their big matchup against the Pats tomorrow.  Meanwhile, PhinNation wants to help you with preparations for your Fantasy Football league.  Like the Dolphins, many fantasy owners are making a push for the playoffs.  So today, we are launching a new weekly column called Fantasy Focus, in which our buddy James Morris will...
Bill Belichick usually isn't one to carelessly dole out praise, so when he called the Miami Dolphins' Reggie Bush "dynamic," that clearly means something. On Sunday the Patriots will take their talents to South Beach, where they will take on Bush, quarterback Ryan Tannehill and the Dolphins. For New England, a win also represents the chance to clinch an AFC East championship...
Seattle Seahawks safety Earl Thomas says he has been fined by the NFL for his roughing the passer penalty against Miami quarterback Ryan Tannehill last week. Thomas first tweeted about the fine, then confirmed it during the open locker room Wednesday. Thomas indicated in his tweet that he was fined $15,000. Thomas' play became a huge turning point in the Dolphins' rally...
We sat down with Michael Serrania from Phins Phocus to hear his takes on the upcoming Miami/New England game. Here are Michael's thoughts on the game and the Dolphins. 1. A lot of talk before the draft was that Miami was drafting Ryan Tannehill too high with the 8th pick? How would you evaluate the pick after the first 11 games this season? Has he made a difference over Matt...
Seattle Seahawks safety Earl Thomas says he has been fined by the NFL for his roughing the passer penalty against Miami quarterback Ryan Tannehill last week. Thomas first tweeted about the fine, then confirmed it during the open locker room Wednesday. Thomas indicated in his tweet that he was fined $15,000. Thomas' play became a huge turning point in the Dolphins' rally...
Late in last Sunday's loss to the Dolphins, Earl Thomas was flagged for a highly questionable personal foul penalty. On Wednesday, after he was slapped with a $15,000 fine by the NFL, the Seahawks' Pro Bowl safety took to Twitter to express his displeasure. https://twitter.com/Earl_Thomas/status/273862778807271424 On the play, Thomas was rushing quarterback Ryan Tannehill...
Lead writer Nick St. Denis and AFC East Daily contributors Dan Begnoche and Sean Donovan pick the New England Patriots' divisional battle with the Miami Dolphins. Nick's take: The Patriots are pretty much unstoppable at this point, having scored 190 points combined in the last four games. And it's not just the offense. New England's defense and special teams have...
When asked Thursday whether he was thinking about Sunday's game against the Miami Dolphins being a potential division-clincher for his team, New England Patriots wide receiver Wes Welker had a one-word retort: "Absolutely. "The Dolphins, however, don't seem to be on the same page. "I had no clue until you just said that," quarterback Ryan Tannehill told the New England...
            This Sunday, the Miami Dolphins are facing their arch nemesis New England Patriots.  It will surely be the biggest game of the Dolphins season and a deciding factor in the development of Ryan Tannehill and the Dolphins playoff hopes hang in the balance. In order to capture what's happening...
The Miami Dolphins, after winning a thriller last week over the Seattle Seahawks to snap their three-game losing streak, now hope to keep their outside chance at a playoff berth alive with another victory Sunday. Problem is, the division-leading New England Patriots are coming to town. Miami, losers of eight of its past 10 matchups with New England, including four straight, must...
In the Miami Dolphins' last-second victory over the Seattle Seahawks Sunday, Dolphins fans were treated to a stellar fourth quarter performance from rookie quarterback Ryan Tannehill. With his team down by seven in the final stanza, Tannehill led his offense downfield against a stout Seahawks defense and scored a touchdown to knot the score at 21. The ensuing Seattle drive penetrated...
DAVIE, Fla. Its probably not a good idea to compare your rookie quarterback to Tom Brady the week your team plays New England. Perhaps thats why Miami center Mike Pouncey played it coy on Wednesday when asked to expound upon having last month compared Dolphins quarterback Ryan Tannehill to the Patriots star. I said that? Pouncey said before laughing. You sure? That a rookie reminded...
Dolphins News

Delivered to your inbox

You'll also receive Yardbarker's daily Top 10, featuring the best sports stories from around the web. Customize your newsletter to get articles on your favorite sports and teams. And the best part? It's free!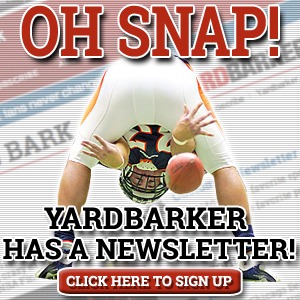 Latest Rumors
Best of Yardbarker

Today's Best Stuff

For Bloggers

Join the Yardbarker Network for more promotion, traffic, and money.

Company Info

Help

What is Yardbarker?

Yardbarker is the largest network of sports blogs and pro athlete blogs on the web. This site is the hub of the Yardbarker Network, where our editors and algorithms curate the best sports content from our network and beyond.