Found November 07, 2012 on It's Always Sunny in Detroit:
Back on October 8, Pro Football Weekly posted a opinion from an anonymous "rival GM" on the Detroit Lions' struggles.  "They don't have enough good players, and the players they think are good are not that good."  Lions center Dominic Raiola has never been one to pull punches and he fired back calling the GM a coward for requesting anonymity.  The same GM, supposedly, came back with this internet-tough reply, again demanding to remain anonymous (a month after Raiola's retort): "I saw Dominic Raiola called me out, asking who the aimless, anonymous GM is who criticized the great Lions. 'Who is this person?' It's the guy who rejects you every time he watches your tape and thinks you are a complete fraud. "It's the guy who didn't think you could play when you came out of college and still doesn't think you can play now. … If he spent as much time working the other muscles in his body as he does his jaw, he might have had the chance to be an average backup. You can put that in print." Raiola, who has started 164 games over his 12-year career, all with the Lions, wasn't about to sit quietly. Solid reply. He chewed it up, spit it out and then took the high road directing his focus to the Lions' game against the Minnesota Vikings this weekend. "All I gotta say is to two people: Whoever's talking s**t and then the person who wrote it on Pro Football Weekly: coward, gutless, balls-less," Raiola said. "You got no name? Anoynymous? All I got to say is f**k him. That's all I got. If I spend anymore time on it, that's what he wants. So f**k him, f**k both of them. Now, Minnesota …" PFW's editor Hub Arkush sent the Lions an email issuing an apology for posting the anonymous comments.  While I have no clue who actually gave PFW the quote (if indeed someone did), the publication comes off as being more irresponsible than the speaker.  If your whole story is going to be quotes from a guy remaining anonymous, it's worse than neighborhood gossip or a typical high school dispute.  It shows a great lack of professionalism and yellow journalism.  But hey, it's all about the page views these days, right?  
Original Story:
http://itsalwayssunnyindetroit.com/20...
THE BACKYARD
BEST OF MAXIM
RELATED ARTICLES
Again, the Detroit Lions have been called out by this so-called anonymous GM.  A few weeks ago he called their defensive line completely overrated and took some shots at a few specific players in a Pro Football Weekly article.  Lions center Dominic Raiola responded to the claims calling him a coward, and it seemed to be the end of it.Unfortunately that was not the case.  The anonymous...
REPEAT WINNER
For the second year in a row, Lions defensive lineman Ndamukong Suh was voted as the league's dirtiest player in a poll of NFL players.
Even though the Detroit Lions have officialy ended running back Jahvid Best's season, his agent Tony Fleming says he still wants to continue his NFL career. "He obviously still wants to play, we're just in a climate now in the NFL where everybody's extra cautious," Fleming said, per the Detroit Free-Press. "Everybody is concerned about Jahvid and his health and his future...
ALLEN PARK, Mich. -- In many ways, the first half of this Detroit Lions season has gone the complete opposite of how most would have expected. No touchdown passes from Matthew Stafford to Calvin Johnson, but a respectable, emerging run game? The secondary, widely considered the teams weak link, is depleted by injuries week after week, but the Lions still rank No. 7 in total defense...
EDEN PRAIRIE, Minn. Seeing Detroit Lions quarterback Matthew Stafford atop the NFL with 346 pass attempts this season isn't surprising. Stafford led the league with 663 attempts last season.But just when opposing teams figured they could zero in on Detroit's offense by focusing on the passing attack led by Stafford and receiver Calvin Johnson, the Lions have added an unexpected...
Banged-up Detroit Lions star Calvin Johnson says his knee is feeling better than it did this time last week. Johnson toughed out Detroit's 31-14 victory over Jacksonville on Sunday, catching seven passes for 129 yards after getting a pain-killing shot in his left knee. The All-Pro receiver is on pace to post similar numbers to last season in catches and yards - although he has...
The next time Detroit Lions wide receiver Nate Burleson puts his pads on, he will be 32 and coming off major leg surgery. Burleson suffered a season-ending broken right leg in the Lions' Oct. 22 loss to the Chicago Bears. He understands there is a possibility the Lions could move on without him. He understands that if receivers Ryan Broyles and Titus Young continue to grow...
Last week: 20 (+4) Record: 4-4 With the NFC East struggling lately outside of the Giants and the NFC West struggling lately outside of San Francisco and Seattle (who the Lions beat), the Lions are suddenly right back in the thick of things after a disappointing 1-3 start. I think they rank firmly ahead of Philadelphia, Dallas, Minnesota, Arizona, St. Louis, and Washington right now...
Even an artificial life form made of non-human parts is still human.  Megatron, or Calvin Johnson if you prefer, said he suffered nerve damage when he took two big hits in the Detroit Lions' game against the Minnesota Vikings back in September.  In that game, Johnson also admitted to suffering a concussion that he played through. According to Dave Birkett of the Detroit Free...
The Vikings have surrendered 100-yard rushing performances in four consecutive weeks. Enter the Detroit Lions, whose struggles to rush the ball are pronounced, as witnessed by several different statistics.
NFL News

Delivered to your inbox

You'll also receive Yardbarker's daily Top 10, featuring the best sports stories from around the web. Customize your newsletter to get articles on your favorite sports and teams. And the best part? It's free!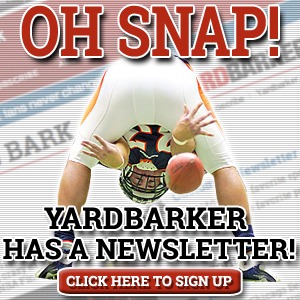 Latest Rumors
Best of Yardbarker

Today's Best Stuff

For Bloggers

Join the Yardbarker Network for more promotion, traffic, and money.

Company Info

Help

What is Yardbarker?

Yardbarker is the largest network of sports blogs and pro athlete blogs on the web. This site is the hub of the Yardbarker Network, where our editors and algorithms curate the best sports content from our network and beyond.