Found February 14, 2013 on isportsweb.com:
Jerry Jones, owner of the Dallas Cowboys, promised changes this offseason. And there have been plenty so far, at least in the realm of coaching. Some of the coaching decisions have been good, some have been not so good. First, they began by firing Rob Ryan, defensive coordinator. Then they fired Skip Peete, the brother of former NFL QB Rodney Peete, as RB coach. The WR coach was fired, as was Jason Garrett's brother John, who was TE coach. Joe DeCamillis accepted a job elsewhere, leaving the special teams job available as well. Those are just some of the many releases this team has seen in the coaching ranks. We will look at the aforementioned positions, and their replacements, as well as whether the replacement is an upgrade or downgrade at the particular spot. We won't be seeing this guy on the sidelines in 2013. Defensive Coordinator – OUT: Rob Ryan. IN: Monte Kiffin. This is clearly an upgrade, of sorts. Monte Kiffin may be older than Jerry Jones himself, but he brings in the vaunted Tampa 2 defensive scheme that he ran in Tampa under Jon Gruden and that led the Bucs to their only Super Bowl appearance and victory. Plus, the addition of Kiffin also means he is reunited with Rod Marinelli, the defensive line coach for the Cowboys, just like back in Tampa. This move means the Cowboys will switch from the 3-4 to the 4-3. If you also consider the defensive production of the Cowboys, they statistically had their worst ranking since 1989 (18th), while producing the fewest turnovers in franchise history (7, tied with the 1989 squad). So even though their defense kept them in games, and even though they had a patchwork defense, Rob Ryan couldn't get the job done. And remember, Rob Ryan's best years were here, having never coached a defense on a team with more than 5 wins a season prior to his tenure in Big D. Running Backs Coach – OUT: Skip Peete. IN: Gary Brown. This may not seem like an upgrade on the surface, as hiring anyone formerly with the Browns coaching staff is not overly impressive, but considering the Dallas Cowboys have had the worst production at running back since 1989, anything is an upgrade. And you can't discount how well Trent Richardson ran the ball in Cleveland last year despite his injuries. The hiring of Brown could be just the salvo the Cowboys need to bring their running game back from the brink. Tight End Coach – OUT: John Garrett. IN: Wes Phillips. The promotion of Wes Phillips creates a void in the assistant offensive line coaching spot, which will be evaluated next. But this will be a very slight upgrade. Jason Witten and John Phillips both are excellent receivers, but their blocking skills leave much to be desired. A guy who is familiar with coaching blocking, like Phillips, can help work on that aspect of it. Assistant Offensive Line Coach – OUT: Wes Phillips. IN: Frank Pollack. Now this will be hard to evaluate. The Cowboys offensive line has been like crumbled cheese for some years now. But not all of that rests on the coach. When the GM signs guys over the years like Marc Colombo, Alex Barron, Mackenzie Bernadeau, Nate Livings, to name a few, it can be hard to get very much production out of so much bad. However, it is the job of the coach to do the best he can with what he has, and to get the most out of his players. Over the years, Phillips hasn't done that. It'll be hard to tell if Pollack is an upgrade or not. He coached the Raiders O-line in 2012 and was fired in December, which kind of leaves a bad taste in your mouth because now that it is the post-Al Davis era, any Raiders firing should send red flags to other teams about whether to hire that guy. They aren't just being fired on a whim anymore. Yet, the upside to Pollack is that he has worked with Bill Callahan before, who is the O-line coach. So that repoire could help, but the outlook on this coaching change remains to be seen, especially if the rumors of Callahan taking over the offensive playcalling come to fruition. Wide Receivers Coach – OUT: Jimmy Robinson. IN: Derek Dooley. Alright, this may be the official head scratcher. I understand Jason Garrett has worked with Dooley before, but if you have ever listened to some of Dooley's press conferences in the SEC, his craziness speaks for itself. Also, given that he combined with Lane Kiffin to run Tennessee football into the ground in the post-Phil Fulmer era, this is not a guy I would be hiring, especially for this coaching spot. If he sends a storied program to its worst 3 year run in history in college, why and how could he possibly get the job done in the pros? We have seen the coming out party of Dez Bryant, as he finally earned the #88 on his back with his second-half performance this past season. We don't need Bryant, or any of the other receivers, to regress under a guy who does not know what he is doing. This is clearly a downgrade. Jimmy Robinson came here after winning a Super Bowl with the Packers, and he did a very good job with this receiving core. What Garrett was thinking when he let Robinson go, I won't figure out, but this is one of the reasons I peg Garrett as part of the problem with the Cowboys, and not part of the solution. Special Teams Coach – OUT: Joe DeCamillis. IN: Rich Bisaccia. This is one of those moves that couldn't be helped. DeCamillis was not fired. He just simply took another job, prompting the need for a replacement. Bisaccia was a guy who was part of the Tampa Bay regime that won the Super Bowl. He then coached in San Diego before taking the Auburn job, but stayed there less than a month before taking the Cowboys job. Bisaccia has the potential to make this an upgrade for the Cowboys. Dallas did have 2 special teams touchdowns this past season, but they also were one of the teams that gave up the most yards on special teams in the league, and were towards the bottom in average field position. I know field position has somewhat to do with how much the offenses move the ball, but still, if the special teams unit isn't getting a push and creating holes, that causes a problem. Because Bisaccia did a great job in San Diego and in Tampa, I see this as a potential upgrade. And those conclude all of the major coaching changes Dallas has made during this offseason. It looks like they are trying to rebuild the Tampa 2 defense to win with that, as they have brought in key pieces from that regime. Once training camp gets started, and once the players get accustomed to their new coaches, we can evaluate the outlook for the 2013 Cowboys in a much brighter light. With the 2013 coaching staff in place, the Cowboys can now focus on player changes through free agency and the draft.
Original Story:
http://feedproxy.google.com/~r/isport...
THE BACKYARD
BEST OF MAXIM
RELATED ARTICLES
"Again, we finished among the league leaders in offense this past year" - Jason Garrett 21313 He really said that on Wednesday at Valley Ranch during a long press conference that was supposed to provide answers on topics such as play calling for 2013. He is a bit defensive these days, as is understandable for anyone being asked to explain their job performance. But, he...
After 2 and a half seasons as the Cowboys' head coach, Jason Garrett may not be calling the offensive plays anymore come 2013. He has stated in the past that he would like to keep the duty of calling plays, but owner Jerry Jones said there would be major changes this offseason. The changes started on defense when the team fired former defensive coordinator Rob Ryan earlier this...
Calvin Watkins of ESPNDallas.com put together a very good argument as to  why the Cowboys could end up re-signing running back Felix Jones who's scheduled to become a free agent next month. One of the points Watkins made was that Jones will likely not get the big offer he's looking for in free agency because of issues involving his durability. Also the Cowboys have a lot of...
The probability remains high that Tony Romo finishes his playing career in Big D. Cowboys executive vice president Stephen Jones deemed Romo a "key piece" of the team's plans, and will look to sign the 32-year-old to a long-term contract extension. "Tony is a key piece of what we're about going forward," Jones said, via ESPNDallas.com. "We're...
On Wednesday, Dallas Cowboys head coach Jason Garrett wouldn't own up to who would be calling the offensive plays in 2013, calling it a "collective process", and new offensive coordinator/offesnive line coach Bill Callahan won't say either. How convenient. "It's really a collaborative effort," Callahan said, via The Dallas Morning News.
Dallas Cowboys linebacker Anthony Spencer wants to stay and Dallas, and the Cowboys would really like to have him back. So what's it going to take? "We're always in the business of keeping great football players," Cowboys Executive VP Stephen Jones said, via The Dallas Morning News. "And he is one of those." The team was able to hold onto him via...
Are the Dallas Cowboys looking to re-sign Tony Romo to a long-term contract this off-season? (Credit: AP Photo) The debate over whether or not Tony Romo is a good quarterback seems to emerge year in and year out, especially if Dallas is losing. Now, it appears as though those debates will continue for the foreseeable future as the Cowboys look to lock up Tony Romo to another long...
Dallas Cowboys executive vice president Stephen Jones says they plan on extending quarterback Tony Romo's contract because he's a key piece to their future. "Tony is a key piece of what we're about going forward," Jones said Tuesday, per ESPNDallas.com. "We're certainly going to be looking at his situation (in) time. We've historically (extended contracts) with quarterbacks...
Tony Romo is in the last year of his contract that has paid him over $67 million. While some are saying the Cowboys should look into drafting a quarterback in the 2013 Draft, the Cowboys are looking into extending his contract. "Tony is a key piece of what we're about going forward," Jones said via ESPNDallas.com's Calvin Watkins. "We're certainly going to be looking...
Dallas Cowboys executive VP Stephen Jones told reporters on Tuesday that they're still focused on getting QB Tony Romo locked up for the coming years. "Tony is a key piece of what we're about going forward," Jones said, via ESPN Dallas. "We're certainly going to be looking at his situation (in) time. We've historically (extended contracts) with quarterbacks for the...
Cowboys News

Delivered to your inbox

You'll also receive Yardbarker's daily Top 10, featuring the best sports stories from around the web. Customize your newsletter to get articles on your favorite sports and teams. And the best part? It's free!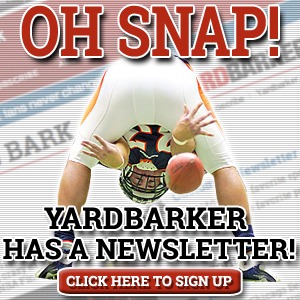 Latest Rumors
Best of Yardbarker

Today's Best Stuff

For Bloggers

Join the Yardbarker Network for more promotion, traffic, and money.

Company Info

Help

What is Yardbarker?

Yardbarker is the largest network of sports blogs and pro athlete blogs on the web. This site is the hub of the Yardbarker Network, where our editors and algorithms curate the best sports content from our network and beyond.