Found September 07, 2012 on Fox Sports Wisconsin:
By Brian Hall FOXSportsNorth.com EDEN PRAIRIE, Minn. Tori Gurley still feels a bit out of place right now in Minnesota, living in a hotel and wearing purple as a member of the Minnesota Vikings instead of the green and gold he had grown accustomed to in Green Bay.The practice squad receiver had prepared for a future with the Packers. On a team loaded with receivers, Gurley was still expecting to have an NFL career develop in Green Bay. His career took an interesting, and not necessarily unexpected, turn after the Packers made him one of their final cuts last week though. Not long afterward, his agent received a phone call from Minnesota offering him the chance, again, to join the Vikings.This time, Gurley said he "jumped on it" when given a chance to continue his career. The adjustments are still taking place a week after his arrival."I had a nice place in Green Bay, but now I'm living in a hotel," Gurley said. "Just the little things you take for granted like getting in your car and driving to practice. Now I'm still trying to find a place to stay and all the other little things that help you be a better football player. So, once the end of this week gets over with and I get settled down, I'll feel like more of a Viking."Feeling like a Viking is a bit different from where he thought he'd be.After all, Gurley had turned down Minnesota before. Stuck on Green Bay's practice squad as the Packers were on their way to a 15-1 record last year, Gurley had another call from the Vikings, who wanted to sign him to their active roster. He declined the offer and chose to stay with Green Bay.A player giving up a chance at an active roster spot to stay on a practice squad, surely Gurley must have been crazy. Rejecting Minnesota to be a simple practice player earned him notoriety among the rival Packers' faithful. Even now, some of the Vikings understand Gurley's thought process."Of course, the Packers had a chance to go to the Super Bowl and he wanted to stay, and I can definitely understand that," Minnesota receivers coach George Stewart said. "He's a young man we had targeted and we were finally able to bring him in." Gurley's decision came down to just that fact. Even though he might not have been active on game days, he didn't want to pass up the chance at a Super Bowl."It was the opportunity to make a playoff run and win a Super Bowl," Gurley said. "We were the heavy favorites. And with me working out with those guys every day and just seeing their work ethic, I knew it was going to be Super Bowl. We all believed it and that's why. Now I'm here. I'm very happy and I can kind of show my teammates the things I learned there and I'm here to become a better player."Gurley was still on the practice squad when Green Bay was ousted from the playoffs in its first game. He never played in a regular season game for the Packers. He had three catches for 75 yards this preseason, but was cut among the glut of receivers in Green Bay.Then came the call that, frankly, didn't surprise Gurley. The big receiver is ready to show the Vikings he's every bit the receiver they were looking for last year when they tried to sign him."I was excited because I knew it was going to be a fresh start," Gurley said. "I just knew I had to move on and get ready to start my career."Late last year wasn't the first time Minnesota had been interested in Gurley, who went undrafted out of South Carolina in the 2011 draft. The Vikings had looked at him before he signed with Green Bay.Gurley's size (6-foot-4, 232 pounds) is one of the traits that drew Minnesota's interest. The Vikings are still looking to develop a big target that can make the tough catches, as well as offer a threat down the field. Stewart believes it's been an aspect missing since Sidney Rice signed with the Seattle Seahawks."With a big 6-foot-3, 6-foot-4 body like what Tori has, we're looking for that big outside target for our quarterback, so he can just throw that thing up very similar to what Brett Favre did when Sidney was here and give us an outside presence," Stewart said."He has size. He is very smart. He does have ability. With those three characteristics working for him, he does have a chance to help us down the road."Gurley doesn't believe it's going to be too far down the road before he's able to contribute, unlike last season when he was strictly in a development role for the Packers. He said he learned a lot working in Green Bay and is eager to prove he's ready for a spot on Minnesota's active roster."Yeah, I mean, they brought me here to give me an opportunity to play," Gurley said. "I don't think it's to be on the practice squad the whole year. It's the opportunity to develop some and get out there and show them what I'm working with." Follow Brian Hall on Twitter.
Original Story:
http://www.foxsportswisconsin.com/09/...
THE BACKYARD
BEST OF MAXIM
RELATED ARTICLES
The Minnesota Vikings will kick off their 2012-2013 NFL season tomorrow at 12:00 CT as they play host to the Jacksonville Jaguars at Mall of America Field at the Hubert H. Humphrey Dome.  The Vikings own a 3-1 series record over the Jags and will look to improve upon that tomorrow. It is finally here, the moment Vikings' fans have waited for since their season ended on New...
Two of the most electrifying running backs in the NFL may or may not get to duke it out against each other in the season opener on Sunday, Sept. 9 as the Minnesota Vikings play host to the Jacksonville Jaguars.  Adrian Peterson, the Vikings 100 million dollar man, is returning from injury and may see limited time, while Maurice Jones-Drew is coming back from a hold-out and will...
EDEN PRAIRIE, Minn. -- Adrian Peterson hasn't wavered all summer: He says he is ready to play for Minnesota in the season opener. The star running back, recovering from a surgically repaired left knee, said Thursday he has "somewhat" of a gut feeling about whether the Vikings will let him suit up on Sunday for the game against Jacksonville. Peterson didn't specify...
Adrian Peterson owners drafted the Minnesota Vikings running back with the expectations that he would not suit up in Week 1 — maybe even Week 2. So...
Minnesota Vikings running back Adrian Peterson showed some support to his buddy Maurice Jones-Drew some by also knocking his team.  He says the Jaguars would be terrible if they didn't have MJD. Peterson throws some support to his buddy MJD. "He's their whole offense. Without him Jaguars would be terrible." — Tom Pelissero (@TomPelissero) September 6, 2012 I'm sure...
EDEN PRAIRIE, Minn. Aaron Rodgers, Matthew Stafford, Jay Cutler the names could cause even the best of defensive backs to suffer a bit of anxiety.For the Minnesota Vikings' young secondary, where only veteran Antoine Winfield is over 27 years old, those are the quarterbacks it will see six times this year while playing in the NFC North. Minnesota's relatively young and...
Is Vikings receiver Percy Harvin elite? He is in elite company with his receiving stats last year and a deeper look shows how underutilized he was compared to other top receivers, despite one of the best catch percentages in the NFL. Plus, more opening-day stats revolving around the Vikings than you'll know what to do with.
According to Jeremy Fowler of the Pioneer Press, Minnesota Vikings running back Adrian Peterson is still a game time decision for tomorrow's opener against the Jaguars. Sounds like Peterson still game-time decision. I'm told staff wants to get one last look at him in the A.M. before making decision. — Pioneer Press (@VikingsNow) September 8, 2012
EDEN PRAIRIE, Minn. Adrian Peterson and Maurice Jones-Drew's common bonds as star running backs have allowed the two to develop a friendship over the years.The two were keeping a close eye on the other's situation this offseason as Peterson, the Minnesota Vikings' record-breaking back, was attempting a comeback from major knee surgery and Jones-Drew, the Jacksonville...
While the Vikings continue to say a decision on Adrian Peterson's availability Sunday isn't final, the defenders that have been trying to hit Peterson in practice think he's ready.
Minnesota Vikings punter Chris Kluwe's social commentary truly knows no bounds. The player known for his frequent outbursts on Twitter has taken aim at a Maryland politician who has criticized Baltimore Ravens linebacker Brendon Ayanbadejo for supporting gay marriage.In an open letter to Maryland state delegate Emmett C. Burns Jr. published on Deadspin on Friday (Warning for...
NFL News

Delivered to your inbox

You'll also receive Yardbarker's daily Top 10, featuring the best sports stories from around the web. Customize your newsletter to get articles on your favorite sports and teams. And the best part? It's free!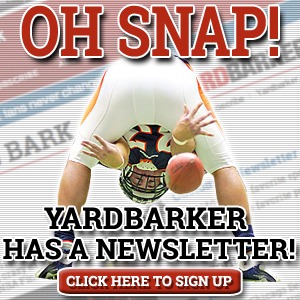 Latest Rumors
The Backyard

Today's Best Stuff

For Bloggers

Join the Yardbarker Network for more promotion, traffic, and money.

Company Info

Help

What is Yardbarker?

Yardbarker is the largest network of sports blogs and pro athlete blogs on the web. This site is the hub of the Yardbarker Network, where our editors and algorithms curate the best sports content from our network and beyond.