Found September 11, 2013 on Eagles Addict:
Over the past few seasons, DeSean Jackson has become somewhat one-dimensional. This is a knock on how the coaching staff uses him within the offense, not his talent and capabilities. Whenever Andy "saw something [he] liked," DeSean would consistently be sent deep to try and connect on the home run. Sure, he would have one or two big catches a game, but he would seem to disappear otherwise. Some claim that it's his lack of size that limits him as a number one receiver, while others still cling to the belief that he will not go hard over the middle. Since day one, Chip has preached that his goal is to get the ball into the hands of his best play makers. The name that instantly comes to mind is DeSean Jackson. Chip proved on Monday night that when DeSean Jackson has the ball in his hands, he is deadly. He is an every-down weapon. And he can still do that "going deep" thing too, as was seen by the 25 yard touchdown he hauled in on a deep crossing route. Let's look at a couple of plays w...
Original Story:
http://eaglesaddict.com/http:/www.eag...
THE BACKYARD
BEST OF MAXIM
RELATED ARTICLES
Chip Kelly is a football maniac, and get this, he thinks his team can play faster. While addressing the media today after getting his first victory as an NFL coach, Kelly said that "the pace of the offense was too slow, and that they can go faster" according to Birds 24/7. Chip Kelly feels like Monday's pace was too slow. http://t.co/Zr07jtRkce — Tim McManus (@Tim_McManus...
In NFL season opening Monday Night Football action, the Redskins and Eagles squared off at Fed Ex Field in front of 82,743 fans and set record numbers in ratings for both teams. Not since ESPN started broadcasting games in 2006 have they seen week one ratings as high as was posted this past Monday Night.  The game was the No.1 watched telecast of the evening. At 16,524,000...
While Michael Vick had a very good game last night,  he was still very reckless while running with the football. Eagles head coach Chip Kelly told the media today that it's too late to try and change how Vick plays. Those headfirst Mike Vick slides? Chip Kelly knows what battles are worth it, says, "I don't think at 33 we're going to get him to change." — Aditi...
Ten years after designing their first uniforms, popular fashion designer Vera Wang will be giving the Eagles cheerleaders a new look. "It was an honor to create the uniform design that has now become synonymous with the Philadelphia Eagles cheerleaders." Wang told Philly.com, "I always embrace the opportunity to work on extensions of my original creations and enjoyed designing...
Cary Williams walked his talk. The fiery cornerback had an impressive debut with the Philadelphia Eagles after being in the spotlight for the wrong reasons throughout the summer. Williams signed a three-year, $17 million contract, including $10.5 million guaranteed, with the Eagles in the offseason after starting every game the last two seasons for the defending Super Bowl-champion...
While Chip Kelly's offense received most of the attention for a sensational start, the Philadelphia Eagles' defense also had an impressive debut. That's the bigger surprise. The Eagles were expected to score plenty of points with Michael Vick, LeSean McCoy and DeSean Jackson playing in Kelly's up-tempo offense. But the defense figured to have some growing pains...
Philadelphia Eagles cornerback Bradley Fletcher suffered a concussion during Monday night's 33-27 win over the Washington Redskins, according to Josh Alper of Pro Football Talk. Fletcher will not be able to return to action until he passes the NFL's standard concussion protocol. He is currently listed as doubtful for Sunday's game against the San Diego Chargers.With Fletcher...
All did not end well for the Eagles in their win over the Washington Redskins Monday night. The Eagles lost starting cornerback Bradley Fletcher to a concussion. Fletcher, a fourth-year cornerback, came over from St. Louis and signed a two-year deal. He will be out until he is able to pass a concussion test. The Eagles have re-signed cornerback Brandon Hughes to replace Fletcher...
The first Monday Night Football game of the 2013 NFL season did not disappoint. Eagles vs. Redskins had several storylines; the return of Skins QB Robert Griffin III, Eagles head coach Chip Kelly's first NFL game and the resurgence of Michael Vick. The Eagles came out fired up with a lighting fast offense. The Eagles ran 53 plays in the first half, 28 in the first quarter alone...
The purpose behind Quick Hits is to catch you up on the most important news, notes, and links that you may have missed from the day prior. Without further ado, here are Wednesday's quick hits: 1. One of the players that excelled in the defense's new 3-4 scheme, was Trent Cole. 2. The Eagles defense showed some promise Monday night, but the team knows it is just a start. 3. How...
The new version of the Philadelphia Eagles offense was a rousing success in the season opener - at least for 2 1/2 quarters. Same goes for the San Diego Chargers, though they came away much more disappointed. Despite successfully debuting his up-tempo style as Eagles coach, Chip Kelly would like his offense to pick up the pace even more for Sunday's matchup with the visiting...
The purpose behind Quick Hits is to catch you up on the most important news, notes, and links that you may have missed from the day prior. Without further ado, here are Thursday's quick hits: 1. Under Dave Fipp, the Special Teams unit has shown a lot of promise. 2. Bradley Fletcher was not seen at practice on Wednesday, but DC, Bill Davis hasn't ruled him out yet. 3. On the other...
Eagles News

Delivered to your inbox

You'll also receive Yardbarker's daily Top 10, featuring the best sports stories from around the web. Customize your newsletter to get articles on your favorite sports and teams. And the best part? It's free!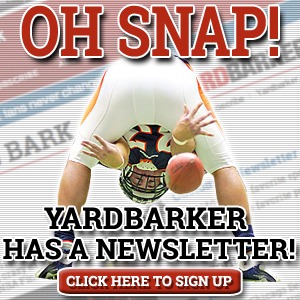 Latest Rumors
Best of Yardbarker

Today's Best Stuff

For Bloggers

Join the Yardbarker Network for more promotion, traffic, and money.

Company Info

Help

What is Yardbarker?

Yardbarker is the largest network of sports blogs and pro athlete blogs on the web. This site is the hub of the Yardbarker Network, where our editors and algorithms curate the best sports content from our network and beyond.