Found August 13, 2013 on Fox Sports Midwest:
ST. LOUIS -- As an NFL quarterback who began his career in New York, Kellen Clemens is accustomed to criticism. The St. Louis Rams backup quarterback says derogatory comments from Bernie Kosar are no big deal. "I'm sure Mr. Kosar regrets what he said," Clemens said after practice Monday night. "After five years in New York, it really wasn't that big of a deal. It's not going to affect me or how I perform, and go forward." Coach Jeff Fisher was even more determined to put the issue to rest, confirming that the Browns analyst had telephoned to apologize but declining to say anything more. "It's a dead issue," Fisher said. "It's all behind us now." The Browns condemned the comments from Kosar, a former NFL quarterback who was brutal in his assessment of Clemens, the Rams' wide receivers and receivers coach Ray Sherman during Thursday night's preseason opener in Cleveland, but said Kosar would stay on the job. Clemens was surprised only that he had been judged before he played in the Rams' 27-19 loss at Cleveland to open the preseason. "My understanding is he made most of his comments before I even got out onto the field," Clemens said "It is what it is, that was four or five days ago, and it's pretty much the end of it now. "For me." The 30-year-old Clemens appeared in two games last year and got a handful of snaps behind Sam Bradford, who started every game for the second time in his three NFL seasons. Clemens is competing with Austin Davis, the third stringer last year as a rookie after going undrafted out of Southern Mississippi where he broke most of Brett Favre's passing records. Davis worked with the second team in the opener and Clemens finished with the third-stringers. Fisher said the roles will be reversed in Week 2 Saturday night at home against the Packers. Clemens was 6 for 13 for 116 yards, improvising on a touchdown pass while on the run. He also threw two interceptions, one of them a tipped ball. Davis was 9 for 16 for 96 yards with no TDs or interceptions. Clemens called it a "very genuine, very friendly competition" and complimented Davis as a "guy of high quality, character." There are times, he noted, when it's been dog eat dog. "The reality of the fact is people are competing for jobs," Clemens said. "So there are times in this league, because it's a business, where people aren't quite as friendly, they aren't quite as helpful, they aren't quite as caring, if you will." Davis said Clemens has been helpful from Day 1 and added "there's not really a lot of beef between us." "I wouldn't be where I am if it wasn't for Kellen," Davis said. "I respect the heck out of him. Coming in as a rookie I didn't know anything and he knew a lot." Missouri Gov. Jay Nixon attended part of the practice, watching from under a canopy during rain that chased all but a handful of the few hundred spectators away. Fisher said Nixon made some good observations and added, perhaps jokingly, that the governor might make a "few calls for us at some point in the preseason."
Original Story:
http://www.foxsportsmidwest.com/nfl/s...
THE BACKYARD
BEST OF MAXIM
RELATED ARTICLES
Cleveland Browns CEO Joe Banner issued a statement Sunday evening regarding the comments made by Bernie Kosar during the broadcast of Thursday's preseason game against the Rams. "We don't condone the personal and unprofessional approach that Bernie took with some of his comments during the broadcast Thursday night. We've spoken to Bernie, he understands that, and we would...
Bernie Kosar is a former Miami Hurricanes football star, and Cleveland Browns icon. Kosar has battled alcohol problems for a better part of a decade, but still has been able to keep a broadcasters job.  Kosar's latest mishap as a broadcaster might have cost him a relationship in the NFL. St. Louis Rams coach Jeff Fisher said Saturday "he's lost a lot of respect" for former...
The Browns have told former quarterback Bernie Kosar to watch his words. On Sunday, team CEO Joe Banner condemned Kosar for harsh on-air comments he made about the St. Louis Rams during Thursday night's TV broadcast of their exhibition opener against Cleveland. Kosar, working as an analyst, was brutal in his assessment of third-string quarterback Kellen Clemens, the Rams'...
CLEVELAND (AP) The Browns have told former quarterback Bernie Kosar to watch his words. On Sunday, team CEO Joe Banner condemned Kosar for harsh on-air comments he made about the St. Louis Rams during Thursday night's TV broadcast of their exhibition opener against Cleveland. Kosar, working as an analyst, was brutal in his assessment of third-string quarterback Kellen Clemens...
Bernie Kosar, doing color on the Browns preseason game against St. Louis Thursday, had some harsh things to say about the Rams. He called the Rams receivers, including the eighth pick in the 2013 draft, Tavon Austin, "horrible," said their parents "would be embarrassed" if they were watching the game, and, about backup quarterback Kellen Clemens, said, "Bless me Father...
((HT: Fox 2 St Louis)) Bernie Kosar was the color analyst for the Cleveland Browns Thursday night in their game against the St. Louis Rams and he didn't hold anything back... Examples: On a Sam Bradford incompletion to Tavon Austin: "I really think that he didn't overthrow him and that Austin has to make that catch in the NFL. I see why Sam Bradford has been...
Sports Illustrated's head NFL writer Peter King and St Louis Rams head coach Jeff Fisher took issue with some comments made by former Browns QB Bernie Kosar during the Browns-Rams preseason game this past Thursday. "Bernie's got his issues. They're well-documented," Fisher said. Fisher said he doubts Kosar has done the kind of research that Fisher believes an announcer...
It looks like Rams head coach Jeff Fisher isn't the only person that was upset over Bernie Kosar's comments about his receivers. Peter King of SI.com let the entire ordeal get the best of him and went on a Twitter rant. EARTH CITY, Mo.–My question for Kosar after comments in Cle-StL preseason game: Were you drinking? Good guy. But waaay over the top here. — Peter King (@SI_PeterKing...
The NFL preseason is the land of eternal optimism, at least if you're a writer. Team have spent months acquiring new talent and polishing up new schemes, and we are all invited to Ooh and Aah. Then we all play a game of evaluating, as realistically (*cough*) as possible, the reasons why this team will be better this year than last.  There is a specific language that is used...
Scott Raab (@ScottRaab64) and Craig Lyndall (@WFNYCraig) talk about all the Cleveland sports topics from Bernie Kosar to the floundering Cleveland Indians. Here's what else we talked about. Marketing 101 with Brian Spaeth (@brianspaeth) Bernie Kosar's comments about Kellen Clemens and the Pope When you take local comments national the context changes NFL AM hypocritically mocks...
Every year, we have to labor through four weeks of preseason football. The first week goes by rather quickly because, frankly, we're just happy to have some form of football back, but by the fourth week, we're all just tired of it. Aside from sub-par football and outcomes that mean nothing, there's one other factor that makes these four weeks a mixed bag of tricks. Local...
Peter King of SI.com apologized for ripping Bernie Kosar on Saturday night for being critical of the Rams wide receivers. What's really funny is that King apologized while promoting his Tuesday column. I was out of line for my question to Bernie Kosar here Saturday. My fault–no one else's. Will be writing about it @theMMQB Tuesday. — Peter King (@SI_PeterKing) August 13...
NFL News

Delivered to your inbox

You'll also receive Yardbarker's daily Top 10, featuring the best sports stories from around the web. Customize your newsletter to get articles on your favorite sports and teams. And the best part? It's free!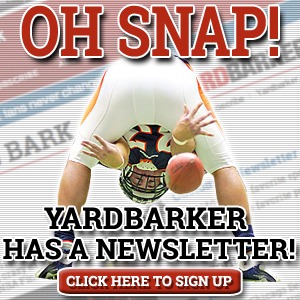 Latest Rumors
The Backyard

Today's Best Stuff

For Bloggers

Join the Yardbarker Network for more promotion, traffic, and money.

Company Info

Help

What is Yardbarker?

Yardbarker is the largest network of sports blogs and pro athlete blogs on the web. This site is the hub of the Yardbarker Network, where our editors and algorithms curate the best sports content from our network and beyond.