Found September 05, 2012 on Just Cover Blog:
PLAYERS:
Tony Romo
,
Eli Manning
,
Brett Favre
,
Aaron Rodgers
,
Drew Brees
,
Tom Brady
,
Peyton Manning
,
DeMarco Murray
,
Jon Kitna
,
Ahmad Bradshaw
,
Victor Cruz
,
Hakeem Nicks
,
Jason Witten
TEAMS:
Dallas Cowboys
,
New York Giants
,
Minnesota Vikings
,
Green Bay Packers
,
New Orleans Saints
,
New England Patriots
It's America's Champion vs. America's Team. The G-Men vs. the 'Boys. Ahhh, the 2012 NFL season is upon us!
Typically when the year starts there are a few overwhelming conclusions from the media and gambling world: The Patriots are Super Bowl favorites (New England is tied with Green Bay at 23/4) and there is a good chance this is Tony Romo and the Cowboys' year. Interestingly enough, the Giants' second Super Bowl title in five years coupled with the Eagles getting a mulligan for last year's 8-8 season has Dallas as a good-but-not-good-enough team. The Cowboys aren't expected to make the playoffs while the Giants are a favorite to snatch up a wild card spot if not win the division.
Per 5Dimes, the Eagles (+165) are NFC East favorites with the Giants (+205) as runner-ups. The Cowboys sit back in third at +245, but with a large gap from projected cellar dweller Washington (+1200). What does it mean? Well, for starters it means the majority believes the Giants are no fluke while the Cowboys are still glamorous but have no substance. It's funny to recall that last year's season finale between the Giants and Cowboys was for a playoff spot. The winner, at 9-7, would grab the No. 4 seed and NFC East crown while the loser would sink to 8-8 and a spot in the nonexistent consolation bracket. My curiosity yearns to know how public (and sports book) perception would be in 2012 had the Cowboys won that final game.
Tonight's Important Numbers
The Giants are -3 1/2 tonight and the over/under is set at 44 1/2 (5Dimes). (You can also find the Giants -4 with a 45 over/under at Sportsbook.com, but unless you're a Cowboys fan I think the 5Dimes numbers are the ones to play).
The Breakdown
Both numbers seem very typical of a NFC East matchup and make bettors pause as they should. Nevertheless, let's break down recent trends before we look at this year's teams. As the graphic shows, Eli's Giants are 7-2 against the Cowboys in the last nine meetings. The game that started this streak, of course, is New York's NFC Divisional Round win at Dallas on the way to the Giants' surprising Super Bowl title. Only twice (the playoff game and a Cowboys win the following season) have the teams combined for fewer than 45 points. And, just twice (last year's Week 14 showdown that was crucial in keeping the Giants' divisional hopes alive and an early-season meeting in 2009) did a team fail to win by more than 3 ½ points.
Analysis
While Eli Manning claimed he was elite last season – and then backed it up with a Super Bowl title – Tony Romo seems to be one of least-appreciated quarterbacks in the league. Does he make foolish blunders? Absolutely, but so did guys like Brett Favre. Romo is consistently around the 4,000-yard, 30-TD and 12-or-fewer-picks mark. (Last year Romo threw for 4,184 yards, 31 touchdowns and just 10 picks). Those are really good numbers and ones I say put Romo into the second tier of Elite QBs. (Aaron Rodgers, Drew Brees, Tom Brady and a healthy Peyton Manning are in top tier while Eli, Romo and others are elite but still not at Tier 1 status). Injuries have hampered Romo in recent years but, when healthy, he's putting up close to 300 yards with a high completion percentage and a pair of touchdowns per contest. While DeMarco Murray might be looked at the savior with his ability to bolster the running game, Romo is the key to this team and rightfully so. Luckily for Dallas fans, he's a great guy to have at the position and wishing for another QB is downright silly.
Here lies Romo's biggest problem: The Giants. While he only threw 10 picks last season, six of those came in the two games against the G-Men. His 321 yards in the December game were forgotten because he threw four picks. His 29 of 37 for 289-yard performance in an all-or-nothing game for a playoff spot was masked because he threw a pair of crucial interceptions. Take away those two games and Romo tossed 30 touchdowns and just four picks vs. the rest of the league. But, the Cowboys are playing the Giants tonight and that means his one-touchdown, six-pick effort against the Giants last year looms large. And, as Jamie mentioned in his Player Props heavy game preview, you can make a play on Romo throwing a pick (-160) or not (+130). Go on past performance or your gut if you're playing that one, but don't say I didn't warn you.
When Eli's Giants have fallen to the Cowboys it's mostly been because of quarterback play.  The Giants' 20-8 loss in December of 2008 was due in large part to Eli's 18-for-35 passing performance for a Dan Orlovsky-esque 191 yards and two interceptions. His numbers look better in a 33-20 loss to the Cowboys in November of 2010 (33 of 48, 373 yards, two TDs, two picks) but the game was 26-6 before Manning showed up. (Making matters worse: Jon Kitna was quarterbacking Dallas that day). The fact is the Giants can establish the run all they want but Eli is going to have to make plays. He seems to have more weapons now than ever. Ahmad Bradshaw is a beast at running back and, if not for the love fest toward Brandon Jacobs in 2008 and 2009 the Giants could have made another deep playoff run in one of those years. With Bradshaw finally the No. 1 back and two of the top 10 WRs in the league (Victor Cruz and Hakeem Nicks) bookending the field, Eli should have no problems slinging the rock. Last year is the perfect example. In the two games against Dallas in 2011, Eli was 51 of 80 for 746 yards, five TDs and one interception.
The pick
The common saying is, "When in doubt, take the points." There isn't much doubt about this game in my eyes: The Cowboys are likely to be without stud tight end Jason Witten and have health issues up and down the depth chart. The Giants couldn't be healthier and have the world's momentum. Give the 3 ½ and take the Giants with confidence.
Now, typically I would see the 44 ½ for a Giants-Cowboys clash and say "take the over. Book It!" and leave it at that. But, with all the weather issues as of late you can't just assume both teams will score points. I could easily see a scenario where the final is 20-10 because, as I'm sure you'll hear for the next seven-plus hours, the weather doesn't look good. Current rain and thunderstorms will soak up the field and while it is projected to be clear later some of the rain and mist could hang around. Plus, while the games have nothing in common, NFL league openers tend to be lower scoring (ignore last year's CFL shootout between the Packers and Saints). The high-powered Saints won a 14-9 slugfest against the Vikings in the 2010 season opener while the 2009 Steelers edged the Titans in overtime, 13-10. Heck, the last time the Giants opened the season as the defending Super Bowl Champions they did so victoriously in a 16-7 snoozer against lowly Washington. The numbers back up my point: Offenses tend to start slowly out of the gate. Take the under at 44 1/2 tonight with confidence. Book It!
Original Story:
http://www.justcoverblog.com/2012/09/...
THE BACKYARD
BEST OF MAXIM
RELATED ARTICLES
Getty While talking to the media, a New York Post reporter was in the middle of asking Cowboys quarterback Tony Romo about Jerry Jones' comments that their window is closing, and before the question was finished being asked Romo said, "That's it!" and walked off upset. Romo is clearly done responding to questions that revolve around Jones' comments.  Maybe he should sit...
As we are only hours away from the start of the 2012 NFL season, the ad wizards over at Starter decided to put together a new campaign featuring Dallas Cowboys quarterback Tony Romo. The commercial itself called "Never Stop" features Tony talking via a voice-over about his critics while he works out in a weight room: (Courtesy of OCNN)
Cowboys QB Tony Romo proved he's still one of fantasy's best second-tier QBs with 307 yards and three touchdowns Wednesday in the season opener against the Giants.Fantasy Spin:Romo spread the ball around and the Cowboys offense produced three excellent fantasy receiver lines from Kevin Ogletree, Dez Bryant and Miles Austin. Romo should continue to put up big numbers, especially...
As the Dallas Cowboys/New York Giants kicked off the start of the 2012 NFL season, the fine folks over at WFAN's Boomer and Carton show already have a Tony Romo sucks song to bestow upon us. The song done by Al Dukes is parody of Toby Keith's "Red Solo Cup" and if you're a Giants fan, you will be laughing in the aisles on this one: (Courtesy of Beer Mug Sports)
The situation in Dallas for Tony Romo has been interesting lately with all of Dez Bryant's issues, Miles Austin at less than 100%, Jason Witten's spleen, Laurent Robinson leaving via free agency, etc.  I had a draft just two nights ago where Romo was drafted in the 9th round. (9th!)  That is completely and totally insane, but I suppose there were some reasons why people have...
Take a look at the numbers between QB's Tony Romo and Eli Manning last year when they played each other. Which QB has the advantage this year? Click here! to Read More...
Wait, the 'Gobble Gobble, *******' chick is a Va. Tech student? Looks to be 38 & a lesbian softball coach. Want to buy a Gobble Gobble shirt for your next party? Here you go. Thanks to @sesdsports for sending the screencap. In NFL news, our friend & NY Post reporter Bart Hubbuch pissed off Tony Romo with a window closing question. That window would be Jerry's window...
Fantasy football players are tripping over themselves rushing to the computer this morning to put in a waiver wire claim for Kevin Ogletree. I won't be one of them as it will take a lot more than one game out of 32 to suddenly convince me that this kid is as good as his numbers.
The excitement of opening day can bring many different feelings to an NFL player like Dez Bryant, Tony Romo, or Morris Claiborne. For some, it is the first time they strap on a helmet and hit the battle field. This time everything counts. For others, it's just another game and fresh start to an NFL [...]
The NFL is back! It's an amazing feeling to know that there will be football to watch on every Sunday, Monday and Thursday for the next 4+ months. The NFL season kicked off last night with the Dallas Cowboys traveling to East Rutherford, New Jersey to take on the defending Super Bowl Champion New York Giants and neither team disappointed. It was a thrilling game from start to finish...
The Dallas Cowboys kick off the highly-anticipated 2012 NFL regular season on the road at MetLife Stadium against the defending Super Bowl champion New York Giants. This will be the third consecutive battle between these two teams aired in prime time (8:30pm ET) on NBC and the ninth straight season the defending champs will have hosted the season opener.  The defending champions...
Football season is officially (almost) underway!With the kickoff of the first game comes the kickoff of the first story-lines. Every team has them, and this year is no exception.The first story-line is the game itself - the first of 17 Thursday night games this season, all on NFL Network except this one. Only one problem - it isn't being played on Thursday, because the President...
NFL News

Delivered to your inbox

You'll also receive Yardbarker's daily Top 10, featuring the best sports stories from around the web. Customize your newsletter to get articles on your favorite sports and teams. And the best part? It's free!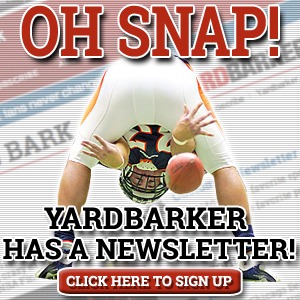 Latest Rumors
Best of Yardbarker

Today's Best Stuff

For Bloggers

Join the Yardbarker Network for more promotion, traffic, and money.

Company Info

Help

What is Yardbarker?

Yardbarker is the largest network of sports blogs and pro athlete blogs on the web. This site is the hub of the Yardbarker Network, where our editors and algorithms curate the best sports content from our network and beyond.