Found December 12, 2012 on Sports-Glory:
I'll be honest, I was shocked that former NFL Commissioner Paul Tagliabue vacated the suspensions of four former and current New Orleans Saints players. The players must have felt the same way, because when it was announced last month by current commissioner Roger Goodell that Tagliabue would hear their appeal, they fought to have him to recuse himself. Lucky for them he didn't. Tagliabue did uphold the major points of Goodell's investigation. That a bounty program in fact did exist, that LB Jonathan Vilma, DE Anthony Hargrove and DE Will Smith engaged in conduct detrimental to the league (former Saints linebacker Scott Fujita was exonerated) and that Vilma offered a $10,000 bounty on Brett Favre before the 2009 NFC Championship game. But unlike Goodell, Tagliabue put the onus on the Saints organization, citing "broad organizational misconduct" and that the team's coaches and managers, "led a deliberate, unprecedented and effective effort to obstruct the NFL's investigation." The league would have also set a precedent, not previously fining or suspending players for activities the Saints players participated in. Because members of the organization "contaminated" the investigation, Tagliabue surmised that Goodell's original suspensions were too severe. He also pointed to similar pay-for-performance systems involving the Green Bay Packers in 2007 and New England Patriots in 2008 where only the teams, not the players themselves, were punished (small fines and no suspensions in either case). Tagliabue's decision is a clear sign that he felt Goodell went too far when disciplining the players. He noted, "Rightly or wrongly, a sharp change in sanctions or discipline can often be seen as arbitrary and as an impediment rather than an instrument of change. That is what we see on the record here." This is all cold comfort to a Saints team that started the season 0-4 and is now 5-8. Quarterback Drew Brees tweeted Tuesday, "Congratulations to our players for having the suspensions vacated. Unfortunately, some things can never be taken back." Now that it has been decided (once and for all it seems) that the initial penalties were too harsh, did Goodell overreach to the point that its ultimately destroyed the 2012 season for the Saints? Was the investigation another opportunity for the league to promote its ever-changing position on player safety (in the wake of an onslaught of lawsuits from former players)? Those questions are pure speculation. They may make us raise our eyebrows, but they're merely subject to opinion. What is troubling however are statements made by Goodell and Tagliabue that are wildly different. When the league released its findings from the initial investigation back in March, Goodell said – "It is our responsibility to protect player safety and the integrity of our game, and this type of conduct will not be tolerated. We have made significant progress in changing the culture with respect to player safety and we are not going to relent. We have more work to do and we will do it." A little over 9 months later, Tagliabue questioned whether players even have a basic understanding of the league's pay-for-performance rules. "... No matter what the League rules and policies are or have been, if many teams in the League allow pay-for-performance programs to operate in the locker room, as seems to be the case, and, in the main, the League has tolerated this behavior without punishment of players, then many players may not have a clear understanding that such behavior is prohibited or where the lines are between permissible and impermissible conduct."   What's most startling is that Tagliabue wrote that players may not understand those rules and policies because the league "has tolerated this behavior without punishment of players." Even though the NFL has a zero tolerance policy when it comes to player safety, that policy is useless if the league can't even enforce coherent guidelines and procedures. While the Saints were cast as villains, the NFL sought to play the hero, valiantly protecting the sanctity of the sport. What has resulted however is that the rules are so blurred and unenforceable that it may be impossible, until it is earnestly confronted, to distinguish what is right and what is wrong.    Questions, Comments, Suggestions? Follow Lauren Seifert @LaurenCBS        
Original Story:
http://sportsglory.com/xn/detail/6286...
THE BACKYARD
BEST OF MAXIM
RELATED ARTICLES
Saints quarterback Drew Brees and his foundation are suing one of the former organizers of his celebrity golf tournament in southern California, saying the organizer cheated benefactors of the foundation out of thousands of dollars he kept for his own marketing firm. The lawsuit, filed Wednesday against David Miller and Integrated Sports Marketing in San Diego Superior Court, says...
Jonathan Vilma has asked a federal judge to allow him to move forward with his defamation case against NFL Commissioner Roger Goodell. In a motion filed Wednesday, Vilma drops his case against the NFL's disciplinary process, now that his suspension has been lifted. However, he continues to pursue damages from Goodell for harm he alleges was done to his reputation by the NFL...
LONG NIGHTMARE IS OVER
Former NFL commissioner Paul Tagliabue has vacated the suspensions and fines imposed upon Saints players as a result of the NFL's Bountygate investigation.
Former NFL commissioner Paul Tagliabue threw some of his weight around Tuesday morning and overturned the suspensions levied by Roger Goodell for New Orleans Saints players who had been involved in the bounty case.  Long story short, the suspensions that Goodell threw to Jonathan Vilma, Will Smith, Anthony Hargrove and Scott Fujita (and fines) now no longer exist. Greg Aiello quoted...
Check out the big brain on Tags. Yes, these were brains, not lower guts, on display Tuesday by former NFL commissioner Paul Tagliabue as he "vacated all player discipline" imposed by current NFL commissioner Roger Goodell on Saints players involved in Bountygate. In other words, Tags handled the messy task of walking back Roger God-ell and his dictatorial take on commissioner...
After the December Special League Meeting on Wednesday, Roger Goodell had some remarks that were certain to get the attention of every NFL fan everywhere.  Following the meeting to determine issues to present to the Competition Committee, Goodell spoke about possibly expanding the playoff field.  According to Goodell, this topic has come before the Competition [...]
So it seems that Paul Tagliabue has decided to vacate all player discipline in the Saints bounty case. In a statement released on Twitter from NFL spokesman Greg Aiello, Tagliabue agrees with Roger Goodell that Saints players did indeed participate in a bounty program, but has ruled that the player discipline should be vacated because of "contamination by the coaches and others...
Contrary to published reports, NFL commissioner Roger Goodell has not talked to suspended New Orleans Saints head coach Sean Payton about ending the coach's suspension early, NOLA.com reported Thursday. However, league officials said that Goodell has begun talking about the matter internally. ESPN.com reported Wednesday Goodell has allowed for the possibility of a Payton reinstatement...
Former NFL Commissioner Paul Tagliabue has wiped out punishments against the four players in the New Orleans Saints "Bountygate" case. Tagliabue had been appointed by NFL Commissioner Roger Goodell to hear the players' appeal in the case since it was perceived that Goodell could not be seen as a neutral party in any kind of punitive discussion. Tagliabue found that...
Paul Tagliabue has lifted all suspensions related to the Saints bounty scandal. (Credit: Associated Press) Four players that played for the New Orleans Saints had been previously suspended by commissioner Roger Goodell for their roles in the Saints pay-for-injury scandal led by former defensive coordinator Gregg Williams. Now after fighting for a fair and open appeal, current Saints...
After months of legal recourse and hand-wringing, the BountyGate scandal has seemingly been put to rest. NFL spokesman Greg Aiello confirmed on his Twitter account that the four players involved in the case have been cleared of any discipline despite engaging in conduct detrimental to the league. https://twitter.com/gregaiello/status/278562485492146176 https://twitter.com/gregaiello...
Saints News

Delivered to your inbox

You'll also receive Yardbarker's daily Top 10, featuring the best sports stories from around the web. Customize your newsletter to get articles on your favorite sports and teams. And the best part? It's free!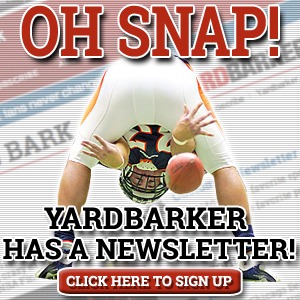 Latest Rumors
Best of Yardbarker

Today's Best Stuff

For Bloggers

Join the Yardbarker Network for more promotion, traffic, and money.

Company Info

Help

What is Yardbarker?

Yardbarker is the largest network of sports blogs and pro athlete blogs on the web. This site is the hub of the Yardbarker Network, where our editors and algorithms curate the best sports content from our network and beyond.