Found October 07, 2012 on Taking Bad Schotz:
Charles C. Woodson is highly regarded as one of the best college and NFL athletes of all time. A multi-talented troublesome kid from Fremont, Ohio, Woodson was one of the top high school athletes in the Nation in the mid-1990s and went on to earn a football scholarship at the University of Michigan. Woodson was named to the All- Big 10 team as a true freshman at Michigan, as well as earning Big 10 freshman of the year. via touchthebanner.com Woodson did it all for the Wolverines other than simply playing cornerback; he often returned kicks and punts, and occasionally played Wide Receiver when needed. After winning the National Championship his junior year, as well as several other accomplishments at UM like the Jim Thorpe award and the Heisman trophy, Woodson chose to forgo his senior year in college and enter the NFL draft. Woodson received well over 200 more votes for the Heisman trophy than runner-up Peyton Manning. Charles Woodson was selected 4th overall in the 1998 draft by Al Davis' Oakland Raiders. Woodson immediately made an impact in Oakland, as he had one of the all time greats in Eric Allen lined up on the opposite side of him on the field and mentoring him off the field. In his eight seasons with the Oakland Raiders, unfortunately arguably the biggest highlight of his career in Oakland was a sack on Tom Brady in the controversial "Tuck Rule" game of the 2001 AFC divisional playoffs. Woodson clearly got a sack-strip-fumble on Patriots' quarterback Tom Brady with a three point lead in the 4th quarter and less than two minutes remaining. However, the referees (and probably only the referees) saw something no one else saw, stating that Brady's arm was in throwing motion prior to the fumble taking place, in which Raiders' linebacker Greg Biekert recovered. Following the 2001 season, Woodson played only two more seasons in Oakland; in 2002, he was often injured and only played in 8 games, the last being a Super Bowl beating by the Tampa Bay Buccaneers. In 2003, Woodson publicly stated his distaste for former Raiders head coach Bill Callahan, which eventually led to the end of his career in Oakland. Following 2003, no team in the NFL wanted Woodson because of his injury history, big mouth and the expensive price tag that came with risking signing him. Some might have thought of him to be a highly sought after free agent, but after all the big bucks were spent, the Green Bay Packers were the only team around willing to give Charles Woodson a chance, in which his career was reincarnated. This is Charles Woodson's 15th year in the NFL, and he has been better in 7 years in Green Bay than anyone can imagine his play and health was in 8 years in Oakland. In 8 seasons in the Silver and Black, Woodson recorded only 17 interceptions, 4.5 sacks and 9 forced fumbles, as well as only staying healthy for 5 years. In his seven years in Lambeau, Woodson has recorded 38 interceptions, 11.5 sacks and 15 forced fumbles (note: there is still 12 games to play this season). In 2009, Woodson was honored with Defensive Player Of The Year award, while also receiving a huge contract extension from Green Bay. The Packers rewarded Woodson for his play by giving him a 5-year, $55 million contract extension in 2009. Proving that he has become a great Samaritan on and off the field after having a "troublesome" label metaphorically attached to his forehead, Woodson gave $2 million to C.S Mott Children's Hospital. It was the beginning of many other donations to the hospital, whose main objective is to help children with cancer survive and provide aid to them, as well as give them a new hospital. As promised, the hospital did open in the fall of 2012 as projected, due in part to Woodson's donation. He steps in wherever he is needed, he will sack your quarterback, strip your running back, shut down your best wide receiver, and tell the president of the United States that the Green Bay Packers will pay him a visit to the White House after hoisting the Lombardi trophy. One of the greatest players the NFL has ever seen, on and off the field, it is great to have Charles Woodson in the NFL. Turning age 36 on October 7th, it is safe to say that Woodson is approaching his last years in the NFL. His encouragement, heart and dedication will be missed when he decides to hang up the cleats for good. I don't think there is any doubt in anyone's mind that he will be a first-ballot Hall of Famer. Happy birthday, Chuck. -Johnson
Original Story:
http://www.takingbadschotz.com/?p=9468
THE BACKYARD
BEST OF MAXIM
RELATED ARTICLES
This week, in support of their head coach who was recently diagnosed with Leukemia the Colts launched the 'chuckstrong' campaign aimed at generating funds for the Cancer Society and showing support for their coach; and, the Packers are supporting the initiative. Several Packers players, including veteran Charles Woodson took to the field in Chuckstrong tshirts, … Continue reading »
The Green Bay Packers were outplayed badly in the second half against the Indianapolis Colts and it cost them the game.Green Bay looked great in the first half as they jumped out to a 14-0 lead over the Colts.  The Packers took a 21-3 lead into halftime and it looked like they would cruise to an easy victory.But then the second half was played.It became immediately clear that the...
As injuries to key players piled up, Green Bay's 18-point halftime lead continued to shrink. With the Packers unable to get anything going in the second half, the emotional Colts (2-2) -- playing less than one week after their head coach Chuck Pagano was diagnosed with leukemia -- came back to defeat Green Bay (2-3) in Indianapolis on Sunday afternoon. Handing out grades following...
Packers running back Cedric Benson was seen leaving the locker room in a walking boot Sunday after suffering a left foot injury, according to Rob Demovsky of the Green Bay Press-Gazette.Fantasy Spin:Benson left Sunday's game against Indianapolis in the first half after appearing to twist his ankle while getting tackled. The extent or severity of Benson's injury is still undetermined.
Green Bay Packers running back Cedric Benson was carted off the field at Lucas Oil Stadium in Indianapolis with a foot injury. The team announced his return was questionable. With No. 2 running back James Starks in active, the Packers were left with fullback John Kuhn and Alex Green as tailback options without Benson.
Green Bay Packers nose tackle B.J. Raji is having an MRI taken on his injured ankle Monday, but early reports indicate that no structural damage is expected to be found, according to the NFL Network. Raji left Sunday's game against the Indianapolis Colts in the second quarter when he hurt the ankle while being blocked. He did not return and the Packers eventually lost to the...
After Sunday's loss to the Colts, Packers running back Cedric Benson said that he doesn't believe his foot injury is very serious. "I was able to walk on it," said Benson, via the Milwaukee Journal Sentinel. "Guys who have had [the lisfranc injury] usually can't." I'm sure Benson will undergo further tests today to determine how severe his injury is
According to ESPN's Adam Schefter, the Green Bay Packers have ruled out running back Cedric Benson from playing in Sunday's game against the Texans.Benson suffered a foot injury during yesterday's loss to the Colts.
Even though Green Bay Packers nose tackle B.J. Raji was able to walk out of the locker room under his own power today, he will undergo an MRI on today. Raji suffered an ankle injury during yesterday's loss to the Colts and will undergo further testing today.
Indianapolis stormed back from a 21-3 halftime deficit, rallied again after the Packers recaptured the lead and survived when Mason Crosby missed a game-tying field goal.
I can think of few things more appropriate than a team, whose head coach announced earlier in the week he would be out, likely for the season, as he battles a treatable form of Leukemia, being beaten down in the first half only to come roaring back as if they were battling for their lives, to upset the Green Bay Packers 30-27.While it may be breast cancer awareness month, it might...
NFL News

Delivered to your inbox

You'll also receive Yardbarker's daily Top 10, featuring the best sports stories from around the web. Customize your newsletter to get articles on your favorite sports and teams. And the best part? It's free!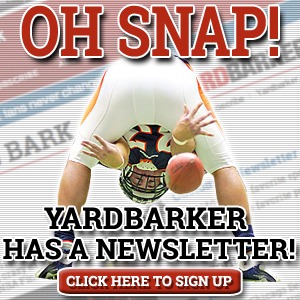 Latest Rumors
Best of Yardbarker

Today's Best Stuff

For Bloggers

Join the Yardbarker Network for more promotion, traffic, and money.

Company Info

Help

What is Yardbarker?

Yardbarker is the largest network of sports blogs and pro athlete blogs on the web. This site is the hub of the Yardbarker Network, where our editors and algorithms curate the best sports content from our network and beyond.