Found August 31, 2012 on Fox Sports Wisconsin:
PLAYERS:
Aaron Rodgers
,
Graham Harrell
,
Jermichael Finley
,
Tori Gurley
,
Alex Green
,
Ted Thompson
,
Johnny Unitas
,
Matt Flynn
TEAMS:
Green Bay Packers
,
Seattle Seahawks
,
Buffalo Bills
,
Kansas City Chiefs
,
Texas Tech Red Raiders
GREEN BAY, Wis. -- Aaron Rodgers was not pleased with the way the media and the public had been treating his backup quarterback, Graham Harrell, throughout the preseason.But Harrell's play had warranted criticism. Through the Packers' first three games, he had completed just 32 of 63 passes with one touchdown and two interceptions. He had made enough throws for fans and reporters to get a reasonable idea of the type of NFL quarterback he might be if forced into action by a Rodgers injury during the regular season, and concern was building around a team with Super Bowl aspirations.Amid his struggles, Rodgers and coach Mike McCarthy stood by Harrell and supported him, and that support was finally justified in Green Bay's preseason finale Thursday night.In the Packers' 24-3 win over the Kansas City Chiefs at Lambeau Field, Harrell finished with a perfect 158.3 passer rating and displayed arm strength and accuracy that weren't readily apparent in the team's first three preseason games. He completed 13 of 15 passes for 223 yards, two touchdowns and no interceptions. Even his two incompletions were quality plays, one a smart throwaway and the other a deep pass that should have been caught."You guys have been killing him," Rodgers said. "I've just kept saying, Everybody's got confidence in him on the team.' We knew he was capable of a performance like this. He threw the ball great. He's just like we all are he's a rhythm and confidence guy. He hit some throws early, got his confidence going and made some great throws."I feel great for him."Rodgers played only the first two series of the game and Harrell took over from there. Facing a third-and-12 in his first drive, Harrell rocketed a pass a bit high across the middle to starting tight end Jermichael Finley, who made a great catch for a 27-yard gain. From there, the night belonged to Harrell.On the next play, with plenty of time in the pocket -- a rarity for Harrell in previous preseason games -- he tossed a 50-yard pass in the air to wide receiver Tori Gurley, who was tackled at the 1-yard-line. The Packers scored two plays later on a run by Alex Green, so the big play to Gurley wasn't even one of Harrell's two touchdown passes."I knew I could do it," Harrell said after the game. "I think I told you all along, it's not like we weren't confident in ourselves. It's not like I lost any confidence in myself throughout the preseason or anything like that. We had put some good things together, we just hadn't done it in a preseason game consistently."I don't think I ever got down on myself or doubted myself. I think other people doubt us more than we doubted ourselves. We still were confident in ourselves, knew we could do good things and we just went out there and put it together. When you do it one play after the next, it looks a lot better."Prior to this game, Harrell's play had come under scrutiny to the point where most assumed Packers general manager Ted Thompson was searching the market for a veteran or more game-ready backup quarterback. Though McCarthy would not confirm Thursday that he is now ready to publicly declare Harrell Green Bay's No. 2 quarterback, he was "very pleased" with the performance."I think he definitely grew through the preseason and topped it off with an excellent performance tonight," McCarthy said. "I don't know if we've had a backup quarterback, a non-starter, play that well. It's a credit to him. I think he's handled this path through the preseason, and I've been more impressed with what he's done off the field than on the field."While Rodgers was upset with some of the verbal bashing that Harrell had received in recent weeks, McCarthy looked at it as a learning opportunity."It's part of playing quarterback, period, let alone playing quarterback in the National Football League," McCarthy said. "That would fall under the category of adversity. We talk about it all the time. It's nice when people say nice things about you and it's not so nice when they don't. It's one extreme to the other, particularly at that position, and that's part of the deal."I think he handled it very well."Harrell had a tremendous college career at Texas Tech, capping off his senior season by winning the Johnny Unitas Golden Arm award, presented each year to the country's most outstanding quarterback. Harrell also finished fourth in the 2008 Heisman Trophy voting.Despite that success, he went undrafted in 2009 and began his professional career with the Saskatchewan Roughriders of the Canadian Football League. Harrell was released by the Roughriders in 2010 but signed with the Packers less than one month later.With Matt Flynn set as Green Bay's backup quarterback, Harrell spent the entire 2010 season on the practice squad. Even last season, Harrell was just a practice-squad player until Week 14. At that point, with the Buffalo Bills offering Harrell an active roster spot, the Packers chose to sign him rather than lose him.When Flynn signed with the Seattle Seahawks this offseason, Green Bay's No. 2 quarterback job was given to Harrell despite his not having thrown a single pass in a regular-season NFL game.Now at age 27, Harrell may have secured the spot with the Packers that seemed to be slipping out of his grasp."I've been blessed enough to play this game for a long time, and I love playing it," Harrell said. "I want to play as long as they let me. It was fun tonight, and I love the game. I get to play a game as a professional right now. As long as they let me do that, I'll do it. It's something I love to do." Follow Paul Imig on Twitter
Original Story:
http://www.foxsportswisconsin.com/08/...
THE BACKYARD
BEST OF MAXIM
RELATED ARTICLES
Do you realize that the champion of the NFC North Division has never won the Super Bowl? Yes, the Green Bay Packers did take home the Vince Lombardi Trophy two seasons ago but the Pack weren't the North champs that year, the Chicago Bears were. The last time a champion from the North Division won it all was Green Bay in the 1996 season -- Brett Favre's only Super Bowl win...
The Green Bay Packers completed their 2012 preseason schedule last evening at Lambeau Field, beating the Kansas City Chiefs 24-3 and ending with a 2-2 record. It was, as any Packer fan would hope, a sign that things are coming together on offense and defense. Now, to be honest, the number one unit on both offense and defense looked a bit spotty in their play. Didn't do much of...
There are fantasy studs and then there are players you were willing to take.How well your fantasy stud will perform depends on his match-up.Here are some match-ups that may alter your fantasy landscape.Aaron RodgersAaron Rodgers is the most sought after fantasy quarterback.Last year Rodgers completed the season with 4,643 passing yards, 48 total touchdowns and six total turnovers...
Alright, here's the end of my countdown with the two best quarterbacks in the NFL. Could this be a preview of Super Bowl XLVII?No. 2 - Aaron RodgersIf the 49ers were to do the 2005 NFL Draft over again, I'm sure they wouldn't have picked Alex Smith No. 1 instead of Aaron Rodgers.But I don't blame them. When Rodgers came out of Cal, he seemed like he would be your...
The Packers' final preseason game was an opportunity for the 75 players still on the team to show what they can do. While evaluating the younger players, Green Bay simply needed to leave Lambeau Field without any serious injuries. Assuming that the ankle injury suffered by defensive lineman B.J. Raji is not serious, which it does not appear to be, the Packers left in good shape...
NFL Pre-Season Power Rankings Ranking NFL teams based on off-season acquisitions and preseason football seems hardly fair, yet every NFL power rankings board needs a starting off point. 1. Green Bay Packers The Green Bay Packers were one of the best teams in the NFL last season. Expect Aaron Rodgers to lead this team to [...]
This week I look at the conference that has held the last three Super Bowl Champions, the NFC conference. Can the NFC continue their trend of holding onto the Vince Lombardi trophy at the end of this season?
Getty According to Paul Imig of FOX Sports Wisconsin, it looks like Cedric Benson will be the Green Bay Packers starting running back when the 2012 season kicks off in just under two weeks. "It sounds like Cedric Benson is about to officially be named the Packers' starting running back for this season. "Benson's biggest competition for that spot during Green Bay's recent...
As the countdown continues, my 5th and 6th ranked quarterbacks are two players who have multiple Super Bowl rings but at times have been left under the radar.What else do these guys have to do?No. 6 - Ben RoethlisbergerI guarantee in a lot of your fantasy leagues that Big Ben won't get picked in the 1st round. But I guarantee that the Steelers will be in the mix to win the Super...
Once again it looks like the NFC North is the Packers division to lose. Aaron Rodgers and co. look ready to make another Super Bowl run in 2012, but the Bears and Lions don't look like they are too far behind. Matt Stafford will probably get hurt again by mid-season, but if Jay Cutler and Brandon Marshall get on the same page the Bears should be dangerous. Which team will rise...
Will Green Bay go 16-0?Can Chicago keep it together enough to challenge Green Bay?Can Detroit keep it's team out of jail?Will the Vikings improve?An overview of each team heading into 2012.Green Bay Packers (2011 15-1, 2012 prediction 14-2)Green Bay went 15-1 last season, while they may not repeat that feat in 2012 the opportunity is there with a fairly weak schedule and what...
NFL News

Delivered to your inbox

You'll also receive Yardbarker's daily Top 10, featuring the best sports stories from around the web. Customize your newsletter to get articles on your favorite sports and teams. And the best part? It's free!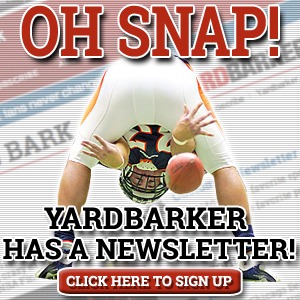 Latest Rumors
The Backyard

Today's Best Stuff

For Bloggers

Join the Yardbarker Network for more promotion, traffic, and money.

Company Info

Help

What is Yardbarker?

Yardbarker is the largest network of sports blogs and pro athlete blogs on the web. This site is the hub of the Yardbarker Network, where our editors and algorithms curate the best sports content from our network and beyond.