Found June 10, 2013 on Kissing Suzy Kolber:
PLAYERS:
Peter King
,
Roger Goodell
,
Robert Griffin
,
Dan Snyder
,
Pat Bowlen
,
Robert Kraft
,
Steve Bisciotti
,
Paul Allen
,
Kyle Long
,
Jay Cutler
,
Rex Tucker
,
Terrence Metcalf
,
Marc Colombo
,
Chris Williams
,
Barack Obama
,
Torrey Smith
,
Kate Upton
,
Bill Belichick
,
Joe Flacco
,
Bill Russell
,
Babe Ruth
,
Josh Gordon
,
Greg Little
,
David Nelson
,
Davone Bess
,
Dustin Pedroia
,
David Ortiz
,
Cal Ripken
,
Carl Yastrzemski
,
Eva Longoria
,
Peyton Manning
,
Adam Sandler
,
Steve Gleason
,
Chris Kluwe
,
Jabari Greer
,
Robert Griffin III
TEAMS:
Boston Red Sox
,
Washington Redskins
,
Denver Broncos
,
New England Patriots
,
Baltimore Ravens
,
Chicago Bears
,
New Orleans Saints
,
Detroit Lions
,
Cleveland Browns
,
Oakland Raiders
,
Baylor Bears
When last we left skunked kegger of failure, Peter King, he was explaining how every beer with orange peel and coriander is actually just copying Allagash. In fact, orange juice with pulp might be copying Allagash. He's gonna have to poke around Beer Advocate and get back to you on that one. He also talked smack to a former Red Sox player because the actual purpose of MMQB is PK settling grievances with people he doesn't know and his readers don't care about. But what about this week? It's Peter's birthday, and he uses the occasion to say a million creepy compliments about Roger Goodell, as well transcribe someone's unremarkable conversation in an airport. READ ON. SALISBURY, N.C. — A few NFL points after a few days on the road: Barring a setback, there's little doubt Robert Griffin III plays the opener. If you remove the likelihood of an entirely possible negative thing happening, it's nothing but smiles and working knees on the RGIII front. The Eagles will be rooting for an unsea...
Original Story:
http://kissingsuzykolber.uproxx.com/2...
THE BACKYARD
BEST OF MAXIM
RELATED ARTICLES
Peter King of SI.com believes that there isn't much doubt that Redskins quarterback Robert Griffin III will be ready for week one of the regular season. Barring a setback, there's little doubt Robert Griffin III plays the opener. Griffin had major knee surgery 21 weeks ago. Washington's opener is 13 weeks from tonight. After watching him run sprints around the practice field...
Chicago mayor Rahm Emanuel's office has confirmed that the mayor has once again spoken to NFL commissioner Roger Goodell about the possibility of bringing the Super Bowl to famed Soldier Field. The two spoke at length about bringing a future Super Bowl to the Windy City at last year's conference honoring Soldier Field as the league's first Leadership in Energy and Environmental...
Late last month, 10 member of Congress' Native American Caucus sent letters to NFL commissioner Roger Goodell, urging him to take action to force the Washington Redskins to change their name. They argued that the word "redskin" is flatly a racial slur, and has no place in a modern society. One June 5, Goodell responded to them, calling the perceived slur "a unifying force...
"(Running) sprints around the practice field Thursday," SI's Peter King says there's "little doubt" Washington standout Robert Griffin III will start the season under center for the Redskins. Named the Associated Press' Offensive Rookie of the Year, the 23-year-old Griffin is recovering from January's reconstructive surgery to repair the ACL and LCL ligaments in his...
Peter King: RGIII a "lock" to be ready for NFL opener against Eagles. [SI] PK got the VIP media treatment by the Skins, so intel might be right. [RR] Fred Smoot goes on Reddit and introduces "okra patch" to the lexicon. [HH] Despite two-hour rain delay, O's bats, gloves get win over Angels. [CC] What changed for Chris Davis to go from K-machine to HR-robot. [GL] Nats aren't...
Chicago Mayor Rahm Emanuel has made it clear he would like to host a Super Bowl and the NFL Draft in his city.  ESPN Chicago is reporting that Emanuel has had several conversations with Commissioner Goodell about the topic. "The mayor and Roger Goodell spoke last week on a number of matters," Emanuel's spokesman, Tom Alexander, said to ESPNChicago.com. "They speak or see...
It appears that Robert Griffin III's recovery from knee surgery is going more like Adrian Peterson's and less like Derrick Rose's. Griffin told Peter King of Sports Illustrated that he'll be back Week 1 "without a doubt." King agreed with Griffin after what the SI columnist saw while watching the second-year quarterback in practice on Thursday. King said he saw RGIII...
The NFL is looking at options for where to hold the draft in 2015. Next year's draft, one of the most popular events on the league calendar, was moved from April to May 8-10 to keep it at Radio City Music Hall. The venue has created a spring entertainment show that will occupy the historic theater for April. If the league decides to move the draft back to April in future years...
New York will play host to a rare outdoor, cold weather Super Bowl. Indianapolis, another cold weather city, threw a great Super Bowl event when that city hosted the event, but the Super Bowl crowds also benefited from unseasonably warm weather, and the game itself was held in an indoor venue. Now, Philadelphia may be looking to get in on the cold weather, Super Bowl action. The...
Stop me if you've heard this one before. The Jacksonville Jaguars are the leading NFL franchise poised to relocate to London. The NFL has expressed a desire to place a full time franchise in London in order to expand their market for several years now. League owners such as Robert Kraft have openly lobbied for such a move. Commissioner Roger Goodell has gone as far as stating he...
NFL News

Delivered to your inbox

You'll also receive Yardbarker's daily Top 10, featuring the best sports stories from around the web. Customize your newsletter to get articles on your favorite sports and teams. And the best part? It's free!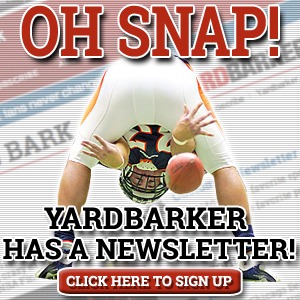 Latest Rumors
The Backyard

Today's Best Stuff

For Bloggers

Join the Yardbarker Network for more promotion, traffic, and money.

Company Info

Help

What is Yardbarker?

Yardbarker is the largest network of sports blogs and pro athlete blogs on the web. This site is the hub of the Yardbarker Network, where our editors and algorithms curate the best sports content from our network and beyond.