Found March 18, 2013 on BroncoTalk:
Denver Broncos safety Rahim Moore showed marked improvement from 2011 to 2012 (REUTERS/Rick Wilking) At any gathering where there are at least two fans of the Denver Broncos communicating with each other, there will indubitably be a point in the discussion when the topic turns to Denver's need for a free agent safety. Aside from a play that really wasn't his fault, Rahim Moore was one of the best safeties in the entire NFL last season. Don't lynch me just yet, there is proof, this isn't just opinion. I will pull the proof via the analysis that the great people at ProFootballFocus.com have provided over the course of the last few months. Illuminating first that PFF included Moore in their, '2012 PFF All Sophomore Team'. It would be fair of you to point out that there simply aren't that many safeties from the Class of 2012 who are seeing a significant amount of time. However, they backed that opinion up by also placing Moore in their, 'All AFC West Team'. In fact, the only member of the Broncos secondary who didn't make the list was Mike Adams, but more on him in a bit. Moore allowed just ten first downs or touchdowns in his 609 snaps, that is 1.64% (ninth least overall in the NFL for a safety). That is in man coverage and zone coverage, great for a safety and phenomenal for a cornerback. Compare that to the best cornerback, Chris Culliver (493 snaps, 17 first downs/touchdowns allowed (3.45%)), Champ Bailey (586 snaps, 25 first downs/touchdowns allowed (4.27%), sixth overall) and Chris Harris, Jr. (493 snaps, 25 first downs/touchdowns allowed (5.07%) seventeenth best in the NFL). It should also be noted that the Bailey/Harris tag-team are the best overall duo when it came to one of the site's other statistics that they use to measure cornerbacks — Yards Per Coverage Snap, with Bailey at fourth best in the NFL and Harris at ninth overall. Now, with Moore in the top ten in the NFL for safeties statistically, where did Adams finish? He was in the bottom ten (528 snaps, 29 first downs/touchdowns allowed, (5.49%), eighth from the absolute worst in the NFL). Keep in mind that Adams played a lot of man-to-man in Denver's nickle defense. It was hard not to notice Moore's improvement from his rookie season to 2012, it is unfortunate that he will be remembered for a play that knocked Denver out of the playoffs (despite our exhaustive breakdown of what led to that touchdown happening). John Elway stated in an interview with Denver's 104.3 The Fan that the team was looking forward to the return of Quinton Carter (who spent most of 2012 on injured reserve and whom Moore surpassed in training camp to become the starter). Although Carter's return has been put on indefinite hold. It may be that Denver picks up a free agent safety this off season, but it certainly won't be to replace Rahim Moore.
Original Story:
http://broncotalk.net/2013/03/45863/b...
THE BACKYARD
BEST OF MAXIM
RELATED ARTICLES
If you are a conspiracy theorist, there is no other place you would rather be than in the Mile High City right now. The curious case of Elvis Dumervil vs. John Elway and the Denver Broncos has the city abuzz. After the signing of Wes Welker earlier in the week, many Broncos' fans were making travel arrangements to get to the Big Apple for the Super Bowl next February. ...
It looks like  Wes Welker's defection to the Denver Broncos will not go away sooner than later. New England Patriots owner Robert Kraft stirred the pot at the NFL' s annual meeting on Monday. Please click here to read this story. The post Robert Kraft: I don't answer to Tom Brady appeared first on Players View.
It would be poetic justice if the New England Patriots could sway defensive end Elvis Dumervil to play in Foxboro. The Denver Broncos were able to sign longtime Patriots receiver Wes Welker with the old strategy of double dipping, getting a great receiver while hurting a conference foe. Revenge is a dish best served cold, and the Patriots surely would love to land the pass rusher...
Somehow, through it all, the Denver Broncos and Elvis Dumervil are still on speaking terms. The fax machine relationship clearly wasn't working. After a second denial by the NFL to reconsider the Broncos and Dumervil's case, and after Dumervil fired his previous agent and hired Tom Condon, the team and their defensive end are still in talks, The Denver Post reports. Dumervil...
Denver Broncos team president John Elway went on record today with ESPN stating the team has made a new offer to defensive end Elvis Dumervil after his agent failed to file the paperwork of an agreed upon restructured contract by the 4 P.M. EST deadline. "We've offered Elvis a contract," said Elway Tuesday afternoon. "We'd like to have Elvis back." The terms of this new...
WES IS MORE
Patriots owner Robert Kraft, still smarting over Wes Welker's departure to Denver, stated that the team made a better financial offer to keep the receiver.
If not for a big mistake by the Denver Broncos and a fax machine, there wouldn't even be a conversation about Elvis Dumervil being on the open market. But, late Friday afternoon, a mistake happened and Dumervil went from being extended to becoming the best free agent pass rusher available. The dominating defensive end was scheduled to make $8 million dollars. The Lions, after...
The Patriots and Wes Welker broke up earlier this month and details are slowly emerging now that the wide receiver has been a Bronco for nearly a week. Reports indicate that the Pats offered Tom Brady's favorite target a two-year, $10 million deal, but Mike Gambardella is saying that Welker's agent David Dunn has denied reports that the team made him any offer, as seen below...
This article originally appeared on the blog 60 Max Power O. Find more coverage here . It would be poetic justice if the New England Patriots could sway defensive end Elvis Dumervil to play in Foxboro. The Denver Broncos were able to sign longtime Patriots receiver Wes Welker with the old strategy of double dipping, getting a great receiver while hurting a conference foe. Revenge...
Former Denver Broncos pass rusher Elvis Dumervil was recently released by the team due to a technicality. Now a free agent, Dumervil is garnering interest from several clubs, including the New England Patriots, Baltimore Ravens and Tennessee Titans, according to Aaron Wilson of The Baltimore Sun. Wilson notes that the Ravens hope to meet with Dumervil, while the Patriots and...
When reports arose Monday that the Patriots had never given Wes Welker a fresh offer, it seemed fitting. While the narrative running up to this offseason was always that the Patriots wanted Welker back, with the price the sticking point, the evidence provided over recent weeks only indicated that New England never planned for Welker to return. With the Patriots quick to move on...
Broncos News

Delivered to your inbox

You'll also receive Yardbarker's daily Top 10, featuring the best sports stories from around the web. Customize your newsletter to get articles on your favorite sports and teams. And the best part? It's free!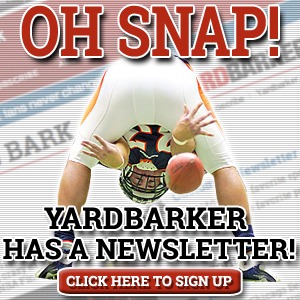 Latest Rumors
Best of Yardbarker

Today's Best Stuff

For Bloggers

Join the Yardbarker Network for more promotion, traffic, and money.

Company Info

Help

What is Yardbarker?

Yardbarker is the largest network of sports blogs and pro athlete blogs on the web. This site is the hub of the Yardbarker Network, where our editors and algorithms curate the best sports content from our network and beyond.