Found December 06, 2012 on Fox Sports:
The way New Orleans middle linebacker Curtis Lofton sees it, the Saints have two defensive coordinators. Steve Spagnuolo and himself. "Really, I'm the on-field coordinator," Lofton told FOXSports.com in a telephone interview. "In this system, you've got five different calls in one (defensive) call. Your job from what you are seeing is to get the defense in the best call. If you're not feeling something is there, check out of that call and put the defense in something else. "It's a challenge every week. I've been up for it so far and enjoying it." Lofton especially likes the fact his unit has shown improvement entering the FOX America's Game of the Week against the host New York Giants (4:25 p.m. ET Sunday). New Orleans (5-7) became the only team in NFL history to open a season by surrendering 400-plus yards in each of the first 10 games. The Saints, though, have gradually gotten more comfortable running Spagnuolo's scheme in his first season with the team. The yardage allowed has decreased for five consecutive contests, and New Orleans is getting stingier in the red zone. "You can't take away the first games, but the last five we've played is the direction we want to go," Lofton said. "The sky is the limit for this defense. We're getting better and putting up winning performances. We haven't had a dominant performance yet, but that's our goal from here on out. We have to start to dominate so when the offense struggles we can take the ball away and help." The Giants (7-5) haven't shown the same kind of offensive consistency from late last season during their Super Bowl run. However, Spagnuolo and Lofton know how dangerous Giants quarterback Eli Manning can be if he gets hot. "Spags" was New York's defensive coordinator when the franchise won Super Bowl XLII; Lofton and his former team, Atlanta, were beaten, 24-2, by the Giants in the first round of last season's playoffs. "He's a gamer," Lofton said of Manning. "Whatever the team needs in whatever situation he's placed in, he's going to provide it. He does a great job at the line (of scrimmage) getting his offense in the best position possible for the defense he's seeing." After Jon Vilma started the season on the PUP list, Lofton assumed the quarterbacking role for New Orleans' defense at middle linebacker. He has kept the spot with the returning Vilma now playing outside linebacker. Lofton, who signed a five-year, $27.5 million contract to join the Saints during the offseason, said his role is far more expansive than when he played under former Falcons defensive coordinator Brian VanGorder during his first four NFL seasons. "VanGorder did a good job of, 'This is what we want to do. Go out and do it and they'll have to top us,'" Lofton said. "Spags has so many different looks and adjustments and checks." Although such versatility may pay long-term dividends, having so many options contributed to the initial problems under Spagnuolo as the Saints struggled to execute their assignments. "In this defense, everything has to function together," said Lofton, who leads the Saints in tackles with 101. "If you can't pressure, the secondary looks horrible. If you're not covering, the D-line looks horrible. We've been working as a unit to get all three phases going -- the linebackers, D-line and secondary. "About three games into the season, I knew the defense like the back of my hand. At the same time, every game you learn something new. This system is very tough, but at the same time it's a great system. It allows you to dictate to the offense. That's why I like it." Lofton also is enjoying a change of scenery even though he spent the past four years on the other side of a heated NFC South rivalry. "I'd say as of right now, this is probably one of my best seasons," said Lofton, who led the Falcons in tackles from 2009 to 2011. "Going through everything that's been going on has been tough, but I really feel like I've taken my game to another level. "We don't control our own destiny by losing the past two games, but we can control knocking out these next four games and seeing where we're at. Everyone knows what's at stake. One thing about these guys here is that everyone is hungry with no quit. We're fighting, scratching and clawing, trying to get back in the playoff picture." Those are the kinds of words that Spagnuolo and the official coaches on the Saints staff should love to hear.
Original Story:
http://msn.foxsports.com/nfl/story/Ne...
THE BACKYARD
BEST OF MAXIM
RELATED ARTICLES
Pete Carmichael Jr. took over for Sean Payton this season as the offensive play caller and while the players on the field are carrying out the plays, I wanted to look out how this offense has compared in 2012 to all the other seasons when Sean Payton was either calling all the plays or at least overseeing the team. Some observations: The Saints are averaging 26.8 points...
NOT BUYING IT
With the team set to face the Saints on Sunday, several Giants players said they find it hard to believe that Sean Payton has had no contact with the team.
JUSTICE SHALL PREVAIL
A report says the New Orleans Saints would consider suing the league if Sean Payton ended up leaving them to coach elsewhere.
There's more to the New Orleans Saints offense than Drew Brees these days, and the New York Giants know it. While ranked 27th in the league in rushing, the Saints have a four-headed run attack that has averaged nearly 120 yards in the last five games. What makes the Saints' running game interesting is that Pierre Thomas, Darren Sproles, Chris Ivory and Mark Ingram all have...
As a result of the Bountygate scandal involving the New Orleans Saints' pay-for-hits program, head coach Sean Payton was barred from the NFL for the 2013 season. One very important stipulation of the suspension states that Payton is "prohibited from direct or indirect communication of any sort with employees of the 32 clubs, including through third parties; and such prohibited...
The New York Giants are mad. After their Monday night loss to the Redskins, those that are students of the game knew that they would be. Atypically for them at this stage of the season that means that they next team up on their roster has to pay a large tax for the events of the game prior.  Please Click Here To Read This Story
Its speculation, or is it? New York Giants punter Steve Weatherford believes that suspended coach Sean Payton has been sending messages to his former players. Payton was suspended for a year by the NFL after the league found evidence of a bounty system in New Orleans. The coach would face severe punishment if he were caught communicating with any Saint players. The New York Times...
Last week: 16 (+0) Record: 5-7 Net points per drive: 0.05 (15th) DVOA: -3.1% (17th) Weighted DVOA: -1.1% (16th) Studs RB Pierre Thomas: Rushed for 84 yards (34 after contact) on 14 attempts, 3 broken tackles, caught 1 pass for 5 yards on 1 attempt LG Ben Grubbs: Allowed 1 quarterback hurry on 54 pass block snaps, run blocked for 21 yards on 5 attempts WR Lance Moore: Caught 7 passes...
The New Orleans Saints know they are long shots to make the playoffs even if they beat the New York Giants on Sunday. Still, they haven't given up - taking inspiration from the Giants, who made a postseason run from a position similar to one in which the Saints find themselves now. ''We saw what they did last year,'' Saints cornerback Jabari Greer said. '...
strong>Sean Payton is prohibited from having any contact of any kind with the New Orleans Saints this season. By definition, he is "prohibited from direct or indirect communication of any sort with employees of the 32 clubs, including through third parties; and such prohibited communications shall include, but are not limited to, phone or electronic contact." While we're...
We don't exactly know why NBA Commissioner David Stern was at the Saints practice, but we do know he broke down the huddle with quarterback Drew Brees at the Saints practice, Wednesday. Drew Brees & @nba Commissioner David Stern breakdown the team huddle after practice twitpic.com/bjconv — New Orleans Saints (@Saints) December 5, 2012 The Saints tweeted a picture of the Commish...
New Orleans Saints (5-7) at New York Giants (7-5) Earlier this week, I outlined why the Redskins should be considered the favorites to win the NFC East. The Redskins, presumably, have the tiebreaker, by virtue of their better divisional record. They are a game back right now, but they are almost definitely going favored in each of their last four games, while the Giants will be favored...
NFL News

Delivered to your inbox

You'll also receive Yardbarker's daily Top 10, featuring the best sports stories from around the web. Customize your newsletter to get articles on your favorite sports and teams. And the best part? It's free!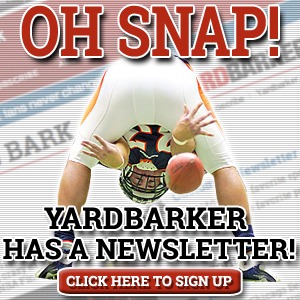 Latest Rumors
The Backyard

Today's Best Stuff

For Bloggers

Join the Yardbarker Network for more promotion, traffic, and money.

Company Info

Help

What is Yardbarker?

Yardbarker is the largest network of sports blogs and pro athlete blogs on the web. This site is the hub of the Yardbarker Network, where our editors and algorithms curate the best sports content from our network and beyond.