Found February 07, 2012 on Football Nation:
The 2011-12 season has been tough for any New England Patriots fan. None have suffered more ups and downs, however, than team owner Robert Kraft.   In July, before the 2011 season even began, Kraft was a key factor in bringing negotiations between owners and players in the NFL Lockout to a peaceful conclusion. The Lockout, which would have completely stalled everything from player trades to communication between players and coaches, was brought to a peaceful and agreeable solution largely in part to Kraft. He encouraged that complex issues between owners and payers be broken down and settled out-of-court, which helped negotiators more easily find a middle ground. Kraft helped move discussion past the sticking point of the rookie wage system to keep negotiations moving forward at a reasonable pace. It was largely thanks to Kraft that both sides of the lawsuit were able to walk away from the NFL Lockout feeling as though they had had their complaints rectified.   It was a hollow vi...
Original Story:
http://www.footballnation.com/content...
THE BACKYARD
BEST OF MAXIM
RELATED ARTICLES
NBC caught the moment that New England Patriots owner Robert Kraft and his guest in his suite witness Patriots quarterback Tom Brady's final Hail Mary attempt to win Super Bowl XLVI (46).It appears that all in the suite were in shocked.....mad....... and even sadden by the failed pass attempt.As the ball went into the endzone, Patriots tight end Rob Gronkowski had a chance to...
By Tom Layman It's been a long, winding road for Robert Kraft this season. The Patriots owner took time to reflect on last night's crushing 21-17 Super Bowl loss to the New York Giants after arriving at Gillette Stadium from Indianapolis. Kraft spent five minutes talking to the media this afternoon, but did not field any questions. He said last night's loss, which came down...
New England Patriots owner Robert Kraft spoke briefly to the media on Monday and had nothing but praise for his team who fell 21-17 to the New York Giants in Super Bowl XLVI."I'm real proud of them, they worked hard all year. They competed well all season and we won a lot of games. The ones we didn't win we fought right until the end and played very competitively. We...
A season that began with heartbreak for New England Patriots owner Robert Kraft ended with another loss. The Patriots made no secret of wanting to win Sunday night's game against the New York Giants for Kraft, whose beloved wife Myra died of cancer shortly before the season began. His grief is still so deep just the mention of her name brings tears to his eyes, and the Patriots...
Robert Kraft once considered expanding his family's sports empire into the realm of English soccer. But the lack of spending controls in the English game discouraged the sports magnate from doing so, according to talkSPORT. "If our family is to be part of something, we want to be sure we have a chance to compete year in and year out," Kraft said. "You don't...
A season that began with heartbreak for New England Patriots owner Robert Kraft ended with another loss.
Even while watching hockey, Robert Kraft couldn't stop thinking about football. The day before his New England Patriots hosted the AFC Championship Game last month, Kraft attended a New York Rangers-Boston Bruins matchup at the TD Garden. Kraft was so struck by the experience -- especially the crowd interaction when there were breaks in the action -- that he spoke to NFL commissioner...
Patriots Chairman & CEO Robert Kraft addresses the media during his press conference at Gillette Stadium on Monday, February 6, 2012.
A season that began with heartbreak for New England Patriots owner Robert Kraft ended with another loss.
This is, clearly, no consolation. This will make no one feel better. But still… the draft will go on, and the Patriots are still one spot better than they would have been. Whatever. Thanks to losing in Super Bowl XVLI to the Giants, the Patriots will select 31st in the 2012 NFL Draft. In addition, thanks to a trade last year with the Saints, they will also have the 27th pick. Considering...
FOXBOROUGH - On a personally and professionally painful day, Robert Kraft and Bill Belichick took a few moments to reflect on a Patriots' season that was at a crossroads at the midway point but ended with the team as AFC champions, and a crushing Super Bowl defeat.
Yep, that's conservative radio blowhard Rush Limbaugh in the upper right of the above photo relaxing in New England Patriots owner Robert Kraft's suite during Super Bowl XLVI last night. And if you look closely he's clearly going to town on his nose with his right index finger (If the above photo is too small for you, click to expand it). Sadly, picking his nose live...
NFL News

Delivered to your inbox

You'll also receive Yardbarker's daily Top 10, featuring the best sports stories from around the web. Customize your newsletter to get articles on your favorite sports and teams. And the best part? It's free!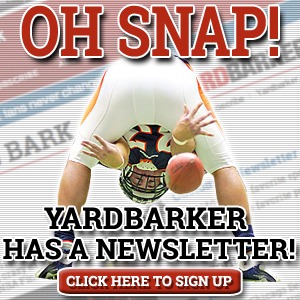 Latest Rumors
Best of Yardbarker

Today's Best Stuff

For Bloggers

Join the Yardbarker Network for more promotion, traffic, and money.

Company Info

Help

What is Yardbarker?

Yardbarker is the largest network of sports blogs and pro athlete blogs on the web. This site is the hub of the Yardbarker Network, where our editors and algorithms curate the best sports content from our network and beyond.