Found December 09, 2011 on Race Review Online:
I am just asking.

For those of you who have been reading my work, you know my stance on Tim Tebow.

He acts like a perfect gentleman. He says all the right things. He gives it his all each and every day. He has had no legal issues. He is not in trouble with the law. He has the support from his teammates. He is not involved with drugs/alcohol. Oh yeah, he is 6-1 as a starting quarterback this season in the NFL. Also, he has over 10 touchdowns, with only 1 interception. Anything else?

Yes, one more thing! He gets relently bashed and criticized repeatedly for some reason.

That is my problem with all of the coverage he gets. I love watching Tebow play as much as the next guy. I am a big fan. My only problem is all the negativity surrounding him? Why? The man done nothing wrong. If he was quitting on his team during games - I would understand.

If he was arrested every few months - I would understand. If he gets in fights at late night strip clubs - I would understand. If he was 2-5 as a starting QB - I would understand.

The fact is he is doing nothing wrong, and on top of that, he wins football games. Tell me again where all the hating comes in again...oh yeah, his style of play. His throwing motion! His footwork! Oh no! Alert the police, he throws the ball a little different than others. Uh oh, he moves around too much...HOW DARE HE!!! Let's just kick him out of the league now, why don't we?

Seriously though, back to my beginning question.

This week, the Denver Broncos (led by Tebow) play the weakened Chicago Bears. It is no mystery that Chicago's starting QB (Jay Cutler) is out. It is all no secret that their back up is not exactly doing so hot right now. That being said, it seems to me Tebow is about to win yet another game. It will be tough, no doubt, but I know I am not about to bet against TouchDown Timmy!

On the flip side, the Broncos' division rival (Oakland Raiders) play against the undefeated Green Bay Packers. Ouch! I am from Wisconsin, so I have some bias, but I am already chalking up a loss for the Raiders. Packers give up a ton of points, but they should win this one easily.

Now, for those doing the math - that would put the Denver Broncos in a nice lead for the AFC West division title! I would love to know what the reaction will be come Monday morning when Tim Tebow is 7-1 and in first place of their division.

I really want to know. What will the talking point be then for everybody? What will the excuse be this time? How will the "experts" on TV spin this one? What little nitpick is going to show up this game? Surely, it has to be something, right?

Clearly, everybody is right and Tebow is wrong. He is a terrible quarterback and all the talking heads know what they are talking about...yeah, good one! So again, I ask this to all the Tebow haters, doubters, cynics - whatever you call yourself: what will you do if Tebow wins again this week? Or next week? Or the following week? Or gathers a playoff run?

Continue to try and spin the issue in your favor, despite the clear facts against you? Or perhaps, maybe, just maybe - admit you were wrong about Tim Tebow.
Original Story:
http://sports-at-work.com/20111209106...
THE BACKYARD
BEST OF MAXIM
RELATED ARTICLES
Walk into Alex Rodriguez's house, you see the huge picture of himself as a half-man, half-horse (centaur). Look at this man's thigh, you see Tim Tebow as a centaur. I don't care about how he had a bet to get this tattoo, all that matters is the fact he doesn't have Tim Tebow's face on his arm. No jealousy from me until you get the Messiah's face, with...
John Elway doesn't hate Tim Tebow. If he did, Elway wouldn't have personally apologized for recent comments that made it seem the Denver Broncos' commitment to Tebow was lacking. And while still hesitant to unequivocally proclaim Tebow as the franchise's "quarterback of the future," Elway wouldn't be planning to work hands-on with Tebow this offseason...
Former guard and current WBBM-AM radio analyst Tom Thayer shares his thoughts exclusively with ChicagoBears.com about Sunday's game against Tim Tebow and the Broncos:
You may already know CBS and NBC are fighting over Tim Tebow for a possible Week 15 Flex Game, but that only begins to tell the story of the infinitely expanding media obsession with Tim Tebow.  I foolishly anticipated as Tebow played more minutes in Denver, we would get used to the idea of him playing in the NFL and he would fade away from being the most talked about man in...
(Eds: APNewsNow. Will be updated.) By EDDIE PELLS AP National Writer Josh McDaniels. The mere mention of his name brings back bitter, embarrassing memories in Denver. Yet only a year after he was unceremoniously booted out of Broncos headquarters, it might be time to rethink McDaniels' role in turning the Broncos into AFC West contenders. The coach who believed in Tim Tebow...
As Tim Tebow goes for his sixth straight victory on Sunday against Chicago amid a fever pitch of attention on the polarizing Denver Broncos quarterback, Charles Barkley made a plea to the Bears: Stop the madness.
Broncos front office boss John Elway is trying hard to reverse the perception that he's not a believer in Tim Tebow. In an interview with Alex Marvez of FOXSports.com, Elway said that he considers himself a Tebow fan and is hoping to see Tebow follow in his footsteps as a star franchise quarterback for the…
This is a little something I like to do every year when College Football's regular season comes to a heart-breaking end. And one day -if there is a God, which Tim Tebow has promised again and again!- maybe the powers that be in the NCAA Football office will come to their collective senses and do the same. Ready for it?I SEED THE NCAA FOOTBALL PLAYOFF TEAMS! Here's what we would...
Two months ago (heck, even a month ago), Chicago coach Lovie Smith had to love his team's chances heading to a game at Denver. Jay Cutler in a revenge game. Matt Forte on a tear. NFC playoffs spot on the horizon. Instead, Smith is now preparing to bring his team to Denver without both Cutler and Forte, to face a Broncos team on a five-game winning streak. Smith was engaging in...
This is right about the time of year when teams begin unofficially falling out of playoff contention. And we'd hate to see you waste your time with a team that has a fork in its back, which is why we present you with the DONE-O-METER, which helps us calculate which teams are done and which teams aren't. Today's subject: The Oakland Raiders. TRENDING: Middling. Even...
NFL News

Delivered to your inbox

You'll also receive Yardbarker's daily Top 10, featuring the best sports stories from around the web. Customize your newsletter to get articles on your favorite sports and teams. And the best part? It's free!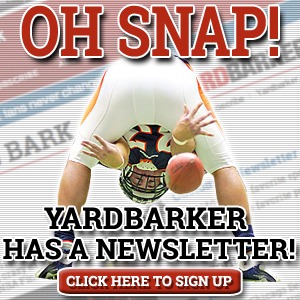 Latest Rumors
Best of Yardbarker

Today's Best Stuff

For Bloggers

Join the Yardbarker Network for more promotion, traffic, and money.

Company Info

Help

What is Yardbarker?

Yardbarker is the largest network of sports blogs and pro athlete blogs on the web. This site is the hub of the Yardbarker Network, where our editors and algorithms curate the best sports content from our network and beyond.