Found November 27, 2011 on Awful Announcing:
In what may be one of the better live broadcasting follies of the year, CBS focused in on/borderline stalked San Diego Chargers kicker, Nick Novak, as he prepared for a potential game winning kick in the final minutes. And by preparing, I mean taking a covert leak with the help of a wing-man/equipment trainer. While it's possible there is another explanation, the footage below seems to be pretty convincing.
Novak was not called upon to kick a field goal at the end of regulation but missed on a 50+ yard try in the waning moments of overtime, setting up the Broncos and you know who with great field possession and a chance to win the game. The Broncos and Tebow ended up capitalizing setting up an interesting blog chatter showdown as Tebow Mania will now have to fight for attention with Novak's whiz.
With guys not wanting to go back to the locker room (especially the kicker) and not wanting to just piss in their pants (probably hard to pass off as "sweat" when you're the kicker), Novak improvised. Frankly if it wasn't for CBS, I think he would of got away with it as he's low to the ground, people are looking elsewhere, and it seems other than his accomplice, nobody noticed. But alas, it didn't work.
I would imagine a lot of us can sympathize with the scenario although the ridiculous need to urinate is typically the problem of the elderly or drunken man. I guess that Gatorade was just too damn good to pass up and Novak was apprehensive about attempting a very important kick with the thought of desperately needing to pee on his mind.
The announcers never acknowledged the scene and I am guessing they just didn't see it as it's too funny to really ignore without even a chuckle. Probably for the best as who knows how you follow that up when millions are watching.
The million dollar question is he just unleashing the stream on the grass,dirt, or drain, or was he containing with a cup?
[follow]
Original Story:
http://www.awfulannouncing.com/2011-a...
THE BACKYARD
BEST OF MAXIM
RELATED ARTICLES
It was another exciting week of NFL football. We'll have plenty of actual analysis to come this week, but let's take a few minutes and laugh some, shall we? Here are the NFL Plays of the Week, as decided by me and with a hat tip to r/NFL, my favorite Sunday night destination; one GIF, two videos, and a special bonus image. After I present them all, you can vote on your favorite...
Luckily for Gatorade drinkers everywhere, Nick Novak is more accurate when it comes to urinating than it comes to kicking. The kicker for the San Diego Chargers successfully urinated in somewhat privacy in the game between the Chargers and the Denver Broncos. Unfortunately for Chargers fans, Nick Novak wasn't successful kicking. In a game that the Chargers lost by three points...
Yesterday was a watershed moment in the history of taking a leak on a football sideline. Nick Novak was caught by CBS cameras trying to relieve himself during overtime of the Broncos-Chargers game. Of course this is a very public way to get your name into the public domain. Of course this isn't the first time a player has taken a sideline leak. According to BC research, there's...
Remember how we commended that Chargers trainer for coming up with the huge assist when San Diego kicker Nick Novak had to relieve himself on the sidelines?  It turns out we were right.  As long as someone like that guy is there to provide a makeshift curtain for you and make sure no small children [...]
When you gotta go, you gotta go.Here's Video of San Diego Chargers kicker Nick Novak relieving himself late in the fourth quarter of the Chargers overtime loss to Tim Tebow and the Denver Broncos. <iframe width="560" ... [visit site to read more]Chargers Novak caught urinating on sidelines (Video) - The Jet Press - The Jet Press - A New York Jets Fan Site - News,...
No, he's not Tebowing and he isn't looking for his contact lens. San Diego Chargers kicker Nick Novak is doing exactly what you think he's doing under cover of Gatorade jug and towel on the team's sideline. I guess when you've gotta go, you've gotta go, even if that's when your team is driving late in the fourth quarter for a potential game-winning field...
(source feed provided no summary content for this entry)
As Nick Novak lined up a 53-yard field goal late in overtime, Tim Tebow could not bear to look. He sat on the bench, helmet in his hands and tried to find comfort in a familiar place. So he prayed. "Obviously, I want to win," Tebow said when asked about the intentions of his prayer. "But no matter what happens, good or bad, I want to have an opportunity to give my...
CBS showed Chargers kicker Nick Novak during an indelicate moment on the sideline Sunday in the team's loss to Denver.
Tim Tebow wasn't watching as San Diego's Nick Novak lined up to attempt a 53-yard field goal that would have given the Chargers an overtime victory over the Denver Broncos. He was praying, of course. Did Tebow ask for a miss?
Chargers News

Delivered to your inbox

You'll also receive Yardbarker's daily Top 10, featuring the best sports stories from around the web. Customize your newsletter to get articles on your favorite sports and teams. And the best part? It's free!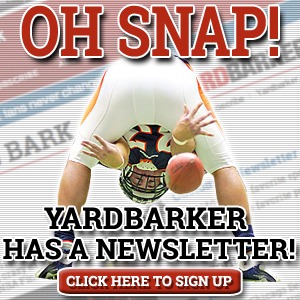 Latest Rumors
Best of Yardbarker

Today's Best Stuff

For Bloggers

Join the Yardbarker Network for more promotion, traffic, and money.

Company Info

Help

What is Yardbarker?

Yardbarker is the largest network of sports blogs and pro athlete blogs on the web. This site is the hub of the Yardbarker Network, where our editors and algorithms curate the best sports content from our network and beyond.