Found August 01, 2012 on NorthWest Sports Beat:
The VMAC Scoop Moving Seahawks training camp to Renton has bothered me since I first heard a rumor that it was going to happen. Why? Training camp is just better in Cheney There is no pay to park, there are no buses that move people to and from the facility like cattle in stinky over crowded school buses and most importantly the players are away from the distractions of everyday life.
In Cheney the team was isolated, they had no choice but to come together as a team and bond.
What I saw yesterday was exactly as I feared. After practice they split up. Red Bryant was lounging in the grass with his wife and kid, Matt Flynn was off to the side talking to his girlfriend. Later that night I saw Richard Sherman at Benihana having dinner with what appeared to be family instead of spending time bonding over a meal with teammates. Weather Another thing that bothers me is the weather. How do you expect guys to get into football shape practicing in low 70′s with low humidity and overcast skies? 90-100 degrees is what prepares the body to dig deep during the early part of the season, especially in hot weather road games. The VMAC makes the team softer and less cohesive than it should be but it's the way of the NFL with the new softer breed of players. Okay……now that's off my chest. I spent most of the day observing the defensive and offensive lines. I would like to make it clear that despite what at least one reporter (who i will not name) wrote free agent addition Jason Jones did not sit the practice out. Though he did not wear pads or a helmet he was at practice participating in some hand checking drills as well as doing some jogging with teammates. He looks like a defensive end as far as his build is concerned. Red Bryant was lounging in the grass with his wife and kid after practice. You won't find this info in the newspaper! Bruuu-uuu-uuuce Bruce Irvin impressed me. I expected the speed but not the power he possesses. I felt sorry for the bags during the bag drills, he doesn't just hit them, he punishes them. He is an extremely hard worker from what I saw. Not once did I see him slacking or going through the motions, every rep was a full go. I had a chance to talk to him a little after practice and he seems like a good young man. Speaking of defensive ends Pep Levingston's athleticim was impressive. Tuesday's practice was the first time I have been able to observe him from field level and so close as he was less than 15 yards away during his position drills. That big man can move and with some development cold become a solid player at this level. Teammates I feel good when I'm out there and I see players who were with the team last year pulling the rookies and free agents aside and helping them out. KJ Wright was mentoring Bobby Wagner (after practice he said there was a lot to learn but he was giving it his all) and I saw Breno Giacomini mentoring 7th round pick J.R. Sweezy who is trying to not only adjust to the pro level but is making a switch from defensive tackle to offensive guard. Red Bryant was showing Jason Jones the ropes.
After attending my first day of camp in Renton there are a couple things I do like about it.
First it caters more to the fans then Cheney did and second I love how Head Coach Pete Carroll runs practice. He lets his coaches coach and he has the music playing and that keeps his players loose. CLICK HERE CHECK OUT THE SEAHAWKS BLOG IN OUR CLUBHOUSE AT NWSB! © Brett Bivens for North West Sports Beat, 2012. | Permalink | No comment | Follow NWSB on Twitter or join US on Facebook for real-time updates OR... | Share This on Twitter | Share NWSportsBeat.com on Facebook Post tags: 12th man, Bobby Wagner, Breno Giacomini, Bruce Irvin, Camp Notes, Insider Report, J.R. Sweezy, Jason Jones, KJ Wright, Lazarius 'Pep' Levingston, Matt Flynn, NFL, Red Bryant, Richard Sherman, Seahawks Insider, Seahawks News, seahawks rumors, Seahawks Training Camp Insider Report, Seattle Seahawks, training camp, VMAC
Original Story:
http://www.nwsportsbeat.com/seahawks/...
THE BACKYARD
BEST OF MAXIM
RELATED ARTICLES
Save The Date: Seahawks vs. Cardinals The Countdown Is On – Game 1 Is In 38 Days – September 9th, 2012 1:25PM PT - University of Phoenix Stadium After a much needed day off, the Seattle Seahawks returned to the practice fields for Camp Day 5 at the Virginia Mason Athletic Center today, now just nine short days away from the pre season opener against Matt Hasselbeck, Jake Locker...
You can have your quarterback battle in Tennessee -- no matter who wins, Jake Locker is taking over within a short amount of time. You can have your quarterback scrap in Cleveland -- old rookie or not, Brandon Weeden is still far better than Colt McCoy. You can have your running back squabble in New England -- whoever is deemed the starter, coach Bill Belichick is still likely to...
SEATTLE - Wide receiver Braylon Edwards is set to sign a one-year deal with the Seahawks, a league source told KJR 950's Dave Softy Mahler. Edwards wasn't signed after a workout just before Seattle opened training camp last week, and then headed to South Florida for a tryout with the Dolphins. It appeared the Seahawks' interest had passed when they signed another veteran...
There is no team that has turned over their roster nearly as much over the last three seasons as the Seattle Seahawks, and they have done it pretty seamlessly. After finishing 7-9 under the direction of Pete Carroll, including a division championship in 2010 and first round win over reigning Super Bowl champs the New Orleans Saints, the Seahawks finished in third place in the division...
Seahawks News | Links Hey there folks and Happy Wednesday to you! Surfing around for your Seahawks coverage for today? Looking for Seattle Seahawks, News, Links, Gossip, links, Analysis and observations? We all love the Seahawks right? But we all don't have the time to go thru the web to try to find the latest news and the articles from the best writers on the planet. The men...
First off, some good news for you University of Washington fans: undrafted free agent wide receiver and ex-Husky Jermaine Kearse was activated off the physically unable to play list today, allowing him to participate in his first Seahawks practice.  I haven't seen any mention of how well he did out there, but last I checked getting on to the field is a step up from standing on...
Keeping up with your favorite team can be an all-consuming task. We're here to help indulge that need to follow all aspects of the NFL on Twitter...
Last week Braylon Edwards worked out with the Seahawks during the same workout as Antonio Bryant. It looks like that Seahawks liked what they saw enough to sign him to a contract. i My man Dave Softy Mahler of Sportsradio 950 AM in Seattle tweeted it first. Adam Schefter from ESPN has confirmed the deal. Last year for the 49ers he caught 15 passes but was subsequently released...
The Seattle Seahawks signed veteran wide receiver Braylon Edwards to a one-year deal. Edwards recently tried out for the Miami Dolphins following his Seahawks tryout. Three years ago, Edwards, 29, caught 53 passes for 904 yards and seven touchdowns for the New York Jets. He was limited to nine games for the San Francisco 49ers last season, catching 15 passes for 181 yards and no touchdowns.
The Seahawks have been searching for a new quarterback. Last year, they decided to part ways with then quarterback, Matt Hasselbeck. Hasselbeck struggled to match his best year under Seattle, which was the year of their Super Bowl run. In their search for a new QB, the Seahawks turned to Tarvaris Jackson. In my opinion, this was just a temporary replacement. In a full season with...
Life is good.  Players are hard at work on the practice fields, live Seahawks football will return to our televisions in a matter of days, the weather is perfect for barbecuing meat to perfection over hot coals1, and the training camp news from the VMAC is both encouraging and abundant.  Maybe even too abundant – with reports coming in daily from the Seattle Times, the Tacoma...
Seahawks News

Delivered to your inbox

You'll also receive Yardbarker's daily Top 10, featuring the best sports stories from around the web. Customize your newsletter to get articles on your favorite sports and teams. And the best part? It's free!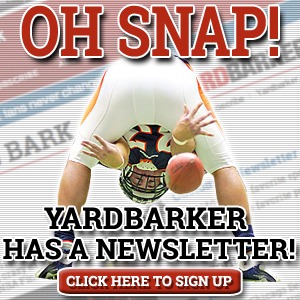 Latest Rumors
Best of Yardbarker

Today's Best Stuff

For Bloggers

Join the Yardbarker Network for more promotion, traffic, and money.

Company Info

Help

What is Yardbarker?

Yardbarker is the largest network of sports blogs and pro athlete blogs on the web. This site is the hub of the Yardbarker Network, where our editors and algorithms curate the best sports content from our network and beyond.