Found March 02, 2012 on The Saints Nation: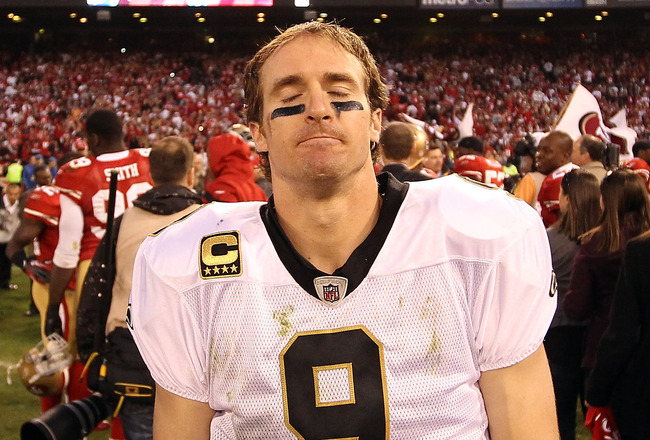 I always thought Brees' contract situation resolving itself quickly and amicably was a more than reasonable thing to hope for, but apparently that wasn't meant to be. I still remain steadfast in my faith that things will get done before the Saints are forced to franchise tag him in 48 hours, and I refuse to buy into the media hype that things are critical for one second until it's been made official that Brees is tagged. Until that point, everything is just hearsay and postulation. I refuse to even allow myself to be worried until it's officially time to panic. Still, the latest news that Mickey Loomis allegedly claimed that things were taking so long because Brees is only a "very good" quarterback and not a "great" one dropped the anxiety bomb on all of us. That's not the news we want to hear. Whether it's true or not is really beside the point, the more worrisome component of this story breaking is that we've reached the point in negotiations where things are getting ugly and personal. Again, as Saints fans I think it was safe to assume it would never get there, and at this point the hope has to be that this dies a quick death.
Jason Cole of Yahoo! is the man who broke
this story of Brees being defined by Loomis as "only very good"
. Here is my take on this claim, which originated from one of three possibilities:
A. Jason Cole decided to run with a story based on misinformation and partial truths because it made for sensationalized media.
If this is true, shame on him, but it certainly wouldn't be the first time this has happened. It certainly puts added stress on the situation because now the organization, players, fans and the media are freaking out and reacting to it. While nothing new, the ethical ploy of the journalist in this possible scenario is questionable at best.
B. Tom Condon, Drew Brees' agent, leaked this false information in an effort to put pressure on the Saints to cave to their demands.
If this is true, shame on him, but it certainly wouldn't be the first time this has happened. Condon, in this possible scenario, would basically be using the media to strengthen his chances at getting his client top dollar. Again, it's an ethical ploy that's questionable at best specifically in this case because he'd be perpetuating a false rumor. It's
been reported that both sides are as far as $5 million PER YEAR apart
, which is astronomical. Condon could easily have made this move to tigthen the screws. Regardless of whether Loomis said these things or not, leaking private negotiations to the media is weak sauce. Not unheard of, but very questionable ethically.
C. Mickey Loomis actually said those things.
If this is true, shame on him, but it certainly wouldn't be the first time this has happened. Seeing a pattern here? There is no way Mickey Loomis BELIEVES that Drew Brees isn't a "great" quarterback. He's not that stupid. There is zero chance. So, he either didn't say it, or he said it and he didn't mean it. If he said it and didn't mean it, then he did it in an effort to negotiate down the contract as much as possible in favor of his team. One more time, it's a ploy that's questionable ethically, but it's also done all the time.
So regardless of whether A, B or C are the source of this story... the point is, the business of the NFL is often times ethically corrupt. Not surprising when you consider we're talking about a lot of money, like the biggest contract in NFL history. Between the media spins, possible lying, half-truths, and absurd claims... each side will say and do what is necessary to get the advantage. Unfortunately for the Saints (and Brees), these negotiations have reached the point where being unethical is starting to be part of the bag of tricks on both sides. The problem for Loomis now is he's backed into a corner. He either:
A. Admits he said those things about Brees publicly, and the whole city of New Orleans hates him forever.B. Never says anything and leaves everyone to wonder and question him, which opens him up to criticism for the rest of his career.C. Denies he ever said those things about Brees publicly, and by doing so admits he thinks Brees IS great which gives Tom Condon leverage in the negotiations.
Not a very good position to be in no matter what, is it? Based on the position this puts Loomis in, it's almost a little TOO perfect for Brees' camp to be true. You know? So hopefully the contract gets done in the next 48 hours, and Loomis keeps his mouth shut until the deal is done, at which point he comes out and says Brees is a great QB. That's pretty much the only way he saves face here without blatantly shooting himself in the foot. But everyone loses if Brees get franchised, including Brees from a financial standpoint, and Brees from a perfoming standpoint because he exposes the team to losing Nicks AND Colston. The franchise tag is the best leverage the Saints have. Hopefully this close to the end neither side decides to go all the way and call each other's bluff.
[follow]
Original Story:
http://www.thesaintsnation.com/2012-a...
THE BACKYARD
BEST OF MAXIM
AROUND THE WEB
RELATED ARTICLES
YOU'RE IT
The Saints have reportedly placed the franchise tag on Drew Brees. The hope is still to work out a long-term extension, but New Orleans is dealing with one extremely big distraction.
Saints GM Mickey Loomis reportedly might not think Drew Brees is a "great" quarterback, but he's certainly willing to pay him like one. After speaking with league sources, the New Orleans Times-Picayune reports the Saints offered an extension to Brees last season that was "in the range" of $18 million per year. That offer has since increased, and Brees' next deal "most...
Any complications the Saints have in agreeing to a contract extension with Drew Brees should be minor. When you step back and analyze the situation, you have to wonder what the holdup is. Brees is not exactly young (33), but he's at the peak of his game. He's coming off a 46-touchdown season, which was his fourth straight year over 30 touchdown passes. He also brought a Super...
New Orleans Saints general manager Mickey Loomis took issue with a Yahoo! Sports report that he believed quarterback Drew Brees was "very good" - but not great. Loomis told the New Orleans Times-Picayune that Brees is very much respected and that the team is working to sign him to a long-term contract prior to Monday's deadline. "I have always thought of Drew...
According to Jason Cole of Yahoo Sports, the New Orleans Saints and quarterback Drew Brees remain about $5 million apart from finalizing a new multi-year deal. If the Saints aren't able to get a deal done with Brees before March 5th, they'll have to use their franchise tag on Brees, in order to keep him from hitting the open market. If the Saints franchise Brees, they won't...
There is more to talk about than bounties with the New Orleans Saints. As first reported by FOXSports.com NFL insider Jay Glazer, the Saints used their franchise tag Saturday afternoon on quarterback Drew Brees. The move means that one of the league's top passers will remain in New Orleans for at least the 2012 NFL season. Profootballtalk.com reported that Brees was given the...
The New Orleans Saints have placed an exclusive rights franchise tag on quarterback Drew Brees, according to Jay Glazer of FOX Sports. Fantasy Spin: Under the tag, Brees cannot talk to any other NFL teams, and guarantees him close to $1M more than the standard franchise designation. The Saints still have until July 16 to reach a long-term deal with the elite gunslinger, but negotiations...
If there's one thing Lions fans can agree on, it's that GM Martin Mayhew has been worlds better in the front office than Matt Millen ever was. As bad as those 8 seasons were (seriously, how the **** did he last that long?), I would be hard-pressed to believe that even he would dare to claim that Drew Brees is merely "very good." However, this is exactly what New...
After one of the most embarrassing days in franchise history and already in the midst of a tough negotiation with one of the greatest players to wear its uniform, the New Orleans Saints placed the exclusive-rights franchise tag on star quarterback Drew Brees late Saturday afternoon. This will bide the team some time as it seeks to work out a long-term deal with its record-breaking...
(Eds: Adds details, quotes.) By PAT GRAHAM AP Sports Writer Being cut by the New Orleans Saints hit Jonathan Hamm like a punch to the gut. Now, he's the one delivering those body blows inside the boxing ring. Who knew the pass rusher would be even more adept at socking opponents than sacking quarterbacks? Well, Drew Brees for one - at least in a roundabout way. As a devastated...
This year, the free agent crop in the NFL is massive. Just about every position is loaded with talent. Most of this talent will be finding new homes for the upcoming season. I'm going to show you who the best free agents at each position are, and tell you why they are the best free agent at their position. QB (Peyton Manning is not a free agent yet so he doesn't qualify...
  According to a report by ESPN's John Clayton, the Saints have placed the exclusive franchise tag on star quarterback Drew Brees in order to ensure he remains with the team, as the two sides have been unable to reach a long-term deal up to this point. Essentially, according to Clayton, Brees and the Saints are over $5 million apart in the contract negotiations. Brees...
Latest Rumors
The Backyard

Today's Best Stuff

For Bloggers

Join the Yardbarker Network for more promotion, traffic, and money.

Company Info

Help

What is Yardbarker?

Yardbarker is the largest network of sports blogs and pro athlete blogs on the web. This site is the hub of the Yardbarker Network, where our editors and algorithms curate the best sports content from our network and beyond.