Found December 13, 2012 on The Saints Nation:
PLAYERS:
Sean Payton
,
Drew Brees
,
Rex Grossman
,
Mickey Loomis
,
Tom Benson
,
Jon Gruden
,
Bill Cowher
,
Jake Delhomme
,
Steve Smith
,
Kyle Orton
,
Peyton Manning
,
Andy Dalton
,
A.J. Green
,
Steve Spagnuolo
TEAMS:
New Orleans Saints
,
Washington Redskins
,
Denver Broncos
,
Carolina Panthers
,
Cincinnati Bengals
At long last the Bounty Gate rulings were handed down providing some closure for the Saints players, front office, and the organization as a whole. Former NFL commissioner Paul Tagliabue cleared the four indicted players from any wrong-doing, however, the one person who could possibly help the Saints resuscitate what's left of the season remains suspended at least until after the end of the regular season and possibly longer. Sean Payton's absence has reverberated through the team like aftershocks following a massive earthquake. It's obvious when watching the team play that there is a leadership void. In Payton's absence, Drew Brees has tried shouldering the burden of filling that void left by Payton's forced vacancy. Brees, despite his best efforts, needs Payton to help orchestrate the Saints offense. Whether through Pete Carmichael's play-calling or Brees' extreme confidence, the Saints have not looked like the well-oiled machine that they normally do when Payton is on the sidelines. Never has that been more evident that the past three games, Brees' worst as a Saint. In those three games alone, he has only flashed the brilliance of his time under Payton and looked more like Rex Grossman. 4 touchdown to 9 interceptions, a completion rating of 59.9%, and a quarterback rating of 66.2. Those stats alone make it obvious that Payton is sorely missed. Payton's ability to corral the team, get them to concentrate on the task at hand, his ability as a play-caller, team manager, mentor, and the special relationship he has with Brees have been sorely missed this season. Now, the question lingers on whether he will or won't be back with the Saints next season. If Sean Payton's suspension lasts until the end of the regular season then that's bad for the Saints as that allows teams that miss the playoffs to pursue him. On the flip side, if his suspension lasts until after the Super Bowl then that gives Mickey Loomis and Tom Benson ample time to work out a new contract. There are numerous reasons as to why Payton will want to return: his relationship with the GM, Loomis, team owner Tom Benson's adoration for him, his uncanny connection to Brees, the fact that the city and fans adore him, and to return to an organization he has practically built from the ground up. Those are just a few as to why Payton would want to return to the Saints. But what if the unthinkable happens? What if Sean Payton opts not to return? If he doesn't, what then for New Orleans? Who would they turn to? Looking around the league, there are only a handful of possible candidates that could replace Sean Payton should he snub the Saints. The usual suspects of Jon Gruden, Bill Cowher, and the like will be tossed around but there are several hot coordinators out there that fit the mold of what Payton was when he was first hired – young, hungry, aggressive, and wanting to prove themselves. Mike McCoy – Off. Coordinator – Denver Broncos  A former college, NFL Europe, and CFL quarterback, McCoy is familiar with the NFC South after having served in several capacities with the Carolina Panthers from offensive assistant to passing game coordinator/quarterbacks coach. During his time there he helped mold Jake Delhomme into the quarterback he became and helped make Steve Smith such a dangerous threat. Since assuming the offensive coordinator position with the Broncos in 2009 he has helped Kyle Orton reach career highs in almost every category. He then helped tailor the offense to Tim Tebow's unique skill set making him look like a passable NFL quarterback in the process. Now he's working with Peyton Manning and has helped him return to form.   Jay Gruden – Off. Coordinator – Cincinnati Bengals The younger brother of John Gruden is another former college QB but instead of Europe or Canada, Jay played in the Arena League for several years. The offensive coordinator for the Bengals since 2011, Jay has been critical in the development of Andy Dalton and A.J. Green. He has also interviewed for several head coaching positions and, instead, opted to remain the offensive coordinator for Cincinnati. Gruden is young, talented, and respected throughout the league.   Greg Roman – Off. Coordinator – San Francisco 49ers The style of offense called by Roman differs from the previous two candidates. Roman's blocking schemes are very sophisticated and he calls a more balanced game, relying on time management, a grueling running game, and safe passing. It's not sexy by any means but it's highly effective. It could also be perfect for an aging Drew Brees whose skills should only regress as he gets older. Roman's offensive style would match Steve Spagnuolo's defensive scheme well, if the former chooses to retain the latter should he be chosen to replace Payton.   The pickings are slim outside of those three candidates should the organization want to choose an offensive-minded head coach. It would put the organization into a huge predicament should Sean Payton choose to leave. Who Dats worldwide, myself included, are all hoping that doesn't happen that next year Payton and Brees are working together again.
Original Story:
http://www.thesaintsnation.com/2012-a...
THE BACKYARD
BEST OF MAXIM
RELATED ARTICLES
The Saints were devastated by the bounty situation this season.  Now they face the realization that Sean Payton may move on for good. As we get closer to the end of the season it's time to start looking ahead to the coaching changes for next year. Here's a quick look at the teams I think will, or should, be looking for a coaching change when the season ends....
NFL commissioner Goodell has contacted suspended New Orleans Saints head coach Sean Payton, and allowed for the possibility of a reinstatement prior to the Super Bowl, according to an ESPN.com report. Payton would like the suspension to end after the regular season, a source close to the coach told ESPN.com. Former NFL commissioner Paul Tagliabue made a final ruling on the Saints...
During his press conference today, New Orleans Saints quarterback Drew Brees didn't hold back from ripping former defensive coordinator Gregg Williams as well as the NFL league office for how they handled the bounty scandal. Drew Brees slams Gregg Williams and Mike Cerullo, calling both of them "disgruntled" former employees and questions their mental state. — Jeff Darlington...
With the New Orleans Saints' player suspensions overturned Tuesday on appeal, the case moved into the blame phase Wednesday. Saints quarterback Drew Brees lashed out at commissioner Roger Goodell for issuing the initial player punishments that wound up being lifted by former commissioner Paul Tagliabue. Meanwhile, according to numerous reports that cite the Associated Press...
New Orleans Saints interim coach Joe Vitt issued a stern denial regarding former defensive coordinator Gregg Williams' claim that Vitt insisted on keeping the team's bounty program in place despite an NFL investigation. "We knew the scuds were going to come, we knew there would be a leakage of information," Vitt said Thursday at his press conference inside the...
New Orleans Saints linebacker Jonathan Vilma contends in a request filed Friday with a federal judge that NFL commissioner Roger Goodell disregarded the truth while putting credibility in allegations by former Saints assistant coach Mike Cerullo. Vilma urged U.S. District Judge Ginger Berrigan to proceed with the defamation lawsuit he filed against Goodell, which the commissioner...
Andrew Juge of The Saints Nation stops by and before he gets into the bounty investigation he breaks down the disaster in New York.  He details the struggles of the Saints receivers to get open and why it's now time to see if certain guys on the roster can play. Is Tyrunn Walker worthy of being on an NFL roster? Can Isa Abdul-Quddus and Rafael Bush be an upgrade at safety and...
Former New Orleans Saints assistant head coach, Gregg Williams, testified during the Bounty-Gate investigation that he attempted to put an end to the program in 2009, per the Associated Press. Williams claims he was overruled, however, but current interim head coach, Joe Vitt. Vitt as the linebackers coach at the time, but also had the [...]
Jon Vilma urged a federal judge Friday to reject NFL Commissioner Roger Goodell's motion to dismiss the defamation lawsuit filed against him by the Saints linebacker. Vilma's request to U.S. District Judge Ginger Berrigan argues Goodell acted with ''reckless disregard for the truth'' when basing initial allegations about Vilma upon one fired Saints assistant...
NFL News

Delivered to your inbox

You'll also receive Yardbarker's daily Top 10, featuring the best sports stories from around the web. Customize your newsletter to get articles on your favorite sports and teams. And the best part? It's free!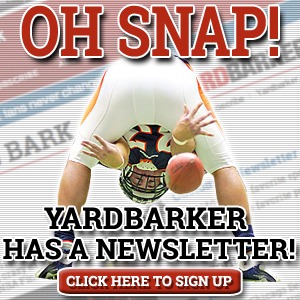 Latest Rumors
Best of Yardbarker

Today's Best Stuff

For Bloggers

Join the Yardbarker Network for more promotion, traffic, and money.

Company Info

Help

What is Yardbarker?

Yardbarker is the largest network of sports blogs and pro athlete blogs on the web. This site is the hub of the Yardbarker Network, where our editors and algorithms curate the best sports content from our network and beyond.