Found April 24, 2012 on Packer Update:
Former quarterback Borel will compete for a job at receiver
One of the most interesting - albeit hardly one of the most important – battles in training camp figures to be between Diondre Borel and Tori Gurley for the final wide receiver spot on the roster. Both undrafted free agents distinguished themselves last summer and both were given raises by general manager Ted Thompson when other teams were interested in signing them off Green Bay's practice squad late in the season.
Here's the tale of the tape between Borel and Gurley – the first in a series of posts that will analyze two players that will either be competing for a starting job or for a spot on the roster.
SIZE/STRENGTH: While Borel has adequate size for the position (6'0, 199), he looks and plays smaller. He has a lean build and only marginal functional strength. He started at quarterback in college, so he probably didn't spend a lot of time in the weight room. It'll be very interesting to see what he looks like in August, after spending a full year with Green Bay's training staff (6.0). Gurley's best attribute is his size (6'4, 216). His great length allows him to shield defenders from the ball and he can pick blades of grass off the helmets of smaller defensive backs. Like Borel, he needs to get stronger and should benefit from a year in the weight room (8.0).
SPEED/QUICKNESS - Borel ran a pretty good 40 at his Pro Day (4.5), but he doesn't play particularly fast. He had trouble creating separation on deep routes last summer, even against second and third-string cornerbacks. He relies on his excellent quickness to get open. He often gave Charles Woodson fits when lined up in the slot (7.5). Gurley's 40 time (4.56) is slightly slower than Borel's, but he actually ran past more defensive backs. His biggest problem is a lack of quickness. He struggled to get off the line and he rarely created separation on intermediate routes (6.5).
ROUTE RUNNING - Borel had never run a pass route prior to the start of camp, and while his lack of experience certainly showed at times, he never embarrassed himself and he improved every day. By the end of the summer, he didn't look much different from the majority of rookie receivers that have played for the Packers in recent years (6.0). As expected, Gurley didn't make as many mental mistakes as Borel, but he needs to be less mechanical in his route running. He doesn't sink his hips or get in and out of breaks quickly. That's often an issue with tall receivers (7.0).
Gurley's height makes him an inviting target in the red zone
HANDS - Borel dropped too many passes, but I'd be surprised if that's an issue this summer. He made enough difficult catches to prove that his hands are more than adequate. In fact, most of his miscues came on routine throws. That suggests a lack of concentration, or perhaps he was concentrating too much on everything besides securing the ball. Either way, he should be more consistent after a year of playing the position (6.5). Gurley put a few balls on the ground, but for the most part, he was reliable. He has extremely strong hands to highpoint the ball and he showed outstanding concentration. If he makes the roster, he'd be yet another weapon in the red zone (8.0).
RUN AFTER CATCH - Borel looks like a poor man's Randall Cobb after the catch. He's not nearly as explosive as his more heralded teammate, but he has very similar lateral agility which enables him to string moves together and sidestep defenders. At less than 200 pounds, he won't run through too many tackles (7.5). Gurley isn't going to do much after the reception. He ran under 4.6 at the NFL Combine, but he plays faster without the ball in his hands. He might put his shoulder down and gain a few extra yards, but he's not elusive enough to avoid tacklers in the open field or speedy enough to run away from them (5.5).
BLOCKING - While Borel showed a willingness to block, he didn't show the ability to get the job done on a consistent basis. This was hardly surprising considering his background and his size. The lack of experience at receiver resulted in sloppy technique and the lack of strength kept him from being able to sustain contact with defenders. He should get better, but this part of the game won't determine his future in Green Bay (5.5). Gurley looks like former Packer Ruvell Martin, but he doesn't block like him. Despite weighing 216 pounds, he doesn't seem all that interested in getting physical with defenders. He'll get his body in the way of would-be tacklers, but that's about it (7.0).
INTANGIBLES – Borel is appealing because he's only scratched the surface of his potential. He has a chance to get a lot better. His ability to return kicks and punts is a major positive if Cobb becomes a bigger part of the offense this season or next and the coaches want to reduce his workload on special teams. Borel could also serve as the team's emergency quarterback – thus saving a precious spot on the 53-man roster (8.5). Gurley could also help on special teams. He showed a real knack for blocking punts last summer. And his size is unique for the position. The only other receiver over 6'1 on the roster is Jordy Nelson, but he doesn't have Gurley's arm length or leaping ability (8.0).
ANALYSIS: There's a chance that neither of these players will make the final roster if Donald Driver survives for a 14th season, but I don't see that happening. Either Driver will be released at the end of training camp or general manager Ted Thompson and coach Mike McCarthy will decide to keep a sixth wide receiver. So who will it be? Gurley tallied 49.5 points and Borel 47.5 points in the tale of the tape. The competition this summer figures to be just as tight. At the end of the day, I have a feeling that Gurley's size and his potential in the red zone will be the difference.
Original Story:
http://packerupdate.net/?p=17637
THE BACKYARD
BEST OF MAXIM
RELATED ARTICLES
Green Bay Packer LT Chad Clifton is in the process of being released by the team. The former 2000 second round pick has been on a steady physical decline over the past two years and has now come to the end-of-the-road. Please click the link below to read the rest of this article and watch a doctor analyze the nature of Clifton's injuries.
GREEN BAY, Wis. -- According to a report by Adam Schefter of ESPN, the Packers are releasing veteran offensive tackle Chad Clifton today. Clifton had back surgery this offseason but had already reported for offseason workouts. However, according to Schefter, Clifton failed a physical. Since being drafted by Green Bay in the second round in 2000, Clifton has played his entire 12...
Left tackle protected QBs in Green Bay for 12 seasons It took a little longer than expected, but the Green Bay Packers finally released Chad Clifton on Monday afternoon. The veteran left tackle missed 10 games last season with a severe hamstring injury and then underwent minor back surgery in February. He reportedly failed his physical upon arriving for the start of offseason workouts...
While the roster move is yet to be made official, several sources close tot he team are now reporting that the Green Bay Packers plan to release left tackle Chad Clifton and free up some $5.703 million off the books and give them considerably more flexibility in negotiating contract extensions with other players while also taking into account what it will cost to sign their draft...
  Today the Green Bay Packers announced that they have officially released former Pro Bowl safety Nick Collins, who was attempting to make a comeback from a horrific next injury and rather than allow him to attempt to play again, risking his health in the process, the Packers have informed Collin's agent Alan Herman that he has been released according to Tom Silverstein...
According to Tom Silverstein of the Milwaukee Journal Sentinel, the Green Bay Packers have notified safety Nick Collins that he will be released. Collins suffered a serious neck injury this past season and this might be a sign that the Packers aren't very confident in him being able to continue his career. Collins was scheduled to make $3.45 million in 2012 and $4.35 million for the 2013 season.
The Green Bay Packers are expected to release veteran left tackle Chad Clifton on Monday, multiple outlets reported. The veteran started 160 games in 11 seasons with the Packers, but had not come along following back surgery in the offseason. He also failed his physical. Clifton injured his back while rehabilitating his hamstring injury, which was suffered on Oct. 9 versus the Atlanta Falcons.
GREEN BAY PACKERS NFL LIVE CHAT:  Who will be this years Aaron Rodgers?   We will be hosting an NFL draft Live Chat, here at losersbracket.com. Thursday night starting at 7pm.  Yeah, that is when all hell breaks loose Andrew Luck is picked and we can comment on Mel Kiper's hair and how Andrew Luck has large well built arms and such.  Even discuss Teddy's T's pick as we...
Packers News

Delivered to your inbox

You'll also receive Yardbarker's daily Top 10, featuring the best sports stories from around the web. Customize your newsletter to get articles on your favorite sports and teams. And the best part? It's free!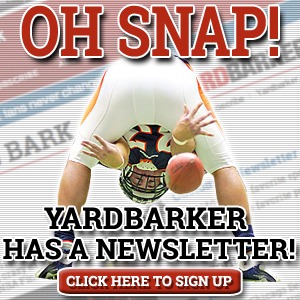 Latest Rumors
Best of Yardbarker

Today's Best Stuff

For Bloggers

Join the Yardbarker Network for more promotion, traffic, and money.

Company Info

Help

What is Yardbarker?

Yardbarker is the largest network of sports blogs and pro athlete blogs on the web. This site is the hub of the Yardbarker Network, where our editors and algorithms curate the best sports content from our network and beyond.