Found August 10, 2012 on Buzz On Broad:
PLAYERS:
Nick Foles
,
Trent Edwards
,
Michael Vick
,
Mike Kafka
,
LeSean McCoy
,
Jason Kelce
,
Dion Lewis
,
Damaris Johnson
,
Mardy Gilyard
,
Bryce Brown
,
Tiger Jones
,
Jamel Hamler
,
Alex Henery
,
DeSean Jackson
,
Andy Reid
TEAMS:
Philadelphia Eagles
,
Pittsburgh Steelers

            AP Photo/ Michael Perez
In a game dedicated to Garrett Reid, it was the Eagles' third and fourth-stringers who saved the day.  If we didn't know any better, we would have thought Nick Foles and Trent Edwards were the first and second string quarterbacks.
Michael Vick and Mike Kafka were dreadful as the first and second team offenses failed to score a single point and barely managed a first down.  In fact, the first team offense led by Vick went three and out on their only two series of the game.
Vick completed three out of four passes for exactly six yards while LeSean McCoy contributed -5 yards on one run and one reception.  That's a net value of one yard between our two star players!
Actually, the entire first team offense accumulated a net of -3 yards in their two series. 
And to throw some salt on the festering wound that was our No. 1 offense, it only took six plays into the 2012 preseason to get our first injury scare for Vick.  In his last pass attempt of the game, Vick whacked the thumb on his throwing hand against the back of Jason Kelce's helmet.
He came of the field clutching his hand in pain.  We had to wait until half-time for him to get an x-ray to see if there was anything to worry about.  Luckily, the x-ray came back negative and we saw Vick grasping a football on the sideline in the second half.
However, it just goes to show you what we all know already: Vick is seriously injury prone and it's likely that we will see the backup quarterback in action at some point this season.
The second-team offense fared only slightly better than the first team.  Mike Kafka went 5 for 9 for 31 yards and one really boneheaded interception.  If you didn't see the game, Kafka basically threw the ball blindly (turned around and didn't survey the field) and threw it directly to a defensive lineman.
Dion Lewis flashed a little bit in the run game by carrying the ball 4 times for 22 yards.  The entire second-team offense netted 57 yards in their two possessions.
So, through one-half of football the Eagles netted 54 yards of offense and 0 points.
Fear not, though, the second half featured the third and fourth teams.  Who cares if they were playing against Steelers' farm team, it was backups against backups, right?
Nick Foles came in and did his impression of Joe Montana...okay, maybe I'm exaggerating a little bit here, but, compared to what we had seen earlier, Foles was a sight for sore eyes.
He went 6 for 10 for 144 yards and two very impressive touchdowns.
On the first TD, the Eagles' first points of the game, he bought some time by rolling to his right and then finding a wide open Damaris Johnson down the field.  Foles fired a laser which Johnson caught and sped past the Steelers' defenders to the end zone to complete a 70-yard touchdown play.
On the second touchdown play, Foles did remind you a little bit of Montana by putting a nice touch on a 44-yard pass down the left sideline that Mardy Gilyard hauled in and crashed over the pylon to put the Eagles up 14-13.
At this point, Eagles fans started going a little crazy over Foles.  Hell, things went so far that Mike Florio over at PFT put up a quick post saying "The Nick Foles Era Begins."
Alright now Mike, let's just slow it down a little bit, okay?  Foles looked good in his Eagles debut, but I need to see more -- a lot more -- before I'm ready to utter the words "Nick Foles era."
Bryce Brown, who is currently the Eagles' third-string RB, looked good as well in carrying the ball 3 times for 33 yards and adding 16 more yards on 2 receptions.  Put it this way, if Brown can bone-up on his pass blocking skills, he will all but lock-up a spot on the roster.
The Eagles were down 20-14 when fourth-string QB Trent Edwards entered the game.  However, this set the stage for the dramatic finish.
Edwards went 12 for 20 for 106 yards and one touchdown.  His stats should have been better if not for some dropped passes, particularly by Arena League call-up Tiger Jones.
However, Edwards displayed some veteran wisdom in his decision-making and the way he ran the offense.  He led the Eagles on a touchdown drive that culminated with a 16-yard TD pass to Jamel Hamler on a 4th and 2 play from the Steelers' 16 yard line.
It was a great individual effort by Hamler, though, that made the play.  He weaved and juked his way past a few defenders before leaping into the end zone for the score.
This put the Eagles up 21-20 with about 5 and 1/2 minutes to play.
The Steelers then drove the ball down into field goal range and took back the lead at 23-21.  The Eagles got the ball back with just under 2 minutes to play.
Edwards then calmly drove the Eagles down the field, which included a crucial first down conversion on a 4th and 4 play at the Steelers' 39 yard line. 
They ran the clock down to about 15 seconds or so before Alex Henery came on the field to attempt a 51-yard field goal.  Henery delivered by splitting the uprights and having plenty of distance.
This set off a great display of emotion on the Eagles' sideline, highlighted by DeSean Jackson jumping on Andy Reid and giving him a big hug.  It was great to see and an obvious sign of the relationship those two have.
The Eagles won the game 24-23, in honor of Garrett Reid, thanks to some unheralded guys that delivered when it mattered.
For more Eagles news, opinion and analysis from Dave Stoessel, you can check out Eagles Addict and/or follow on Twitter.
Original Story:
http://www.buzzonbroad.com/2012/08/th...
THE BACKYARD
BEST OF MAXIM
RELATED ARTICLES
Philadelphia Eagles head coach Andy Reid remarkably resumed his coaching duties on Wednesday, just one day after laying his oldest son, Garrett, to rest. In addressing the media for the first time since Garrett's death on Sunday, Reid showed tremendous strength but also humility in describing his feelings on the outpouring of support from all of his families–his blood relatives...
Michael Vick left tonight's preseason game against the Pittsburgh Steelers after hitting his hand on one of his lineman's helmet. It's not immediately available how severe the injury to his throwing hand is, but it's no surprise the injury marked the end of Vick's game. Vick completed three of his four passes, but that only accounted for 6 yards against a...
While compassionate fans showed their support for Andy Reid, most of the Philadelphia Eagles gave a boo-worthy performance in their preseason opener. The first-team offense went three-and-out twice and Michael Vick barely escaped serious injury when he hurt his thumb on his last play. The starting defense allowed an opening drive that lasted 9:48 and gave up 10 points on two possessions...
You knew I would get hurt Juan… Mike Vick already hit his hand and injured his thumb on another player's helmet in his first preseason action. You know the risk and you know the reward. Vick's ADP is still pretty good, but if you think he will stay healthy, good luck with that. He can win your league or be a big headache. At least the X-Rays were negative. Don't Sleep On...
((HT: CSNPhilly.com)) Philadelphia Eagles head coach Andy Reid stayed away from practice for two days after the death of his son, Garrett. He returned today to answer questions and discuss his emotions having buried his 29-year-old son after he was found unresponsive at the team's pre-season facilities at Lehigh. Here's Reid's opening statement... The Eagles...
AP Photo According to Jeff McLane of the Philadelphia Inquirer,  Bob LaMonte–the agent of Eagles head coach Andy Reid says that owner Jeffrey Lurie told him that as long as he's the owner Reid will be the head coach. McLane wrote that LaMonte said, Lurie "has stated again and again, any time that I've been with him, that was as long as he's the owner of the Philadelphia...
Andy Reid was welcomed back to the sideline with a standing ovation and chants of ''Andy! Andy! Andy!'' Then the Philadelphia Eagles gave their grieving coach a small reason to smile. Alex Henery kicked a 51-yard field goal with 12 seconds left to lift the Eagles to a 24-23 victory over the Pittsburgh Steelers in their preseason opener Thursday night. After the...
You want to know what's driving guys on Twitter crazy tonight? Lack of sex and backwards Nike swooshes on NFL jerseys. You see Mike Vick's right shoulder while trainers check his busted thumb? That's the backwards swoosh. Guys are totally out of their minds analyzing what the backwards swoosh means to humanity. Meanwhile, little kids this evening are going to bed hungry. Is...
Andy Reid was welcomed back to the sideline with a standing ovation and chants of ''Andy! Andy! Andy!'' Then the Philadelphia Eagles gave their grieving coach a small reason to smile. Alex Henery kicked a 51-yard field goal with 12 seconds left to lift the Eagles to a 24-23 victory over the Pittsburgh Steelers in their preseason opener Thursday night. After the...
Howard Smith-US PRESSWIRE The Philadelphia Eagles' offseason began with DeSean Jackson's uneasy contract discussions, but has culminated in an impressive, yet emotional training camp.  Along the way, we've seen a trade for a former Pro Bowl linebacker, Andy Reid receive high marks for his overhaul of talent in the NFL Draft and a change in upper management. With all these...
The preseason is in full swing, so football is kind of quasi-back-esque, as PK would say. Despite the horrendous scab officiating, it was still great to sift through a slate of six games last night, at least for an hour or so, until everyone on the field were unrecognizable future victims of the turk. RGIII looked competent, prompting the inevitable hysteria on the part of Redskins...
Commissioner, I beseech you to do everything in your limitless power to bring back Frank Caliendo. Welcome to Behind the PFT Headlines, where we save you time by guessing the story based on the provocative headline. Dennis Allen sees a distinction between "incentive" and "bounty" With questions like these, Allen is just asking for extra scrutiny from the league office. You...
NFL News

Delivered to your inbox

You'll also receive Yardbarker's daily Top 10, featuring the best sports stories from around the web. Customize your newsletter to get articles on your favorite sports and teams. And the best part? It's free!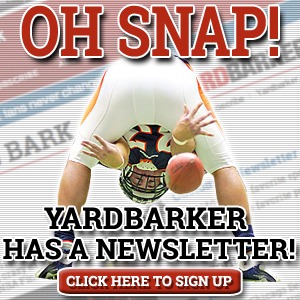 Latest Rumors
The Backyard

Today's Best Stuff

For Bloggers

Join the Yardbarker Network for more promotion, traffic, and money.

Company Info

Help

What is Yardbarker?

Yardbarker is the largest network of sports blogs and pro athlete blogs on the web. This site is the hub of the Yardbarker Network, where our editors and algorithms curate the best sports content from our network and beyond.