Found January 16, 2013 on The Sports Rocker:
It was announced earlier today that the Philadelphia Eagles have hired Chip Kelly to be there next head coach. I guess owner Jeffrey Loria finally came to this conclusion - that Kelly would be his best choice - after interviewing almost every available recently fired coach or assistant in the NFL over the last two weeks.So is this a good hire or bad hire?Completely awful. "Hey, can I bring some of this Nike money with me?" Chip Kelly made his mark on the college football game at Oregon with a hurry-up offense that resembles a two minute offense every time it gets the ball. Hey, I love watching the Ducks as much as the next college football fan. But can that style of offense carry over to the NFL? Probably not. The hurry-up at Oregon was so fast it was dizzying. But hey, it's easy to run when you don't have a salary cap and can recruit specific players to run your specific offensive schemes. It also helps that they're all 18-22 years old and in peak physical condition. As for the NFL, I can't wait till I get to see a 34-year old offensive lineman lumber down the field and get in his stance every 20 seconds. Should be entertaining. Hey LeSean McCoy, we're going to need you to get out of bounds on every run, OK?And then there is the current roster. The one bonus is that DeSean Jackson has been so under-utilized, it's criminal. I bet he and McCoy can't wait. Of course, the 800-pound gorilla in the room is Michael Vick. Vick has been regressing, when he isn't injured. The first thing Kelly and Loria need to look into is a replacement for Vick. I doubt that will happen, though. Loria loves him some Vick as much as Jerry Jones loves him some Romo.And for all those who say "Dude, the NFL is changing. Chip Kelly is gonna be awesome! Go Eagles!" I bet Stanford and their traditional run-first, play great defense football team might have something to say about that. Nick Saban and Steve Spurrier say see you in three years.
Original Story:
http://www.thesportsrockers.com/2013/...
THE BACKYARD
BEST OF MAXIM
RELATED ARTICLES
In a stunning move, the Philadelphia Eagles have hired Chip Kelly as their new head coach. The news comes just a week after Kelly announced that he would forgo the NFL to stay at the University of Oregon. It is not clear how the Eagles changed his mind, but it doesn't really matter now does it? A deal is done and Chip Kelly is now the Philadelphia Eagles head coach. Here is the...
Howard Eskin of WIP in Philadelphia was a guest on ESPN 980′s Inside the Lockerroom and indicated that even though Chip Kelly is now the Eagles' head coach, quarterback Michael Vick is still likely on the way out. "People say maybe Mike Vick can be his (Kelly's) quarterback. Michael Vick won't be here.  He gets hurt every year. You got to move on from Michael Vick, and...
With Chip Kelly having agreed to become the next head coach of the Philadelphia Eagles on Wednesday, one of the questions on everyone's mind is what his hiring will mean for the future of Michael Vick. Before Kelly's arrival, it was widely assumed that Vick had played his last game in Philadelphia. The Eagles can release Vick prior to Feb. 6 without having to pay him any money...
According to Mike Florio of Pro Football Talk, a "source with knowledge of Michael Vick's thinking" suggests that he is open to playing for either Chip Kelly next season. The report also mentions that Vick was open to playing for Jon Gruden as well, but he never really seemed like a strong candidate throughout the process. Vick is set to make upwards of $15 million, which...
What a whirlwind the past 24-48 hours have been for the Philadelphia Eagles. On Tuesday, all eyes were on Seattle defensive coordinator Gus Bradley. By midday on Wednesday, Bradley was forgotten when word broke that Oregon coach Chip Kelly had reversed course and decided to come to the NFL and, specifically, to Philadelphia. Now that the question of who the head coach is settled...
Will his offense work in the NFL?
  After back-to-back disappointing seasons the Philadelphia Eagles have plenty of questions to answer this offseason. From finding a new head coach, identifying a quarterback of the future and fixing a faltering defense, to say that the Eagles organization has their work cut out for them would be an understatement. But how is this possible? Don't the Eagles possess a star-studded...
The Philadelphia Eagles have hired Chip Kelly, who went 46-7 in four years at Oregon, as their new head coach replacing Andy Reid, who was fired after a 4-12 season. "Chip Kelly will be an outstanding head coach for the Eagles," owner Jeffrey Lurie said in a statement. "He has a brilliant football mind. He motivates his team with his actions as well as his words....
In a surpise turn of events, Chip Kelly had a change of heart on Wednesday and agreed to jump ship to the NFL as the newest head coach of the Philadelphia Eagles. Kelly was 46-7 in four seasons at Oregon. After leading the Ducks to a Fiesta Bowl victory over Kansas State, he was interviewed by the Eagles, Cleveland Browns & Buffalo Bills for potential jobs.The now former Oregon...
I Coach The Tarmac Where to begin? So much to dig into here, and so few electrons to spend on it. List time!   > Mike Vick will restructure or leave. But the first option is now actually possible. There is no scheme that can make Vick less injury-prone or get him back to the pre-age 30 wheels that would have made him downright fascinating in this offense. It's also an...
Maybe Daunte Culpepper and Michael Vick were just a little ahead of the times. They played in college and the NFL just early enough where coaches weren't quite sure what to do with them as athletes. Michael Vick was severely underused at Virginia Tech as a runner; in two seasons as the starting QB he had just over 1200 yards. To put it in perspective, Johnny Manziel had over 1400...
Eagles News

Delivered to your inbox

You'll also receive Yardbarker's daily Top 10, featuring the best sports stories from around the web. Customize your newsletter to get articles on your favorite sports and teams. And the best part? It's free!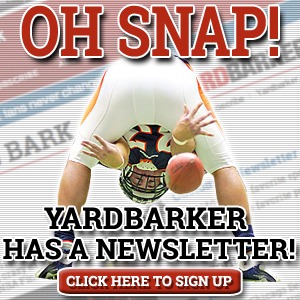 Latest Rumors
Best of Yardbarker

Today's Best Stuff

For Bloggers

Join the Yardbarker Network for more promotion, traffic, and money.

Company Info

Help

What is Yardbarker?

Yardbarker is the largest network of sports blogs and pro athlete blogs on the web. This site is the hub of the Yardbarker Network, where our editors and algorithms curate the best sports content from our network and beyond.